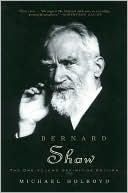 November 2: Onthis day in 1950, George Bernard Shaw died at the age of ninety-four. Eachbirthday throughout Shaw's last decade had brought a barrage of tribute andwonder, and on his 94th, after having read in the Times that he had spent a "restful" day, Shaw was readyto explode:
Restful!!! Restful, with the telephone and the door bellringing all day! With the postmen staggering under bushels of letters andtelegrams! With the lane blocked by cameramen, televisors, photographers,newsreelers, interviewers, all refusing to take No for an answer. And I with ahard day's work to finish in time for the village post. Heaven forgive The Times. I cannot.
Several months later, he broke his leg in a fall in hisgarden. Though the leg-setting operation was successful, Shaw found therecuperation tiresome. When one hospital visitor asked how he was feeling, hereplied, "Everyone asks me that, and it's so silly when all I want is todie, but this damned vitality of mine won't let me." Another visitor,attempting to console Shaw by telling him to "think of the enjoymentyou've given, and the stimulus," was referred to his famous literaryprostitute: "You might say the same of any Mrs Warren." To the doctorwho said he might live to a 100 if he would submit to more treatment, Shawreplied by going home, entering his house behind a large canvas screen held upby his chauffeur and gardener to shield him from the gaping crowd. He wouldtake a sip of his housekeeper's special soups only out of kindness: "Howmuch longer do you want me to lie here paralyzed and be watched like a monkeyby those outside?"
As reported in Michael Holroyd's biography, from which muchof the above is taken, the news of Shaw's death caused the Indian cabinet toadjourn, theater audiences in Australia to rise for two minutes' silence, andthe lights on Broadway and in Times Square to be dimmed. In the Shavian spirit,he declined having his ashes interred in Westminster Abbey, requesting insteadthat they be mixed with those of his wife and spread about the statue of SaintJoan in the garden of his home in Ayot St. Lawrence, Hertfordshire. A 1902 Arts& Crafts estate, "Shaw's Corner" is maintained by the NationalTrust just as Shaw left it, his tweedy suits still hanging in the closet.
---
Daybook is contributed by Steve King, who teaches in the English Department of Memorial University in St. John's, Newfoundland. His literary daybook began as a radio series syndicated nationally in Canada. He can be found online at todayinliterature.com.