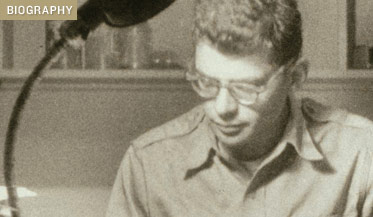 The Letters of Allen Ginsberg, deftly selected and strung precisely on a narrative thread by Beat scholar Bill Morgan, Ginsberg's biographer and literary archivist, reads like a mutigenerational epistolary novel peopled by literati of all stripes. Ginsberg, whose "Howl," "Kaddish," and "Wichita Vortex Sutra" rearranged the DNA of American poetry, was a literary gadfly whose letters are lush with poetry-world gossip, travel musings, riffs on his various exploits and indiscretions, political commentary, and strong opinion.

Morgan begins the book with the earliest letter he could uncover, Ginsberg's December 28, 1941 letter to the editor of The New York Times, written three weeks after the Japanese attack on Pearl Harbor. Ginsberg, then a self-possessed 15-year-old, begins, "I have long believed, in principle, the ideals of Woodrow Wilson?." He goes on to regret that fact the U.S. never joined the League of Nations, which might have saved millions of lives. This was the first salvo in a 60-year correspondence between the poet and his hometown newspaper.

Elsewhere, there are gems like a 1955 letter to Eugene Brooks, the first letter in which Ginsberg quoted lines from "Howl." He is living in San Francisco and writing a "long prose poem, sort of surrealist?. This is more or less Kerouac's rhythmic style of prose, ends ?the actual heart of the poem of life butchered out of their own bodies good to eat a thousand years.' Elegy for the generation, etc.." He adds that he intends to apply "this form of elliptical semisurrealist imagery to rhymed blues type lyrics."

A few months later, Ginsberg organized the legendary reading at the Six Gallery with Kenneth Rexroth, Michael McClure, Philip Lamantia, and Gary Snyder, where "Howl" was first performed. In 1956, Ginsberg's buddy Jack Kerouac published his novel On the Road. And so the Beat movement, with its iconoclastic search for ecstatic experience, began.

While Kerouac, William Burroughs, Neal Cassady, Gregory Corso, Michael McClure, et al. logged in scores of escapades, captured in print and in rumor, Ginsberg became the primary documentarian of and spokesman for the Beat movement. He archived copies of letters, manuscripts, and his photographs with meticulous handwritten captions. (From 1953, for instance, a shot of William Burroughs at his bookshelf/window on the fire escape on East 7th street, and a shot of Jack Kerouac across from Tompkins Square Park. He made films with Robert Frank and Bob Dylan, among others, and wrote letters to editors, presidents, newspapers, and foundations. In December 1962, while in Calcutta, he wrote to the Harvard Crimson regarding a reference to LSD and other "mind distorting drugs," suggesting it would be more accurate to write "mind expanding or consciousness-widening" drugs, a correction he based on his own "about thirty experiences (with LSD-25, psilocybin, mescaline, peyote and banisteriopsis caapi) spaced out over the last decade." In January 1971, he addressed fellow National Book Award poetry judges in a lengthy letter supporting Corso (a "Genius") over Mona Van Duyn: "?my duty as poet judge here is to disrupt present consciousness and convenience including my own and resist what appears to me to be your tendency to make the same life-mistake again, wet blanket Poesy?"

The letters also deal regularly and thoroughly with Ginsberg's work in progress and publication history. He famously wrote a lengthy letter to poet/critic Richard Eberhart in advance of the publication of Howl, giving him notes on its construction and on his own aesthetic philosophy: "You heard or saw ?Howl' as a negative howl of protest?the poem itself is an act of sympathy, not rejection." Also here is his letter of advice to Lawrence Ferlinghetti of City Lights, which published Howl in 1956, when the book was seized by Customs for obscenity (written from Tangier, where he was visiting Burroughs, on April 3, 1957): "I guess the best way publicity wise is prepare some sort of outraged and idiotic but dignified statement, quoting the Customs man, and Eberhart's article and Williams, and Nation review, mimeograph it up and send it out as a sort of manifesto publishable by magazines and/or news release?. Copyright it under City Lights name — only thing is, if you ever make your money back and make some profit from all your trouble?we divvy the loot."

Pick up the book and open to any page, and you'll find surprises, revelations, wit, and passion. From the 1960s alone, there's his intimate correspondence with Kerouac, Ferlinghetti, Corso, Kenneth Rexroth, Peter Orlovsky (when the two were apart), LeRoi Jones, Gary Snyder, Lionel Trilling (asking for a Guggenheim reference), Robert Creeley (writing to Creeley from Calcutta, he described a pilgrimage: "?the main thing everybody does all day here is smoke ganja, everybody, that's all I did 4 days straight morn till nite , sitting around in huts and tomb-cells with saddhus, singing Baul religious songs and passing the pipe — just like Mill Valley writ large and 1000 years old tradition.") He describes the "huge clownish Utopian gang" masterminded by Ken Kesey — and their big bus — in a letter from San Francisco to Herbert Huncke in December 1965 and mentions his meetings with Bob Dylan to "talk about poesy and fame and Eden Desolation?" He writes to Monarch Notes in December 1966 to complain about the "Beat Literature" pamphlet he "read with a good deal of dismay," finding it incomplete, inaccurate, arbitrary, and dated.

By 1975, he was writing to Gary Snyder in Nevada City from Boulder, Colorado, to urge him to visit the newly founded Jack Kerouac School of Disembodied Poetics at Colorado's Naropa Institute. In an editor's note, Morgan points out that this poetry department at Chogyam Trungpa's new Buddhist College took up much of Ginsberg's time in the following decades.

By 1992, when he wrote Paul Bowles in advance of a visit to Tangiers, Ginsberg reported the deterioration of some of their circle (Peter Orlovsky, he wrote, was "in and out of Bellevue"). He also described his own retrospective CD box set of poetry and music works done with "Elvin Jones (Coltrane drummer), Don Cherry (jazz trumpeter), and Bob Dylan singing backup on Blake and playing tunes to my vocal lyrics." Three years later, he writes Gary and Carole Snyder from Amboise, France, en route home from the Venice Bienniale, where 108 of his photos were shown. He was traveling with artist Francesco Clemente, with whom he had worked on projects for ten years, and the painter's wife, Alba — "intelligent sensitive couple who honeymooned age 21 in India for 2 years." He mentions a call from Timothy Leary, who had terminal cancer, and adds that he had bought Larry Rivers's loft after selling his archives to Stanford for $1 million.

The last brief letter in the collection, was sent to President Bill Clinton, on April 1, 1997:


Enclosed some recent political poems.
I have untreatable liver cancer and have 2-5 months to live.
If you have some sort of award or medal for service in art or poetry, please send one along, unless it's politically inadvisable or inexpedient. I don't want to bait the right wing for you….


It's a fitting capstone to an engrossing collection, reflecting Ginsberg's genius for somehow managing to be always current.