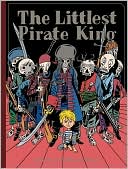 The strikingly elegant yet somehow alluringly naïve artwork of French graphic novelist David B. will be most familiar to English-speaking readers through his masterful autobiographical tome, Epileptic, concerning his malfunctioning brother and their lifelong sibling tug-of-war full of mingled compassion and disdain. With The Littlest Pirate King, David B. applies the same skills and angle of attack that served him so well in a naturalistic, personal mode to a highly fantastical tale, one in fact penned by another writer.

The collaborative figure in this venture—the first in a series of bande dessinée offerings from Fantagraphics—is Pierre Mac Orlan (1882-1970), a Gallic arch-Bohemian of most impeccable credentials. Besides being a novelist, Mac Orlan was also a songwriter often found performing at the Lapin Agile, and a penner of pornography. The text that inspired David B. is a short story titled "Roi Rose," collected in Mac Orlan's 1927 book Chronique des jours désespérés. I suspect that a 1956 reprint of the book was what allowed baby-boomer B. to imprint on the tale.

The story, as you might deduce from Mac Orlan's curriculum vitae, is weird, gory, mythic, transgressive, surreal, satirical, anti-bourgeoise and nihilistic. It is also cute, sentimental, cheery and heartening. This odd melange of effects and attitudes ensures that this adventure of a young boy mascot among heinously damned skeletal pirates reads like a ride on a rather bipolar rollercoaster. And so despite the picture-book presentation, The Littlest Pirate King is probably not entirely suitable for a ten-year-old conversant only with the Disneyfied version of this trope.

Mac Orlan's decaying crew of the Flying Dutchman have no compunction about slaying innocent victims with bloody sword thrusts. Their plundering is particularly pathetic, since they can make no use of mortal goods, and end up ditching their booty overboard in a fit of frustration and anguish. They long only for true death, but are denied it by a vengeful God. With the arrival of the infant boy midway through the book, their zombie lives become interspersed with a few moments of clacking-limbed glee. But the routines of the Flying Dutchman remain basically unchanged for another ten years, until the Littlest King meets a somewhat arbitrary and pathetic fate.

In the end, the schizophrenic, fractured narrative arc, made over-familiar by more recent Jolly Roger outings, is the lesser of the two components here. What makes the book an enjoyable success are David B.'s pinwheeling, vibrant, colorful drawings. Echoing elements from the allied work of Richard Sala and Tony Millionaire, he creates both intimate moments and big dramas with eye-catching color, character design and composition. He manages to individuate a group of skeletons with witty mannerisms and attributes. His underwater scenes are gorgeous, full of exotic marine life. His page compositions let the story proceed gracefully. And even given that most of the scenes take place at night, he cleverly manages to inject brightness and a wide palette of colors. The true king of these manic, antic pirates is David B.
---

Paul Di Filippo's column The Speculator appears monthly in the Barnes & Noble Review. He is the author of several acclaimed novels and story collections, including Fractal Paisleys, Little Doors, Neutrino Drag, and Fuzzy Dice.