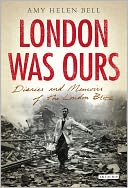 The London Blitz began on this day in 1940 and continued, in the city and throughout the country, for the next eight months. The image of St. Paul's rising up amid clouds of fiery smoke became one of the iconic photographs of the war, and the defiance demonstrated by ordinary British citizens served as an inspiration to the nation and its allies.

Amy Helen Bell's recent London Was Ours (2011) attempts to balance the historical record by documenting the Blitz from the viewpoint of those ordinary citizens, as opposed to the viewpoint of the politicians, journalists, and jingoists who wished to capitalize on the events. The letters and diary entries Bell includes offer a variety of emotions and tones—the predictable sadness and horror, but also exhilaration and awe, even opportunistic pleasure. A sampling of descriptions and reflections:
…the most wonderful spectacle of beauty and terror combined…. It was pitch dark. Then suddenly a golden glow lit up the eastern sky, making everything as clear as day; and looking down the Thames I saw a high column of yellow flames rising…. This quickly died down, and the sky immediately became overspread with the loveliest colours—violet, indigo, blue, green, yellow, orange and red—which eddied and swirled.… It had something of the terror of the unknown and uncanny. I thought if God ever came out of the sky He would appear like that in awful majesty. But, of course, it must be an air raid."

The queerest assortment of goods was pitch-forked into the centre of the road from the old curiosity shop…. There were officer's leggings and stage swords that had once flashed on the boards of Drury Lane in epic melodramas, women's white boots that buttoned up the side, billiard balls and telescopes and South American riding saddles. A policeman had picked up from the gutter a collection of African spears, with which he was gesticulating in the light of dawn.

I saw…a pile of rubble where our bungalow had stood. Beside us was a huge gaping hole. Everything we had possessed had gone into that hole. I had planted rows of spinach in the garden. Not a bit remained. Human nature is a funny thing for, believe it or not, although we had lost everything we possessed, the thing I mourned for most was my precious spinach.

Going to bed was not a complicated process, it only meant lying on our [air shelter] mattresses instead of sitting on them…. Our friendship made rapid progress, the blitz was a hothouse for such delicate plants as friendship and love.
---
Daybook is contributed by Steve King, who teaches in the English Department of Memorial University in St. John's, Newfoundland. His literary daybook began as a radio series syndicated nationally in Canada. He can be found online at todayinliterature.com.