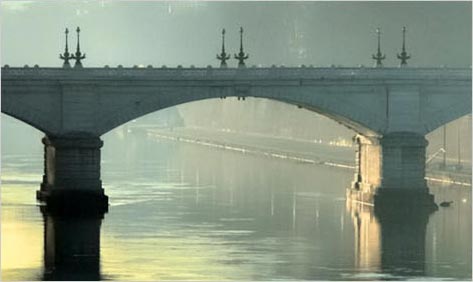 InRichard Linklater's 1995 movie BeforeSunrise, Julie Delpy and Ethan Hawke play a youngFrenchwoman and an American who meet on a train from Budapest and spend aromantic night walking and talking all over Vienna before he catches hismorning flight back to the States. I thought of this movie—and its sequel, Before Sunset (2004), in which the lovers rekindle their oldconnection in Paris nine years later—while reading Mary Gordon's seventh novel.Like these lushly romantic films, TheLove of My Youth probes questions about serendipity in life andlove, and whether there is such a thing as a fated soulmate.
The main impetus ofGordon's novel is neither nostalgia nor romance but self-definition. Two formerlovers, Adam and Miranda, who met in high school in Hastings, New York andthought they would be together forever, reconnect by chance in Rome nearly 40years after their cataclysmic breakup after college. They wander—as do Delpyand Hawke—around a foreign, richly visual city and talk, talk, talk, slowlydefining who they are now, at 59, while cagily circling the subject of whetherthey have changed, and what happened all those years ago.
But whereas the moviecouple are constrained by impending flights, Gordon's characters have anunbelievable luxury of time. They meet for daily walks over three weeks inOctober, 2007—an unscheduled block in the lives of busy, married adults thatstrains credulity. Gordon would have us believe that Miranda, an environmentalepidemiologist in Rome for a conference, has hours free every day to meet Adambecause her Israeli husband, also in public health, who was supposed to joinher, had to stay home in Berkeley to arrange care for his stroke-afflictedmother. Meanwhile, Adam, a private school music teacher on summer break, ischaperoning his 18-year-old daughter from his second marriage, a promisingviolinist, on a prestigious three-month conservancy scholarship; his youngsecond wife, a dentist, is home working. What, we wonder, would Adam have donewith his time if he hadn't met up with the woman whose heart he broke all thosedecades ago?
Gordon's readers know—fromnovels including Final Payments (1978) and Spending (1998), and memoirs of her parents, The Shadow Man (1996) and CirclingMy Mother (2007)—that she is drawn to intensely felt,voluptuously expressed emotional distress. In The Love of My Youth, she alternates with agility, often paragraphby paragraph, between Miranda's and Adam's points of view, written in a closethird person. In flashbacks to the 1960s, though, she strikes the tone of anover-emphatic docent taking us on a tour of her couple's past—"And so theyleave their family houses, Adam and Miranda, never to return," she writesponderously, repeating just a page later, "Adam and Miranda leave theirfamilies to take their places in the world. Joined, they believe, hand in hand,forever, on a path that will stretch out the whole length of their lives."
Theleisurely timeline of Gordon's novel leads to unrushed explorations not just ofRome but of "the shape, the texture" of each other's lives, andquestions such as, "Are we fated to always be the people we were?"and "Who were we? Who are we now?"
On their perambulationsthrough the Piazza Barberini, Villa Borghese, and Campo dei Fiori, Adam andMiranda discuss art, music, and aspirations abandoned for more ordinary lives,either willingly (Miranda) or unwillingly (Adam); the importance of hope; andtheir attitudes toward success, failure, mediocrity, and gender. They also wrestle with anessential incompatibility: Miranda's unrelenting, guilt-fueled drive to improvethe world, versus Adam's engagement with the beauty of classical music, whichhe finds sufficient in itself. These conversationsare more intense than playful, the sort of heart-to-hearts more common indormitories than suburban homes.
Gordon captures thedynamics of guilt and the particular "satisfaction of a cherishedbitterness." She understands Adam's relief that Miranda survived hisbetrayal, and Miranda's vindication in realizing that she has led the happier,healthier life: Adam has paid for his defection with a heart condition and amiserable first marriage that ended with his wife's suicide.
The Love of My Youth is a slow tease toward discovering what happenedbetween this couple—a revelation I will leave to the reader. Recognizing thatthe past is "a dark wave that could all too easily drown them,"Gordon's couple skirts sensitive subjects until faced with a deadline—Miranda'simpending flight home. The question is, with less time on their hands, like thecharacters in Before Sunrise, wouldthey have cut to the chase sooner, or not gotten there at all?