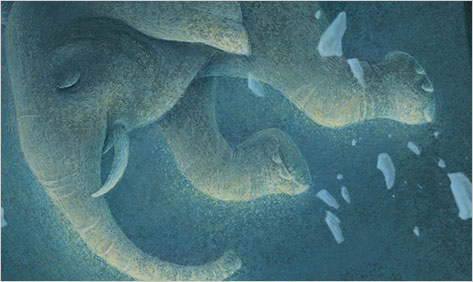 What kind of children's book can make a grown man cry? This one.

When I asked what made my friend Matt cry, I was told by his wife, "Well, it was the part when…" No, not when, what? Why? Why this story? "Well it's about forgiveness, it's about redemption." Wait a minute…I thought it was about hope. It is.

If there is a DiCamillo signature style it is that she trusts the reader to find the story, to make their own meaning. She came out of the gate a champion, garnering a Newbery Honor for her first book Because of Winn Dixie. The Tale of Despereaux won the Newbery Medal, the highest award in children's fiction. The Miraculous Journey of Edward Tulane was a National Book Award finalist and stirred up quite a controversy in children's literature circles because of its main character, a self-centered china rabbit on a downward spiral.

Children do not need to be convinced of DiCamillo's magic. Each book, from the slapstick humor of the toast-obsessed pig Mercy Watson to the painfully complicated lives of the early adolescents of Tiger Rising, casts a spell.

I have always felt that adults could, should, and would enjoy her novels for their lyrical language and for their multilayered texts. All of DiCamillo's books tackle big themes — love, friendship, loyalty, commitment, redemption and courage. I have pressed copies of Because of Winn Dixie into the hands of many adult friends and acquaintances. My husband once leaped from a restaurant in mid-meal to buy a copy from a nearby bookstore, convinced that our friend should not leave the table without it.

DiCamillo's new book The Magician's Elephant is most reminiscent of the timeless works of Hans Christian Andersen, set in an artfully familiar, vaguely European storybook village. In this "once-upon-a- time" land, there lives an orphaned boy, Peter Augustus Duchene, who resides with an old soldier in an attic room above the home of a childless policeman and his wife. There is a beggar with a blind dog, a nun who sits at the door of an orphanage, a girl who lives at the orphanage, and an imperious countess. There is also a magician who dreams of greatness, a stone carver, a noblewoman, and of course, the elephant from the title. With her economy of language and dry wit, DiCamillo seamlessly weaves these seemingly disparate denizens together to create her tale's tapestry.

Although the phrase "cognitive dissonance" would mean nothing to most ten-year-olds, there is no child who has not wrestled with the uncomfortable feeling caused by holding two contradictory ideas simultaneously. DiCamillo begins her tale with the protagonist in the throes of such agony. A fortune teller has told him that the infant sister he had thought was dead is alive.

If Peter Augustus Duchene believed that his sister Adele was alive then he had been lied to by his guardian, the soldier Vilna Lutz. But the honorable man who raised him must have been telling the truth. Yet, as he lay in bed that night, his thoughts chase each other:
He lies; she lies; he lies; she lies. Someone lies, I know not who. If she lies, I am a fool but if he lies, my sister is alive. His heart thumped. If he lies, then Adele lives. 'I hope he lies.' said Peter aloud to the darkness. And his heart, started at such treachery, astonished at the voicing aloud of such an unsoldierly sentiment, thumped again, much harder this time.

Across town, a "magician of advanced years and failing reputation performed the most astonishing magic of his career." This mediocre performer astonishes himself as well as the audience when he conjures a living elephant that crashes through the ceiling of the opera house, crushing a noblewoman's legs. "The magician stood next to the enormous beast and gloried in the smell of her — dried apples, moldy paper, dung." Later, he repeatedly claims that he meant only to produce lilies.

The plot arises out of these interlocking mysteries with an effortless urgency — will Peter find his sister? Will the magician be imprisoned forever? Will the elephant ever find her way home? As we anxiously witness the unfolding events, a refrain is heard from the young policeman. Leo Matienne asks repeatedly these unanswerable questions, "What if? Why not? Could it be?"

And here we are again with my friend Matt. The main theme of the book, implicit in Leo's poignant "Why not?," is hope — hope in the face of all evidence to the contrary. Early on Peter decides that "that it is a terrible and complicated thing to hope, and that it might be easier, instead, to despair." Yet in the fine tradition of the fairy tale, there are convenient coincidences and friends found in unlikely places that spark a bit of hope.

As in her prior works, DiCamillo does much more than spin a tale — she begs us to not give up, to see beyond the fear and distress of the moment and to resist the temptation to throw up our hands ten minutes before the miracle happens. She shows that forgiveness comes when we to bravely own up to our very human failings, that we are trapped in our misery if we are like the magician who cannot admit that he really did want to perform an astounding feat.

DiCamillo's prose remains masterfully evocative, painting such clear images in the mind that one would think illustrations superfluous. But Yoko Tamaka's paintings accompanying the text accentuate the fairy-tale atmosphere, helping establish an otherworldly — not now, not then — dreamlike feeling. The pleasures of the book as a physical object, delightful to hold and behold, have not been scanted either. How wonderful it is in this age of digital delivery, to revel in the comfortingly old-fashioned typeface set on heavy stock.

Matt the grown-up reader was right. The Magician's Elephant is a profound work of hope and redemption — a story about regaining what was lost and about forgiveness. Children will enjoy a magical tale, and grown-ups will discover a spiritual one. They both will find exactly what they need.