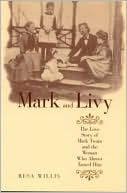 A year before his marriage, Mark Twain predicted that by taking on "the task of making a Christian of me," Olivia Langdon would "unwittingly dig a matrimonial pit and end by tumbling into it." When Livy died in 1904, after thirty-four years of marriage, it was Twain's turn to tumble. Six months after the funeral, he was spending most of his time in bed, with every intention to "stay there till the whiskey runs out." After another year he was still often in bed but, as self-therapy, using some of his time for the dictations which would become his Autobiography. While Twain's speeches and quips are full of his usual spousal humor, his Autobiography shows how Livy, though physically and emotionally frail, anchored Twain's own nervous energy and calmed his stormy moods.
In one episode, Twain recalls a morning ten years into his marriage when, according to custom, he closed the bathroom door to begin his usual routine — shaving, dressing, and cursing. With three successive shirts pitched out the window for having missing buttons, the cursing mounted to "a cavalry charge," and then came to an abrupt halt: there was the bathroom door ajar, and in the adjoining bedroom there would be Livy, with good ears and high standards. Declining to follow the shirts, Twain returns to the bedroom and the silent scrutiny of his wife:
I stood silent under that desolating fire for as much as a minute, I should say — it seemed a very, very long time. Then my wife's lips parted, and from them issued — my latest bathroom remark. The language perfect, but the expression velvety, unpractical, apprentice-like, ignorant, inexperienced, comically inadequate, absurdly weak and unsuited to the great language. In my lifetime I had never heard anything so out of tune, so inharmonious, so incongruous, so ill-suited to each other as were those mighty words set to that feeble music. I tried to keep from laughing, for I was a guilty person in deep need of charity and mercy. I tried to keep from bursting, and I succeeded — until she gravely said, "There, now you know how it sounds."

Then I exploded; the air was filled with my fragments, and you could hear them whiz. I said, "Oh Livy, if it sounds like that I will never do it again!"

Then she had to laugh herself. Both of us broke into convulsions, and went on laughing until we were physically exhausted and spiritually reconciled.
---
Steve King contributes Daybook to the Barnes & Noble Review and teaches in the English Department of Memorial University in St. John's, Newfoundland. His literary daybook began as a radio series syndicated nationally in Canada. He can be found online at http://www.todayinliterature.com.