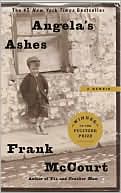 Frank McCourt was born on this day in 1930 in New York City, moving to Limerick, Ireland at age four. In the opening pages of Angela's Ashes, McCourt lists the generic causes of his incomparably "miserable Irish Catholic childhood": "…the poverty; the shiftless loquacious alcoholic father; the pious defeated mother moaning by the fire; pompous priests; bullying schoolmasters; the English…" Worst of all, the wet:
From October to April the walls of Limerick glistened with damp. Clothes never dried: tweed and woolen coats housed living things, sometimes sprouted mysterious vegetations. In pubs, steam rose from damp bodies and garments to be inhaled with cigarette and pipe smoke laced with the stale fumes of spilled stout and whiskey tinged with the odor of piss wafting in from the outdoor jakes where many a man puked up his week's wages. The rain drove us into the church—our refuge, our strength, our only dry place…. Limerick gained a reputation for piety, but we knew it was only the rain.
When McCourt's book came out in 1995, he found himself in even more water back home, all of it hot. But the protests subsided over the years, and when McCourt died in 2009, the mayor of Limerick signed the city's book of condolences, saying that he regretted not granting McCourt the Freedom of the City while he was alive.

Three of the seven McCourt siblings died in childhood. Frank was the oldest of the four boys who survived, and the first into print, but Malachy and Alphie have now added at least one volume apiece to the family's informal history of the twentieth-century Irish immigrant experience. Alphie's A Long Stone's Throw (2008) shows that he shares the McCourt talent for landing on one's feet, and for the required blarney—such as when he gets a job as a waiter at an upscale New York eatery:
For now, I am blinded by the easy camaraderie and the chance to have a foot in the glamorous East Side of Manhattan. And, of course, there is money, more money than I've ever seen. Tables are topped with gold. All I have to do is bring the food, take the dishes and smile at any reference to my Irish looks and accent. When they ask, "What do you really do? Are you a poet or a writer or an actor?" I must be abashed and smile with an "I'm working on it."
---
Daybook is contributed by Steve King, who teaches in the English Department of Memorial University in St. John's, Newfoundland. His literary daybook began as a radio series syndicated nationally in Canada. He can be found online at todayinliterature.com.