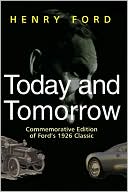 May 31: The last Model T Ford rolled off the assembly line on this day in 1927 (and asphalt was patented on this day in 1870). Aldous Huxley was so horrified by the American road culture he saw when traveling the U.S. in the 1920s that he made Henry Ford the dystopian God of Brave New World (1931). In Chapter 5, Bernard attends the regular meeting of his Solidarity Group at the Fordson Community Singery, the dozen of them joining together in song and soma:
The President made another sign of the T and sat down. The service had begun. The dedicated soma tablets were placed in the centre of the table. The loving cup of strawberry ice-cream soma was passed from hand to hand and, with the formula, "I drink to my annihilation," twelve times quaffed. Then to the accompaniment of the synthetic orchestra the First Solidarity Hymn was sung.

Ford, we are twelve; oh, make us one,

Like drops within the Social River,

Oh, make us now together run

As swiftly as thy shining Flivver.
In his prologue to Main Street (1920), Sinclair Lewis chooses the Model T to anchor his satiric portrait of Gopher Prairie, Minnesota: "Main Street is the climax of civilization. That this Ford car might stand in front of the Bon Ton Store, Hannibal invaded Rome and Erasmus wrote in Oxford cloisters." But Lewis's Free Air (1919), based on his own honeymoon tour in a Model T, is one of the first novels to sing the praises of the road trip—as perhaps advised by Walt Whitman, born on this day in 1819:
…Allons! the road is before us!

It is safe—I have tried it—my own feet have tried it well.

Allons! be not detain'd!

Let the paper remain on the desk unwritten, and the book on the shelf unopen'd!

Let the tools remain in the workshop! let the money remain unearn'd!

Let the school stand! mind not the cry of the teacher!

Let the preacher preach in his pulpit! let the lawyer plead in the court, and the judge expound the law….

(from "Song of the Open Road," Leaves of Grass)
---
Daybook is contributed by Steve King, who teaches in the English Department of Memorial University in St. John's, Newfoundland. His literary daybook began as a radio series syndicated nationally in Canada. He can be found online at todayinliterature.com.