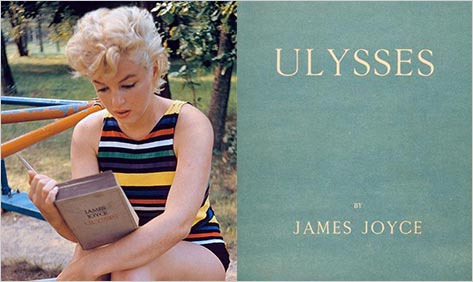 Before reading Kevin Birmingham's The Most Dangerous Book: the Battle for James Joyce's Ulysses I would have said that a good example of superfluity would be another book on Joyce's Ulysses, surely the most written-about English-language novel of all time. According to Birmingham himself there are around 300 books — 50 or so appearing in the last ten years — and over 3,000 articles written that deal chiefly or in part with Ulysses. Given these demoralizing figures, one would think only a streak of madness would prompt a man to augment them. And yet, miraculously and happily, The Most Dangerous Book is the farthest thing from redundant. Detailed, lucid, and attentive to character, it is a fast-paced, thoroughly absorbing history of Ulysses' coming-to-be, a tale of mishap as much as of triumph.
Here, first of all, is a book to drive home what a permissive and puny force official censorship is in our own day as compared to the prudish, iron-fisted version that existed in English-speaking countries in the years following the First World War. Ruinous fines, confiscation, and imprisonment were literary freedom's reward. In part this was the result of fear, often government-amplified, of revolution, violent or otherwise, and of other insidious and vicious forces. Birmingham quotes the U.S. Post Office's solicitor general, who went after The Little Review (which later published installments of Ulysses and eventually went to trial over its banning and burning) declaring: "You know I'm not working in the dark on this censorship thing. . . . I am after three things and only three things — pro germanism, pacifism, and high browism." Modernist literature was suspect not only because it was clearly unwholesome but because it and radical causes became linked to one another, both championed by the same little magazines.
In the case of Ulysses, of course, there was the matter of obscenity, a quality for which the censor was always on the lookout — whether it was ladies in undress, information on birth control, or any number of passages in Ulysses. Birmingham combs out the complicated story of how the novel ran afoul of censors, both in Britain and the U.S., first in magazine installments and eventually in book form. It is an international tale of many episodes, and Birmingham is masterly in capturing the personalities of its large cast of characters, dealing out telling quotations, and detailing the perilous, ingenious, always grueling strategies employed by the novel's publishers to elude the guardians of public morals. These included everything from shipping unbound texts of the novel disguised as newspapers, to men crossing the Canada-U.S. border with (fittingly enough) copies of Ulysses stuffed down their trousers.
Birmingham is especially alive to the numerous ironies and curious juxtapositions that made up the story of Ulysses. Among the unusual circumstances which surround its composition and publication is the unlikely role played by women, a factor that Birmingham brings to the fore. An entire dimension of the book is, of course, informed by Joyce's wife and muse, Nora Barnacle, though there's nothing strange about that. What is strikingly odd — particularly given the misogynist strain in modernism — is the fighting spirit and unbending support of four women without whom the novel would never have seen print.
This particular "gynocracy," to use Ezra Pound's expression for what he considered women's insalubrious influence over magazines, was made up, first, of Harriet Weaver, whom Birmingham likes to call "Miss Weaver," as surely she would have herself. An Englishwoman and heir to a cotton fortune, Weaver was likened by Virginia Woolf to "a well-bred hen" and was given to such heady pleasures as arranging "fresh flowers to balance the dark woods of her furniture." She was drawn into the frantic, failure-ridden world of little magazines through her admiration for and financial support of The New Freewoman, which very quickly metamorphosed into The Egoist, of which, most improbably, she became editor. And a most intrepid and demanding one she turned out to be; under her, the magazine published Joyce's Portrait of an Artist and parts of Ulysses, in the course of which she fired one printer after another for bowdlerizing text or refusing to set type for certain words and passages.
Meanwhile in the United States, Joyce's work came to the attention of Margaret Anderson, founder of The Little Review, which she also edited and published with the assistance of her partner, Jane Heap. The rock-hard determination to publish what Joyce actually wrote, without expurgation or euphemism, under threat of imprisonment, crippling fines, and the confiscation and burning of their publications, outdid Joyce's male supporters. The two suffered persecution and destitution because of their work, as well as ridicule, even from the supporters of modernism itself, one of whom, the wealthy lawyer John Quinn, equated their magazine with "a female urinal . . . unwashed and rancid." Quinn eventually defended the two when they were brought to court and risked a $5,000 fine and prison sentences, over an installment in The Little Review of Ulysses ("ultra-violet sex fiction," in the words of one journalist). In the end they were fined $100, though the issue remained banned.
The most famous among Joyce's contingent of female supporters was Sylvia Beach, who, with no publishing experience at all, brought out the first full edition of Ulysses. It was a punishing undertaking, in part because of her inexperience but also because of the difficulties of distribution, which is to say, smuggling the books into Britain and the U.S. And, throughout, there was the thankless task of dealing with Joyce himself: a genius, yes, but also a spendthrift, drunk, prima donna, peremptory demander of funds, and peerless ingrate. Added to all this was Joyce's constant tinkering with the manuscript: He continued to make changes during production, resulting in four galley versions and five page proofs. Finally there was the threat of Beach's edition being scooped by a pirated and somewhat neutered version, the work of one Samuel Roth, this book's greatest bounder (aside from Joyce himself).
The major thread of The Most Dangerous Book is the publication and distribution of Ulysses in the face of censorship (which included attempts by Joyce's male supporters to tone it down) and the eventual overturning of the ban on the novel, but the writing of the work itself also provides a continuing and exasperating drama. It is a true wonder that Joyce completed it, not least because of his various physical and nervous ailments, most especially his failing eyesight and the dozen horrifying operations he underwent — a couple described here in satisfying, ghoulish detail. Birmingham argues convincingly that Joyce's eye problems were the result of his having contracted syphilis, probably in 1904, on one of his excursions into Dublin's "Nighttown." (This diagnosis has caused unhappiness and acrimony in some members of the Joycean priesthood, admirers of the great man who simply won't have it.)
Birmingham ends with the legalization and printing of Ulysses, in the U.S. in 1933 and in Britain in 1936. With U.S. federal judge John Woolsey's ruling that Ulysses was not "dirt for dirt's sake" and was, in fact, a legal work of art, Random House set the presses rolling. In one final and stupendous irony, however, the book given to the printer to set in type was a copy of the bowdlerized and mutilated pirated version produced by Samuel Roth — a bleak joke at the expense of all who had labored so long for the priority of an artist's voice over Mrs. Grundy's.