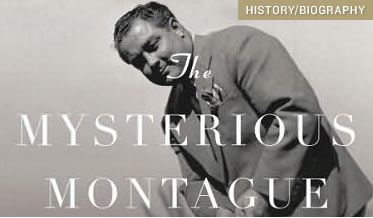 Leigh Montville writes nonfiction, but many of the men who pop up in his latest book, The Mysterious Montague: A True Tale of Hollywood, Golf, and Armed Robbery, have names that sound as if they were tapped out on the typewriter of a 1930s screenwriter: Scorpy Doyle, Side Hill Henry, Bozo Corbett, Mush Mulane, and Bushel Gooley, to name a few.

This is fitting, as the book itself, in plot, pacing, and setting, unspools like an old movie. Montville, who has written bestselling biographies of such sports legends as Babe Ruth, Ted Williams, and Dale Earnhardt, here tells the story of John Montague, an enigmatic man who arrived in Hollywood in the early ?30s and quickly achieved his own curious celebrity. As a hanger-on at the exclusive Lakeside Golf Club, he became known for his killer golf game, his showy tricks on the green (he was said to have beaten Bing Crosby at a round of golf using a baseball bat, a shovel, and a rake in lieu of clubs), and his prodigious strength (he could lift the not-insubstantial comedian Oliver Hardy, one-handed, and plop him on the country club bar).

Despite his gifts, however, the charming Monty refused to play golf competitively. He also got itchy when there were photographers around. But his legend grew, and after famed sportswriter Grantland Rice devoted a column to his golfing feats, other journalists pursued him; finally a photographer for Time magazine managed to sneak a shot. Not long after his photograph was published, the explanation for his reticence became apparent: Montague was actually LaVerne Moore of Syracuse, wanted for his role in a 1930 armed robbery of an upstate New York restaurant.

Despite the intervention of Crosby (who called him "a grand fellow"), Hardy, and his other celebrity friends, Montague was extradited to New York and tried in the tiny village of Elizabethtown. The glamour surrounding the man newspapers called "the Garbo of golf" and "the sphinx of the links" turned the trial into a media circus. The robbery had taken place seven years earlier, but there was ample evidence linking Montague, who had admitted to involvement in small-time bootlegging and extortion schemes, to the crime. Still, the jury of small-town working men, perhaps dazzled by the dapper defendant, returned a verdict of not guilty.

In the wake of his acquittal, Montague was called "the greatest attraction in the country." The masses were eager to see him show off his golf game, and his first public outing, a charity exhibition in which he played with Babe Ruth and Babe Didrikson, drew what was likely the largest crowd ever to attend a golf event in the United States.

But Montague fizzled — there and practically everywhere else. He returned to Hollywood, where he coasted on his minor fame, drank too much, and proved himself lacking the discipline necessary to succeed professionally. The newspapers turned on him, calling him "a bum" and "a dud." He married, but his wife died young. He suffered some alcohol-related arrests and ailments. Even his relatives back home in New York began to avoid his calls. When he died at 68 in 1972, he was living alone in a motel room and getting by on welfare; his body remained in a mortuary unclaimed for a week.

It?s a peculiar — and peculiarly American — rise and fall, and Montville succeeds in describing it vividly and engagingly. He does an excellent job of evoking the early Hollywood scene — flourishing in spite of the Depression — that Montague was able to insert himself into with remarkable ease. "Millions are to be made out here and your only competition is idiots," wrote producer Herman Mankiewicz in a cable to New York writer Ben Hecht, quoted by Montville. "Don?t let this get around." He also richly details the climate at Lakeside, which he calls "an everyday celebration of good fortune, a perpetual boys? night out." Montague, he writes, "fit perfectly into the scene with its equal parts alcohol, golf, testosterone, and madcap bravado."

The author is less successful in other respects. He can be a bit overwrought with his material, as with this description of the judge?s postponement of his decision in Montague?s bail hearing: "Judge Brewster adjourned the case until two o?clock Thursday afternoon," he writes solemnly. "That meant John Montague would spend at least the next two nights in jail." Two nights in a holding cell isn?t all that grave to begin with, but the experience ends up sounding positively charming when Montville reveals that the authorities, upon learning that it was Montague?s birthday, released their prisoner for a leisurely stroll to the local drug store for an ice cream soda.

Montville has a writerly tic of repeating long phrases over and over, as when, in recounting some of Montague?s youthful hijinks and unable to confirm what kind of car was used in a particular prank, he three times refers to "the touring car, which was either the high-wheeled Cadillac or maybe the Pierce Arrow with the big headlights." The repetition is probably an attempt to create rhythm, but it makes one think of a student trying to pad a thin paper with extra words in order to reach the minimum required length.

But the book?s greatest shortcoming ends up being the subject itself. Montague, for all his charisma and talent, is not a likable guy. Montville demonstrates that Montague in all likelihood did commit the restaurant robbery, which involved tying up and gagging young children and beating their grandfather. He didn?t see his parents or siblings during his seven-year Hollywood exile, and when freed on bail, he announced to the press that he was rushing to see his ill mother. Instead he hit a cocktail party being thrown by the actor Otto Kruger at his nearby summer home. We never quite understand what makes this odd, unsympathetic man tick. The end of the book leaves the mystery of Montague frustratingly intact.