In celebration of last night's National Book Awards ceremony, we wanted to congratulate the winners and look back at some of our coverage of them.
The Nonfiction winner, Katherine Boo's Behind the Beautiful Forevers, was a Discover Great New Writers selection and a favorite among critics, including our own Daniel Asa Rose. Describing the hardships suffered byresidents of a Mumbai slum at the heart of Boo's debut work of nonfiction, Rose enumerates:
They line up to get water from one of the few "trickle faucets" the city turns on for three hours a day. When they go to hospital, they sleep on urine-soaked mattresses; when they go to jail, on charges as often capricious as not, they sleep standing up, barely able to breathe for the crushing proximity of other people as desperate as they.

As indelibly described by the Pulitzer Prize-winning journalist and New Yorker staff writer Boo, who spent three years among them to research her book, these slum-dwellers are not merely textbook examples of "Representative Poor Persons." They are individual human beings with troubles and joys every bit as real as those of the tourists, but which are rarely heard by the world beyond. Their baby brothers drown in kitchen pails. Their big sisters go bald because the boils on their heads erupt in worms. As parents, they are accustomed to the sound of the police beating children like Abdul, a teenager accused in a Kafkaesque court case, whose age his mother isn't sure of because "you didn't keep track of a child's years when you were fighting daily to keep him from starving."
Yet, noting a quote from Boo's "thoughtful" afterward in which she says, "if a reader comes away…thinking of them only as pathetic socioeconomic specimens I'll have failed as a writer."
Rose states emphatically "She has not failed." Read his review here.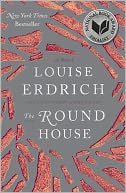 The Fiction winner, Louise Erdrich's The Round House, was among the five finalists that former NBA judge Tom LeClair surveyed for the B&N Review earlier this month:
"Set on a North Dakota reservation in 1988, the story is told by Joe Coutts, a 13-year-old whose Native American mother is raped by a white man. Dissatisfied with reservation law enforcement, Joe puts himself on the case. After following some false leads, our boy detective finds, like Huck Finn and Tom Sawyer before him, a mysterious cache of cash and learns the perpetrator's name. But because of complicated laws governing prosecution when the exact location of a crime against a reservation dweller is not known, the rapist goes unpunished and suspense builds a second time as Joe plans his murder."
Read LeClair's comprehensive take on all five finalists here.
Also receiving awards were William Alexander, in the Young People's Literature category, for his fantasy Goblin Secrets, and poet David Ferry for his collection Bewilderment: New Poems and Translations.
And crime novelist Elmore Leonard — as previously announced in September — was presented with the Medal for Distinguished Contribution to American Letters.
Congratulations to all!
— The Editors