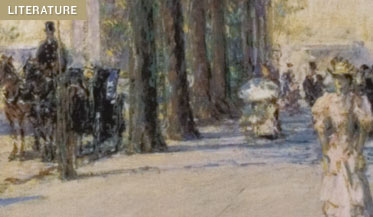 In her introduction to this volume, Roxana Robinson calls New York Edith Wharton's "greatest subject." But this is not true: That distinction belongs to marriage — contrived at, settled for, regretted, foiled, endured, betrayed, and forsaken. Still, just as her own unhappy marriage informed Wharton's view of the human predicament, so New York was elemental to her vision, which was one of contrasts. The city was both tiny and huge: It was polite society, a warren regulated by custom, affectation, and cruel retribution; and, outside that, an immense arena teeming with people at large, oblivious to the past and alert to the main chance, or crushed and desperate. Wharton's New York — vast, lit up, ever changing, yet cursed with a punitive, stifling morality — also lay in defining contrast to her Europe, a continent of moldering relicts, masterworks of art, and tolerant cosmopolitanism.

"Mrs. Manstey's View," the first of the 20 stories here, was also its author's first story published under her name. It concerns the final tribulation of an aging, infirm widow of reduced means who dies "lonely but not alone." Though no one could call the story great — indeed, its author did not deem it worthy of including in later collections — it does give a near Hogarthian portrait of shabby, turn-of-the century New York, of its grim little rooms and the backyards of boarding houses It also shows Wharton's sure feeling for genteel poverty's isolating squeeze, for the enormous presence of other, anonymous lives, and for the callousness of the world as it rolls ineluctably on.

It was New York's small world of privilege, whence she herself sprang, that really interested Wharton. Existence in its confines, sequestered from the "the senseless machinery of life," amounted to playing a part in a series of tableaux in which marriage was central, and, for women, essential. Marriage could also be, and in Wharton's fiction, usually was, a demoralizing burden. In the nightmarish tale, "A Journey," an unnamed woman has finally found a place in the world by marrying. But after only a year her husband becomes ill, petulant, and needy, and, despite a sojourn in the West, is clearly dying. The couple are returning to New York in a sleeping car filled with strangers (one of whose "snores had a greasy sound, as though they passed through tallow"). The woman's sense of isolation grows, and when her husband dies in the night, she so fears being put off the train with his body in a strange station that she disguises his death. It's a vision of social fear translated into the macabre. That little tale of horror is matched nicely by the unnerving marital developments in "Pomegranate Seed," the only one of Wharton's admirable ghost stories here, and in "The Diagnosis," where marriage is bought at the price of allowing a man — a real bounder, I'm glad to say — believe he is dying.

Unsuitable attachments, indiscreet adultery, illegitimacy, and divorce, all conjured up by this author with mischievous zeal, carried a sentence of exile in New York society. As a result, secrets were plentiful, and in this collection pride of place in that respect goes to "Roman Fever," one of Wharton's great works, written near the end of her life. In this, two former New York neighbors and girlhood friends, now ladies "of ripe but well-cared for middle age," sit conversing on a terrace overlooking the Forum in Rome. As it happens, they are also surveying the scene of their own adventures of some 25 years earlier. But their conversation begins to take on an increasingly ironic torque as the true shape of past deeds and the consequences of a carefully concealed passion emerge. Even now, in the 21st century, the final revelation is a stunner.

If the discovery of illicit sexual behavior bought a ticket to outer darkness, rejecting passion was no answer either in Wharton's pitiless view: It extinguished the soul and reduced one to a social automaton. Such is Mrs. Reardon of "In the Long Run," who rejected an affair years ago, and whose inanimate face now wears "a small unvarying smile which might have been pinned on with her ornaments."

Happily, if that is the word, Wharton did not lose her subject when the penalties for marital incontinence began to diminish. "The Reckoning," for instance, is a savage little story about free love in which the chickens come home to roost. And it should be said that, even with relaxed standards, what could be acknowledged was still a matter of casuistry rather than frankness. "The Other Two" is an excellently comic tale about a respectable man who has married a twice-divorced woman. He and society have squared this with propriety through some agile reasoning, but events continually throw him in contact with his wife's former husbands and eventually further conspire to a truly mortifying, even unimaginable, solecism: He finds himself standing at his own hearth with his two predecessors, each being served tea by the woman who has been wife to them all.

The matter of divorce arises in a number of other stories here, including in one of the very greatest and saddest stories Edith Wharton ever wrote. "Autre Temps" begins with Mrs. Lidcote, divorced and exiled from New York to Europe for many years, returning to America to lend support to her daughter, Leila, who has just been divorced herself and has remarried. On deck, thinking of her own and now her daughter's inevitable ostracism and pain, the returning pariah shrinks back "as the huge menacing mass of New York defined itself far off across the waters." As it happens, she needn't have worried about Leila, at least on that score — or, as a family friend puts it, "You won't know Leila. She's had her pearls reset. Sargent's to paint her." And, indeed, Leila is not only accepted but feted, and Mrs. Lidcote begins to imagine that her own disgrace can be forgiven. The answer is no and no again. Times have changed, but not for her; and Wharton drives home the merciless, indecent ramifications in a series of brilliant, truly shocking denouements.

After a few bracers, F. Scott Fitzgerald once said, "Mrs. Wharton, do you know what's the matter with you?…. You don't know anything about life." But of course she did; more than he did, perhaps, because she also knew the precise workings of the trap that lay waiting to finish it off.