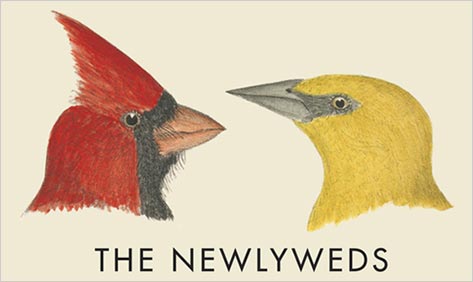 Amina is headed for the mailbox in her bedroom slippers when we first see her in The Newlyweds, Nell Freudenberger's ambitious and often affecting second novel. The twenty-four-year-old Bangladeshi, an email-order bride — she met her American husband on "AsianEuro.com" — wants to show the neighbors in her Rochester suburb that she belongs. The fact that she's checking the mail for her green card shows the distance she still has to go.

Her husband, George, is a nice enough guy, but this is no love match. He's a socially awkward engineer who was so picky when it came to girls, he turned to an Internet service that let him literally write out his wish list. Amina, meanwhile, had spent years planning her escape from her village in Bangladesh. Though she was a gifted scholar, college proved too costly, so she decided to marry her way into an American life.

The resulting culture clash is familiar territory for Freudenberger, whose first novel, The Dissident, stuck a Chinese artist in Beverly Hills, then followed him around as his life — and lies — unraveled. The setup here is similar with George and Amina and the stark differences in their worlds, each entering their arranged marriage with secrets neither wishes to tell.

Freudenberger's prose is lithe and precise, the world here keenly observed. You feel the price Amina pays as she struggles in the job market, in the supermarket, and in the marital bed. But that same crystalline quality gives the story a remove, an almost mournful self-awareness. Amina's not in love with George, and Freudenberger's none too fond of suburban life. Between the two of them, you sometimes long for relief. Thank goodness it's there, in moments like this phone call between Amina and her parents, where Freudenberger gives shape to what Amina — and we — are feeling.
Once again she had the disorienting feeling that her past was still happening, unfolding in a parallel stream right alongside her present. Only on the telephone did the streams ever cross. At the other end of the line, another Amina was hiding her head under the covers, stealing just a few minutes before the cacophony outside forced her to put two feet on the cold, tiled floor.
The chill that pervades the muffled months and years of her marriage vanishes the instant a family errand brings Amina back to Bangladesh. Fresh from learning a devastating secret that George and his relatives have been keeping, Amina promptly stumbles onto one she's been keeping from herself. Freudenberger stumbles here, too.

Though the landscape she shows us is intoxicating, saturated with heat and scent and sound, the plot that has been kept at bay by the bifurcation of Amina's two worlds suddenly spills out. Unruly and untamed, it leads to twists and turns that are as unlikely as they are unearned. It's all entertaining as hell, but after the strict parceling out of the first two-thirds of the book, baffling. In the final pages, Amina and her family pass through airport security, each in her or his own world, each wondering what just happened. So are we.