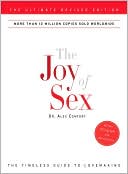 Alex Comfort died on this day in 2000. Apart from being a novelist and poet, Comfort was a respected academic and a social activist who wrote extensively on a wide range of topics — some three dozen books published over a half-century writing career, on aging, pacifism, anarchism, neuroscience, physics, mathematics, and more. 

But Comfort, to his horror, found wealth and fame for only one book (and its sequels) — his 1972 bestseller, The Joy of Sex, regarded as one of the essential texts of the "sexual revolution." Comfort's book, or one of its offspring, also has a rarefied place in book history. The Joy of Sex: The Pocket Edition won the 1997 Bookseller/Diagram Prize for Oddest Title of the Year. Bookseller magazine has been handing out its Oddest Title prize since 1978, the winner selected from entries submitted by librarians, publishers, booksellers, readers — anybody who wants the title-picking award of a bottle of champagne or claret.

The prize is supposed to go to a book with an unintentionally funny title, the humor coming from the title's deadpan oddness. The first award, given in 1978, went to Proceedings of the Second International Workshop on Nude Mice; the winner of the special "Diagram of Diagrams Award," handed out in 2008 to commemorate the thirtieth anniversary of the contest, went to Greek Rural Postmen and Their Cancellation Numbers. This year, the sixty-four books submitted for the prize were reduced to a shortlist of seven, "one more than the traditional six, in recognition of the high standard of oddity witnessed in publishing last year." The 2012 winner, selected from the list below, will be announced this Friday:


A Century of Sand Dredging in the Bristol Channel: Volume Two
Cooking with Poo (a Thai cookbook, "Poo" being Thai for "crab," and the author's nickname)
Estonian Sock Patterns All Around the World
The Great Singapore Penis Panic: And the Future of American Mass Hysteria
Mr Andoh's Pennine Diary: Memoirs of a Japanese Chicken Sexer
A Taxonomy of Office Chairs
The Mushroom in Christian Art
---
Daybook is contributed by Steve King, who teaches in the English Department of Memorial University in St. John's, Newfoundland. His literary daybook began as a radio series syndicated nationally in Canada. He can be found online at todayinliterature.com.