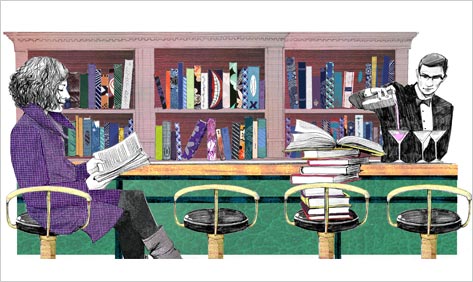 The world my grandfather grew up in had a very different idea of biographies from the one we have today. Scan the shelves of any bookstore and you will find the life stories of the famous, the notable, the accomplished — artists, titans of business, legendary entertainers, sports heroes, prolific substance abusers. And while the Everyman is celebrated in our novels and short stories, he has never really gotten a foot in the door of nonfiction. It is exceedingly rare in this day and age to encounter, on those same bookstore shelves, the life story of the man or woman down the street.
In my grandfather's village, deep in the old country, there was a tremendous hunger for well-written, deeply-researched works on the lives of ordinary people. The bound editions of these humble lives gave my grandfather his livelihood; he kept a biography shop in town. He also wrote biographies, such as Enid Fredericks: The Postal Worker Years and James Barrington: Psoriasis Sufferer, but his primary function was as a collector and dealer.
In that time and place, biographies were less literary and more social. Very often, they were simply vessels for common gossip. One example that captivated my grandfather's village — and brought him a lot of business – was the rivalry between two elderly ladies who escalated a petty argument by writing unauthorized biographies of one another, including bilious anniversary editions. The first two volumes are generally regarded by the opposing clans as the best: The Dull and Dreary Life of Olga Pasternak, by Hilda von Ness (1936), and Pathetic, Jealous, Gassy Hag: A Life of Hilda von Ness, by Olga Pasternak (1937).
Perhaps most fascinating is the way biographies served as a line of communication among far-flung villages — a way to share the life stories of people whom one would never otherwise meet. In his travels my grandfather would collect biographies from other villages and return with them, stocking the shop's shelves with the lives of others. I imagine him sailing into port like some proud explorer returning home with sacks of exotic spices (though this is only a fantasy — he traveled by horse, not ship, and he feared spices).
Sadly, my grandfather's success in the old country did not translate to his life in America. With an immigrant's boundless optimism, he paced the streets of New York looking for a biography shop that might hire him. Finding none, he passed his hours writing biographies of dockworkers and deli men, notably Seamus Peeves: You Call This a Life? and Hey, Cold Cut Man: A Life of Emanuel Wisp. Their lives fascinated him, and he produced thousands of well-sourced pages, yet he labored in vain. The New York publishers laughed at him and he fell into a deep depression.
His sorry state was amplified by yet another struggle. Around this time, my grandfather fell in love with a pretty American girl, who returned his affections. But he had a terrible time convincing his would-be in-laws that they should let their daughter marry an unemployed biographer, to say nothing of a biography shopkeeper without a shop to keep. The pretty girl's father — a captain-of-industry type who read only financial pages and restaurant menus — mocked him relentlessly. A man of great wealth and influence, he tried to dissuade his daughter from marrying, using all the resources at his command, including billboards.
It was only when my grandfather offered to write a biography of him that the old man relented. Desperate to please, my grandfather glossed over the man's corruption, backstabbing, incurious mind, and genetic mutations. The result was a hack job painting him in a glowing light, titled A Hero in Our Midst: A Life of Abraham Fontana. Though my grandfather sold the book to a New York publisher, on the strength of Abraham Fontana's stature in the world of business and politics, it was the shame of his life: an untrue account, a farce. Years later, on his deathbed, he lamented that this book, his sole success, would have been unworthy of a place on the shelf of his old biography shop.
Though I am the only one equipped to write my grandfather's biography, and know that the story of his life is worthy of telling (at least as much as the life of Abraham Fontana, who went on to be Lieutenant Governor of the State of New York, and in his amateur laboratory discovered an effective treatment for thigh chafing), it is out of respect that I hesitate. As for the old biography shop, it's still there, operated by the grandson of Hilda von Ness, unchanged except for the addition of a café.
Gregory Beyer is a senior editor at The Huffington Post.