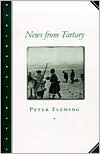 The British writer-adventurer Peter Fleming was born on this day in 1907. Fleming's worldwide travels, recounted in his books and newspaper column, were widely read through the mid-twentieth century, and his News from Tartary (1945) is still on National Geographic's list of top 100 adventure/travel books. Fleming's appeal derived not only from his exotic destinations but also from the blithe and dashing manner in which he told of them. Though Peter's jaunts are not James Bond's, Ian Fleming's biographers say that he lived in envy of his older brother's accomplishments and may have borrowed some of his flair for Bond.

In the opening chapter of Brazilian Adventure (1933), for example, we learn that Fleming is heading upriver, motivated by little more than an advertisement he'd read in the personal columns of the London Times.
Exploring and sporting expedition, under experienced guidance, leaving England June to explore rivers central Brazil, if possible ascertain fate Colonel Fawcett; abundant game, big and small; exceptional fishing; ROOM TWO MORE GUNS; highest references expected and given.
"Before long," writes Fleming, "I found myself committed…to a venture for which Rider Haggard might have written the plot and Conrad designed the scenery." And about which the stay-at-homes had much advice:
There were the Prudent, who said: 'This is an extraordinarily foolish thing to do.' There were the Wise, who said: 'This is an extraordinarily foolish thing to do; but at least you will know better next time.' There were the Very Wise, who said: 'This is a foolish thing to do, but not nearly so foolish as it sounds.' There were the Romantic, who appeared to believe that if everyone did this sort of thing all the time the world's troubles would soon be over. There were the Envious, who thanked God they were not coming; and there were the other sort, who said with varying degrees of insincerity that they would give anything to come.… There were the Apprehensive, who asked me if I had made my will. There were the Men Who Had Done A Certain Amount of That Sort of Thing In Their Time, You Know, and these imparted to me elaborate stratagems for getting the better of ants and told me that monkeys made excellent eating, and so for that matter did lizards, and parrots; they all tasted rather like chicken.
---
Daybook is contributed by Steve King, who teaches in the English Department of Memorial University in St. John's, Newfoundland. His literary daybook began as a radio series syndicated nationally in Canada. He can be found online at todayinliterature.com.