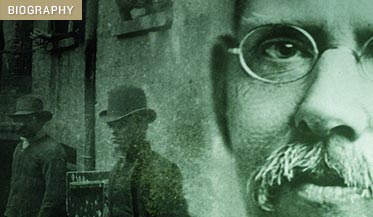 One fall day in 1887, Jacob Riis read a short news item in the morning paper and immediately grasped its potential to alter his life's work. The dispatch described two German chemists who had discovered a way "to take pictures by flashlight." As a journalist, Riis had for years been writing articles documenting the squalor of New York City's slums, hoping to mobilize his readers to social action, but he had found words inadequate to the task.

As Tom Buk-Swienty writes in The Other Half, an admiring and engrossing new biography of Riis, the advent of flash photography allowed the Danish immigrant to shine a light on the bleakest corners of his adopted city: "The flashlight could illuminate dark alleyways and penetrate filthy, poorly lit tenement garrets. It could expose basement dives and overcrowded five-cent lodging houses, show the trash heaps where tramps had dug caves to shield themselves from the elements." Three years after reading the article, Riis published his pioneering work of photojournalism, How the Other Half Lives, which became a bestseller and made him famous.

Buk-Swienty, himself a Danish journalist and onetime resident of New York (the book is translated from the Danish by the author's wife, Annette Buk-Swienty), takes his time arriving at this seminal moment in his subject's life. Readers first have to wade through an overlong section on Riis's youth, which reveals early evidence of social conscience but focuses primarily on his obsession with Elisabeth Giortz. She was just 12 years old when Riis first spotted her in their hometown of Ribe and became instantly enamored. For years he pursued her single-mindedly, and his behavior (he once leaped from the audience onto the stage during a play to "save" an imperiled actress who resembled Elisabeth) would, these days, more likely result in a restraining order than a marriage license.

She refused his first proposal in no uncertain terms, writing in a letter, "Jacob, I will never be able to love you." The rejection was momentous, for it prompted the young and poor Riis to move to America in 1870, at age 21, where he hoped that by escaping the strictures of the European class system he would be able to earn his fortune and win over his beloved. But arriving in New York, he had trouble feeding and clothing himself and was, according to his diaries, at times close to suicide. Riis tried out all kinds of jobs before falling into a career as a journalist and finally achieving stability, but he was crushed to learn that Elisabeth had by then fallen in love and become engaged. When her fiancé succumbed to tuberculosis, however, Elisabeth wrote to Riis and accepted his proposal. (This either suggests that there was some charm to his extreme courtship that's lost on contemporary readers or, more likely, shows how very limited women's options were back then.)

"Curiously, Elisabeth almost disappears from Riis' life story once she becomes part of it," Buk-Swienty writes, although their long union seems to have been a happy one. Settled in New York, the energetic and ambitious Riis applied the same intensity he had devoted to wooing Elisabeth to his newfound — and certainly loftier — mission, alleviating the harsh conditions of the city's poor, his sensitivity to their plight honed by his brief period living among them. As a police reporter for the New York Tribune, Riis tirelessly made nightly rounds of the city's most dangerous and impoverished blocks, writing urgently about the need for reform. (For a period in the 1890s, he was often accompanied by Police Commissioner Theodore Roosevelt, who became a lifelong ally and friend and once referred to Riis as "New York's most useful citizen.")

More than 50 million Europeans immigrated to America between 1870 and 1920. Manhattan's Lower East Side became the most densely populated area in the world: by 1880 its slums contained one million residents — a total, as Buk-Swienty notes, "qual to the city's entire population only a decade earlier." The dangerously overcrowded tenements were especially vulnerable to epidemics of typhus, cholera, smallpox, and other diseases, and infant and child mortality rates were extremely high.

Riis was no radical. He believed firmly that if the middle and upper classes of New York were made aware of the wretched conditions in the slums, they would be compelled, as Christians, to help. He feared communism and often warned readers that ignoring the plight of the poor would undermine American values and lead to revolution and anarchy. Buk-Swienty includes a number of fascinating excerpts from Riis's newspaper articles, many of which were clear attempts to humanize the poor even as — early in his career especially — they suffered from the sensationalism conventional to journalism during that period. "While his wife and boy were keeping a loving watch for him at the window he was LYING STARK AND DEAD…like a dead dog, as little thought of," Riis wrote of a subway cleaner killed on the job. The Other Half also reproduces a selection of Riis's photographs, and the haunting, arresting images still retain their impact more than a century later.

The great success of How the Other Half Lives increased Riis's influence, and he was eventually more Progressive reformer than muckraking journalist. He achieved a number of victories, most notably the destruction of the infamous Mulberry Bend slum, reborn as a park in 1897. In speculating why Riis, celebrated during his own lifetime, is not more widely known today — he is virtually forgotten in his native Denmark — Buk-Swienty explains that Riis's racial and ethnic stereotyping ("All attempts to make an effective Christian of John Chinaman will remain abortive in this generation," went one typical passage) caused How the Other Half Lives to be stricken from curricula after the 1960s.

Of course such crude stereotyping was as conventional at the time as was Riis's sensationalist writing style, and Buk-Swienty is correct in arguing that it shouldn't obscure Riis's importance in the histories of both photojournalism and Progressive-era social reform.

There is a further criticism to be made of Riis's writing: he was an unabashed romantic. He often waxed nostalgic about his childhood in Ribe, despite the cruel fact that ten of his siblings died before reaching adulthood. Buk-Swienty suffers from the same malady, admitting, "The biographer risks romanticizing the life of a subject who himself was prone to the same pitfall as a writer." This caveat hardly makes up for the treacly conclusion that follows: "Still, one may venture that Riis' life is primarily a story of love." Elsewhere, in describing the surprise success of Riis's 1901 autobiography, The Making of an American, Buk-Swienty declares that because of the book, "readers from New York to California fell in love with just as Riis had." Riis was most useful when his focus on love was replaced by a focus on work; the same is true of this biography.