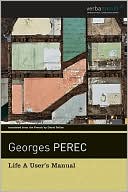 November 24: The French experimental writing group "Ouvroir de LittératurePotentielle" was founded on this day in 1960. The name translates as "Workshopof Potential Literature," but the group is known internationally asOuLiPo, if only to reflect its enthusiasm for the lipogram—writing constrainedby the disallowance of a letter. One of the most well-known examples is a100,000-word novel by Georges Perec which is not only lipogrammatic but aplayful whodunit: Anton Vowl has inexplicably vanished, taking "e"along with him. Titled La Disparitionin the original French, the 1994 English translation by Gilbert Adair is calledA Void, the e-rule disallowing "TheDisappearance."
But Oulipians are adiverse group, and they have invented a full Olympics of literary-mathematicalgames. In Walter Abish's novel AlphabeticalAfrica, all the words in the first chapter begin with "a," all inthe second chapter begin with "a" or "b," and so on. RaymondQueneau exponentially transformed ten sonnets into A Hundred Thousand Billion Poems by cutting them up in the mannerof a child's head-bodies-legs book, the individual lines readable (and rhyming)in any sequence. Paul Fournel's Suburbiahas title, disclaimer, ("This is a work of pure fiction. . ."),copyright statement, introductory epigraphs, dedication, Table of Contents,Word from the Publisher, Foreword, Introductory Note by the Author, runningfootnotes, Afterword, "Supplement for School Use" with questions,Index, Errata, publisher blurbs … and no story.
Perec may be the group'spatron saint. He created crossword puzzles, a Guinness record palindrome (5,556letters), and over twenty books, none of which appear to resemble each other oranyone else's. Perhaps his most famous, rated a modern masterpiece by evenmainstream reviewers, is Life: A User'sManual. This is a jigsaw of 100 stories about the inhabitants of a Parisianapartment building, though this hardly describes the mathematical mind-gameswhich shape the book's structure and plot. Oulipians may be "rats whoconstruct the maze from which they must escape," but Perec'spuzzle-solving hero dies staring at his own lifetime jigsaw:
On the tablecloth,somewhere in the crepuscular sky of the four hundred and thirty-ninth puzzle,the black hole of the sole piece not yet filled in has the almost perfect shapeof an X. But the ironical thing, which could have been foreseen long ago, isthat the piece the dead man holds between his fingers is shaped like a W.
---
Daybook is contributed by Steve King, who teaches in the English Department of Memorial University in St. John's, Newfoundland. His literary daybook began as a radio series syndicated nationally in Canada. He can be found online at todayinliterature.com.