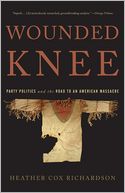 The massacre at Wounded Knee, South Dakota, occurred on this day in 1890. As framed in Dee Brown's Bury My Heart at Wounded Knee, published forty years ago but still the essential text, the massacre came from a mind-set as old as Columbus. In the recent Wounded Knee: Party Politics and the Road to an American Massacre, Heather Cox Richardson connects the tragedy to various aspects of 1890s America — for instance, to the newspapers looking for reader-pleasing stories of brave soldiers and treacherous Indians, and to the westerners who kept helping themselves from the pork barrel maintained by the Indian Agency. But the easiest and most important track to follow, says Richardson, is the one through the machinery of party politics.


Viewed large, says Richardson, the massacre was one skirmish in the ongoing battle between business-minded Republicans and social-minded Democrats. The Republicans rode under the flag of "Individualism, Private Property, the Law of Accumulation of Wealth, and the Law of Competition" (from Andrew Carnegie's The Gospel of Wealth, published the previous year). The Democrats rallied around such Populists as Mary Elizabeth Lease, who had complained in one speech that "a government of Wall Street, by Wall Street, and for Wall Street" was ruining the nation. With a tight federal election coming in 1892, it became part of President Harrison's strategy to carve up the Dakota Territory as advantageously as possible for the Republicans, even if it meant, in the autumn of 1890, fabricating a backlash Indian "uprising" that had to be quelled.

Robinson says that news of the massacre arrived East as a winter storm blew in from the Dakotas. The same snowstorm had fallen on the dead at Wounded Knee, but it did not faze those attending Washington's seasonal galas:
President Harrison and the wealthy men squiring their glittering wives to the capital to shake his hand seemed a world away from the bodies frozen beside Wounded Knee Creek. But the road to the massacre had begun in Washington. It had hammered its way across the Midwest, then pushed its way into South Dakota. Finally, it faded into a bloody track beside a South Dakota stream. The fate of the Minneconjous at Wounded Knee was sealed by politicians a thousand or more miles from the rolling hills and cathedral clouds of the Great Plains. The soldiers who pulled the triggers in South Dakota simply delivered the sentence.
---
Daybook is contributed by Steve King, who teaches in the English Department of Memorial University in St. John's, Newfoundland. His literary daybook began as a radio series syndicated nationally in Canada. He can be found online at todayinliterature.com.