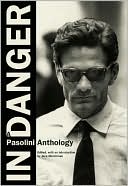 Our final selection from the poetry books of City Lights Books is a poem by Pier Paolo Pasolini from the forthcoming collection entitled In Danger: A Pasolini Anthology. This anthology, which will be available in late August 2010, is edited by Jack Hirschman. We're grateful to City Lights for sharing their wonderful wares with us this past week.
Next week, we conclude our celebration of National Poetry Month with the verse of Graywolf Press.
The Rage
I go to the gate of the garden, a sunken
little passageway of stone at ground
level, across from the suburban
orchard that's been there since the days of Mameli, with its pines, its roses, its radishes.
Looking around, behind this paradise of village
tranquility, we see the yellow facades of the fascist
skyscrapers from the latest spate of buildings,
and looking lower, beyond some thick plates of glass
there's a shed, sepulchral. Drowsing
in full sunlight, a bit chilly, is the grand orchard
with the little white nineteenth century house
in the center, where Mameli lies dead,
and a blackbird's singing, weaving his web of intrigue.
This poor garden of mine, all
of stone…But I've bought an oleander
—the new pride of my mother—
and vases of every kind of flower,
and a wooden frying-pan, an obedient,
rosy and malicious little Cupid statue
found at Porta Portese when looking for furniture for
the new house. Colors?
A few, the season's still so young: gold
splashes of light, and greens, all the greens…
Just a bit of red, menacing and splendid,
half-hidden, dour and without joy,
a rose. It hangs without fanfare
on the adolescent branch, as if gazing out of a spy-hole, a shy remnant of a paradise in pieces.
Nearby, and even more self-effacing, it seems we have
a poor thing, defenseless and naked,
a pure whim
of nature, who found herself in the air and the sunlight
alive but in a way that awes and humbles her
and makes her almost ashamed
to be so brazen
in her stark delicacy as a flower.
I get even closer and I smell her…
Ah! Shouting doesn't say it and silence is no better:
nothing can express a whole existence!
I reject any attempt at it…I only know
that in this rose I could breathe,
in one single miserable instant,
the smell of my life, the smell of my mother…
So why don't I react, why not tremble
with joy or exult in the pure anguish of it?
Why don't I hail
this ancient knot of my existence?
I know why: because the demon of rage is locked
up in me by now. A small, mute, dark
feeling that intoxicates me:
an exhausting, they say, feverish impatience
in the nerves: but my mind's no longer free.
The pain it gives me little by little alienates me
from myself so I just abandon myself
it takes on a life of its own, whirling around
as it wills while my pulse goes out of control
in my temples, my heart fills with pus,
I'm no longer master of my life.
Once, nothing could have beaten me.
I was cloistered in my life as in the maternal
womb, in that warm
smell of that simple wet rose.
But I fought to leave it behind, that provincial
countryside life, a twenty-year-old poet, always always
suffering desperately
and as desperately feeling joy…The battle ended
in victory. My private life's
no longer closed up within petals of a rose,
—a house, a mother, an exhausting passion.
It's public. But also the world which had been unknown
to me is now ordinary, familiar,
has become known and, little by little,
is now a brutal, necessary duty.
I can't pretend now that I don't know the world,
or that I don't know how it wants me.
What type of love
are we talking about here, what sleazy deal.
Not a single flame burns in this inferno
of unfeeling, and this dry fury
that stops my heart
from responding to a smell is a cheap excuse
for passion…Almost forty years old
I find myself in a rage, like a young guy
who knows nothing of himself except that he's young, and he goes to battle against the old world.
And like a young guy, without pity
or restraint, I don't hide
this state I'm in: I'll never have peace, never.
(1960. Translated by Jonathan Richman)
Pier Paolo Pasolini, "The Rage" from In Danger: A Pasolini Anthology © 2010 by City Lights Books. Reprinted with the permission of City Lights Books, San Francisco, California. www.citylights.com