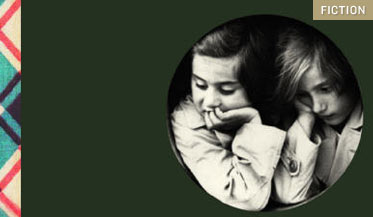 Halfway through Jonathan Coe's haunting new novel, The Rain Before It Falls, Rosamond, the elderly narrator, recalls a summer day in 1949 when she and her teenage cousin acted as extras in Gone to Earth, a Michael Powell film that was being made in their small Shropshire town. Decades later, when it appears on television, Rosamond tapes the film. "I have watched and rewatched that fragment of videotape," she admits, referring to the crowd scene, "?looking for meaning in those thoughtless gestures, the smiles we exchange, the raising of my hand, the turn of Beatrix's head as she looks away and smiles into the distance, restless, independent."

There is an echo here of Coe's dazzling 1995 novel, The Winshaw Legacy. In that case, the narrator is obsessed and aroused by a naughty scene from a 1950s English comedy that he first saw as a child. Such yearning is a habitual state for Coe's most sympathetic characters, who are often stalled in a past conjured up by the most mundane images — a holiday snapshot, an old movie. Indeed, a Coe novel often resembles a vintage Alec Guinness film: light as air but cunningly assembled and executed; unmistakably British in its reserve, yet unflinchingly perceptive in its portrayal of England's health, political and domestic. These qualities are wonderfully distilled in The Rain Before It Falls, perhaps the most straightforward of Coe's novels and the most quietly compassionate.

An elegiac opening chapter sets the tone. In Oxfordshire, on an autumn day, Gill and her husband, Stephen, rake leaves onto a garden bonfire. A telephone call brings word that Gill's spinster aunt, Rosamond, has died. Gill must travel to Shropshire to arrange the funeral and her aunt's affairs, leaving Stephen, who cannot accompany her, "as so often, with a sense of having obscurely failed her." We will learn more about this marriage, but only peripherally. Rosamond's past, not Gill's present, is the novel's main concern.

"If the silence of the house and its grounds seemed almost unearthly, the cold inside was even worse," Gill observes when she crosses Rosamond's threshold. "This was a dead person's house." Soon, however, Gill will hear her aunt's voice, not through the ether but on four cassette tapes that Rosamond has left with the scrawled instruction "Gill — These are for Imogen. If you cannot find her, listen to them yourself." A letter would not have done because Imogen, the long-lost granddaughter of Rosamond's cousin Beatrix, is blind and Rosamond wants to tell her everything, to bequeath, as she puts it, "a sense of where you come from, and of the forces that made you."

When Imogen cannot be found and Gill decides to listen, Rosamond's voice takes over. The dying woman has chosen to describe 20 family photographs, beginning with a snapshot from 1938 or '39 of her childhood home in winter. "Small, unyielding, redbricked houses," Rosamond recalls of her Birmingham street, "You couldn't enjoy much of a life in them." A sifting of snow, the handlebars of her father's bicycle just visible in the narrow passageway leading to the yard, the withered branches of an apple tree overhanging that patch of poor ground — these few details convey the hardship of wartime Britain, the cramped aspirations of a stoical generation, the comfort of home, the ache of childhood.

Through the snapshot, we enter a shell-shocked world that is further traumatized when the city's children are evacuated to the country. Lucky Rosamond is sent to live not with strangers but with her mother's sister in Shropshire. There, she and Beatrix become blood sisters, and there everything begins. A single childish escapade reveals Rosamond's susceptibility to Beatrix's power, and the resulting punishment foreshadows a greater horror. "It was the first time I had ever heard a mother speaking to her child in a voice so icy with hate," Rosamond says of her aunt, "Sadly it was not to be the last."

There is nothing gothic in the novel's suspense. We are not in the world of Ruth Rendell, not even that of Daphne du Maurier (although Rosamond could be a du Maurier heroine, the watchful innocent set down among passionate and possibly crazy narcissists). Coe can shock, but he does so quietly, incrementally. In this novel only one crime is committed, and while dreadful, it is neither titillating nor grotesque. Before that moment, damage is done with words. This is, after all, a family story.

Each chapter opens with Rosamond's description of a photograph that prompts her recollection of an episode, sometimes slight but always revealing. Hers is an unremarkable life. She is a lesbian who loses the love of her life and settles for companionship. She is a dowdy shop assistant who eventually becomes a secretary, then an editor. Above all, she is a childless woman for whom children, by chance, become a main — but hardly a rewarding — concern. First there is Beatrix's daughter, Thea, who is for a time raised by Rosamond; then Thea's daughter, Imogen, whom Rosamond knows all too briefly. That loss is one of many heartbreaks. As the novel advances from 1938 to the present, abandonment and disappointment accrue — yet Rosamond's quiet voice, surely one of Coe's greatest creations, softens the blows even as it draws us further into her recollections.

Describing a photograph from the 1970s, for example, of Beatrix and baby Thea in their public housing cottage, she muses "The kitchen looks so cramped, in part, because it is dominated by your mother's enormous pram: an absurdly bulky and unwieldy vehicle, about the size of a small family car?. Thea is lying on her back in the pram?her eyes shut tight with a kind of furrowed concentration, as though sleeping is yet another one of the difficult grown-up tasks she must set herself to learn." These children — Thea, Imogen, Rosamond herself — must also learn to be resilient. After all, Beatrix's mother, Ivy, is a self-absorbed monster; Beatrix may be a lunatic; and Thea, the only one who pays for any failings, is both victim and perpetrator. For all its bleakness, this is a beautiful novel, with descriptions reminiscent at times of Thomas Hardy's nature poetry. Here is Shropshire, for example: "Trees black and brittle against a grey sky, like charred bones; rough stone walls fuzzy with layers of grey moss; the fields, rising and falling in gentle undulations, English and undemonstrative, and grey as the snow-heavy sky itself." Like Hardy, Coe deftly portrays the muted dramas taking place in that quiet landscape.