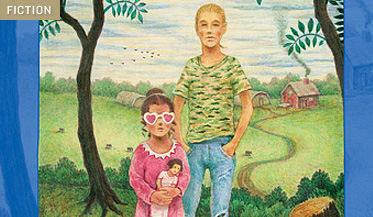 Since 1984, Carolyn Chute has dedicated her literary career to providing a voice for one specific group of people: the poverty-stricken citizens who live and work in rural western Maine. In five novels of wildly varying quality, including her bestselling debut, The Beans of Egypt, Maine, Chute has made the fictional town of Egypt her Yoknapatawpha, striving to reveal the many-sidedness of the hardscrabble folks who dwell there — their violence and tenderness, their cruelty and nobility, their disenfranchisement and heroism.

"Extravagant" might seem a strange word to describe a novelist so singularly devoted to championing the poor, but it is exactly the right word for Chute. Everything about her writing is profuse: her unrestrained emotion, her larger-than-life characterizations, her restless shifts in point of view, her frequent forays into political speechifying, and her often quite beautiful landscape descriptions. Lavish and ardent, Chute's outpourings can be rivetingly effective and, just as often, confoundingly wayward. Both tendencies are evident throughout The School on Heart's Content Road, in which Chute attempts to make a case for localized militia movements and for the marginalized but undaunted individuals who join them.

If this novel, with its many dozens of characters and a relentlessly changing perspective, could be said to have a center, it would lie in the predicaments of two unlucky children during the summer and autumn of the year 2000. Six-year-old Jane Meserve is a precocious mixed-race girl whose mother has been sent to prison on trumped-up drug charges. Lacking a hands-on father, Jane ends up in the care of her grandfather's friends in a community on the outskirts of town called the Settlement, a collective devoted to farming, furniture making, and alternative energy. Its leader, sometimes known as the Prophet, is a charismatic, Bunyanesque personality named Gordon St. Onge.

The other young victim of tragic family circumstances here is Mickey Gammon, a 15-year-old dropout who's been living in a makeshift tree house since his own household, plagued by illness and financial hardship, recently fell apart. Mickey's rescue arrives in the form of a powerful, enigmatic father figure, Rex York, "a kind of lighthouse in the fog of Mickey's life." Another in the line of larger-than-life working-class heroes who populate Chute's fiction — among them Lloyd Barrington in Merry Men, Robert Drummond in Snow Man, and Gordon St. Onge here — Rex is a 50-ish Vietnam veteran who serves as captain of the Border Mountain Militia, a loose affiliation of pro-gun, anti–big business locals. Along with the militia's other members, Rex offers Mickey a surrogate family, a sense of purpose, and, eventually, a place to live at the Settlement, whose sociopolitical objectives have become, over time, more or less congruent with those of the militia.

Jane and Mickey serve as unofficial tour guides for the reader as they try to negotiate these two mysterious worlds: the industrious hive of the Settlement, which operates among so many rumors of polygamy, pedophilia, pagan worship, and potential government siege that some townspeople are beginning to call it "Waco, Maine"; and the militia, with its clandestine meetings to promulgate calls to action against the evils of corporate America and to discuss and handle an array of firearms.

But Jane and Mickey are far from the only witnesses to these activities. Chute also offers a wide variety of other commentators, including many St. Onge family members (it turns out that Settlement founder Gordon St. Onge does indeed have multiple wives); the deceitful bleating of an omnipresent television set (the "Voice of Mammon") that exhorts American citizens to labor and consume mindlessly; and — in a nice touch worthy of Louise Erdrich — a high-flying, all-seeing crow.

What story, exactly, is this cacophony of voices trying to articulate? In fact, after all the ingredients have been gathered together, Chute's finished product turns out to be all simmer but not a lot of stew. It's not that nothing happens, exactly; it's that the build-up to the action carries more weight than the action itself. Those whispers of Waco echo ominously throughout the narrative, but the only government standoff involves a ragtag procession of Settlement teenagers marching ineffectively through a hallway in the State House in Augusta, yelling about corporate domination while brandishing kazoos and squirt guns. Meanwhile, much earlier in the novel, when several of Chute's most pitiable characters meet fateful ends, their deaths are mentioned so casually that we're robbed of the opportunity to care.

Chute's characterizations are every bit as diffuse as her plot. While she offers an extensive and descriptive character list at the back of the book, encouraging readers to consult it in numerous footnotes, these addenda only serve to remind one of the sketchiness of these many personalities. Except for Jane and Mickey, who seem like real and complicated people, cartoonishness abounds: Rex is a laconic G.I. Joe, while Gordon, who exhibits both Christlike empathy (he has an "inability to separate his meaty heart from the wailing hearts" of women) and superhero strength ("His voice is like a big drum…. His neck is as wide as four necks"), never quite comes into focus as the mesmerizing prophet that others claim he is.

One of the reasons for the general lack of discipline could be that Chute, who has been working on this novel since the early 1990s, has planned for it to be part of a series of five books that take place around the Settlement, each concentrating on a different set of characters. In an interview in September with Publishers Weekly, Chute admitted, "I write a bunch of stuff, whole piles of stuff…. It's like photography — you take tons of pictures, then you figure out what you're going to do with them." There is plenty of evidence of shuffling going on here, but not nearly enough shape or momentum. For all these flaws, though, it would be a mistake to condescend to Chute as a backwoods amateur. That is not what she is at all. She's a literate, passionate writer who has allowed her extravagance — of talent, of emotion, and of her estimation of our patience — to overwhelm and enfeeble her storytelling.