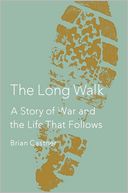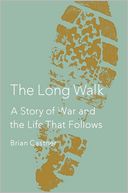 Dear Reader,
The press for Brian Castner's harrowing memoir The Long Walk Home has been nothing short of terrific; but this is one of those times when it's best to let a book speak for itself, so here's a bit from the chapter called "The Science and The Chakras."
"The most insidious damage, however, occurs during missions where you think you're fine. Where you see the pavement erupt in front of your vehicle as you scream down a lonely Iraqi highway. The driver notes the danger too late, tries to stop and swerve, but the windshield suddenly fills with smoke and debris as the blast wave overwhelms the front of the truck. Your chest thumps, your ears ring, and your head splits under the weight of the crack. Chunks of asphalt embed themselves in the armoured glass, and pieces of bumper and grille and headlight are torn and scattered. Your front tire thuds into and out of the newly created crater as your vehicle finally grinds to a halt. You pat yourself down; all fingers and toes accounted for. No blood or missing pieces. Your harness kept you locked to your seat. The radio jumps to life. Are you all right, the convoy commander wants to know. Is everyone fine?" — Brian Castner, The Long Walk Home
Castner's Publisher's Weekly essay, I Wish My Book Wasn't a Memoir, is here.
Cheers, Miwa
---

Miwa Messer is the Director of the Barnes & Noble Discover Great New Writers program, which was established in 1990 to highlight works of exceptional literary quality that might otherwise be overlooked in a crowded book marketplace. Titles chosen for the program are handpicked by a select group of our booksellers four times a year. Click here for submission guidelines.