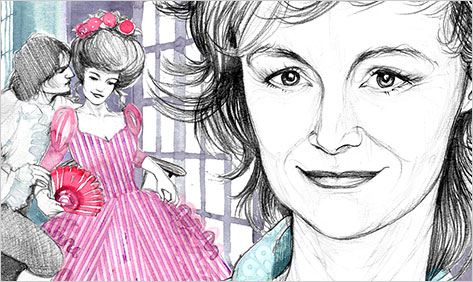 "Best Romances of 2011″ lists are sprouting up all over the web; this column is not one of them. True, all six books are fabulous — but so were many other romances I read this year, especially those I have discussed in this space. Four of these novels, in fact, did not appear in my column; one of them is a debut that won't even publish until December 26. The key to my idiosyncratic version of a best-of-the-best column? Re-reads. Every month, over a hundred romances pour through my front door. I read at night, on the subway, whenever I'm not correcting student papers (being a professor can really get in the way of leisure reading). Re-reading is, in theory, out of the question.

Yet I have already re-read these six romances, and I'll give you even odds that you'll do the same. Looking at the pile on my desk, they feel like old friends, waiting for me to get sick and crawl under the covers, have a squabble with my husband and storm into the bedroom. They're waiting to suck me into a story that will make my heart pound (again) and then make me smile like a fool (again): just what a romance is supposed to do.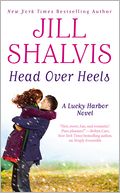 I'll start with a romance that was just published this month, but turned into a keeper on the first reading. I've liked Jill Shalvis's novels for a long time, but this year she leapt onto my keeper shelf, due in large part to Head Over Heels. In real life, I have a signal reluctance to go near a man with gun, which I credit to my Darwinian survival instinct. But give me a romance with a sheriff as its hero, and I get weak in the knees. Sawyer Thompson is a straight-arrow, strong-and-silent type with an expression "dialed to Dirty Harry," as Chloe Traeger puts it. Chloe, on the other hand, is a free spirit whose mother taught her that only traditionalists allow themselves to be trapped by relationships or full-time jobs. She spends her time giving holistic spa treatments, when she's not breaking into the houses of dogfighting criminals to steal their pit bulls. As Sawyer puts it, she's a "sexy little tumbleweed blowing through" town. Head Over Heels is a classic opposites-attract novel, but the emotional reasons why Sawyer is a straight arrow and Chloe a tumbleweed shape the plot as well as the romance. Drama comes not from extraneous events but grows out of those key characteristics. I first read this novel in a room crowded with small nieces and nephews, pancakes and bacon on the table, orange juice spilling on the floor…and kept reading with no regard for the surrounding chaos. This is a perfect antidote to an overdose of the holidays (or family): treasure it!


Kristan Higgins is another author of contemporary romances who has capped her previous best with her newest release, Until There Was You. Posey Osterhagen is the sort of heroine whom I adore (enter stage right, a high school version of Eloisa — plump, miserable, and unpopular). It's years after high school ended, but things haven't turned around for Posey. She's the opposite of bodacious, with a skinny, boyish body, but even worse, she just doesn't get men. They seem to love her under the sheets and then leave her just as cheerfully. The last thing she wants, just when she's trying to figure out her life, is for the object of her painful and humiliating high school crush to move back into town. Liam Murphy was the slouchy, leather-clad bad boy who fell in love and married the golden girl. Now he's returned home, a widower with a teenage daughter. The trajectory of the plot is obvious — but Liam and Posey are such quirky, original characters that they utterly defy any sense that we've read the story before. Liam still wears a leather jacket and drives a motorcycle, but in all the most important ways he is no longer an invincible boy, an alpha in the making. The memories of my (ghastly) senior prom still reverberate, all these years later. So what had me re-reading Until There Was You? Posey's senior prom was worse than mine…and the prom that ends the novel is deeply satisfying in about forty different ways. This is a wish-fulfillment story, and I mean that in the best possible way.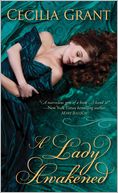 Cecilia Grant's A Lady Awakened is the author's first published novel. I read it in manuscript, re-read when it arrived as an advance copy, and then re-read it once more. Martha Russell is a proper, laced-up widow, and Theophilus Mirkwood is a known rake with an all-too-true reputation. A Lady Awakened is a sexy and surprisingly sweet debut that hits the perfect note. Martha's husband has just died, and she needs to become pregnant immediately — yesterday! — in order to pass off her baby as the heir to the Russell estate. If she doesn't, not only will she be destitute, but the estate will be seized by her late husband's lascivious brother. There's one problem: barring immaculate conception, she needs to go to bed with someone. Who better than Theophilus? There's so much I adore about this novel — from the hilariously awkward scene in which Martha propositions Theo to the immensely sensual one in which she first succumbs to pleasure. It's not just that Theo is great in bed: there are plenty of historical novels featuring heroes with remarkable skills in that arena. What makes A Lady Awakened stand out is how both Theo and Martha change and grow together. I kept thinking about these two long after finishing the last page, and I'm sure you will, too. I'm already impatiently awaiting Grant's next.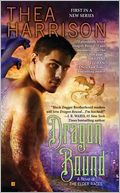 How interesting. My re-reading list features two debut novels. Dragon Bound was Thea Harrison's first romance. I'm now addicted to the series, but so far the story of Dragos and Pia is still my favorite. Dragos Cuelebre is a shape-shifting dragon; in fact, the only remaining dragon. He's old as sin, so old that he used to eat people, at least until he had a conversation with someone and vowed never to eat anything that can talk — his own form of vegetarianism. I wouldn't call him reformed, though: when Pia Giovanni steals a penny from the hoard he stores under the New York subway system — just one penny — he goes completely bonkers. She left him a penny in place of the one she stole, but even so, it was utterly unacceptable. He snarls that Pia stole a 1962 penny and replaced it with a 1975; as she tells Dragos, there's medicine for OCD, and he might want to get hold of some. He simply cannot tolerate the idea that, for the first time in his very long life, someone walked through his magical locks. One of the things I love about this novel is that while it's truly romantic, it's also staggeringly funny. Pia's wry humor grounds the idea of magic in the here and now. Even Dragos learns to laugh at himself, if only because she laughs at him so often. She looks delicate and fragile, but she's tough when it counts, and ultimately Dragos surrenders — he even learns to say please. When Pia asks one of his friends if she's just another treasure in the dragon's hoard, that friend says, quite simply, that she's replaced it. For all the magic, danger, and derring-do in this novel, it never loses sight of its romantic heart. If you haven't had the pleasure of reading Dragon Bound, I envy you.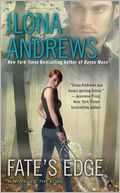 There are very few series which can drive me to an author website; I tend to grapple with the monthly flood rather than look ahead. But Ilona Andrews's Edge novels are that rare breed, and I shamelessly haunted her website until Fate's Edge was announced. And then, joyfully, I found that it was so terrific that I collapsed into total indolence and spent a weekend re-reading the previous Edge novels (there are some tenuous connections, but each stands alone). The heroine of Fate's Edge is spookily akin to Pia: she, too, has a magical ability to break through locks, and it gets her in similar trouble. Pia was blackmailed into stealing that penny by a perfidious ex-boyfriend; Audrey is coerced by her feckless father. Yet from that point on their stories diverge widely. Audrey has stolen a very powerful weapon that her father promptly hands over to the wrong people. There's more emphasis on the battle waged by the good guys in Fate's Edge, as well as more elaborate world building in terms of bad (and creepy) magic. But what caused me to re-read it was Audrey's fascinating relationship with Kaldar Mar, a jaundiced, sexy, bad-boy government agent. The two mix it up with a violent legion of evildoers, but despite the mayhem, their romance is surprisingly sweet — as when Kaldar asks, in perfect seriousness and without silliness, "Did I ever tell you that you are like sunshine in the middle of the night?"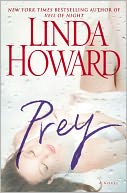 Because this column has a focal point each month (men who change into lions, for example), there are always books that I wish I could squeeze into the column that won't fit. I may love a novel dearly, and yet if the hero can't yowl and sprout whiskers, the novel gets put to one side. Sometimes a romance is so good that I try to shove it in the next month, and the next. Linda Howard's Prey is one of those. I picked it up for three months in a row — and found myself re-reading it each time. Angie Powell runs a camping and tour guide company that is being trounced by Dare Callahan's rival company. She's tough, frustrated, and really angry. She's been scarred by a bad relationship that left her dubious about male claims to sexual prowess, and she's scared that her company is about to go bankrupt. Dare, on the other hand, is a regular guy: intrigued by Angie and clueless about her emotions. When they end up in the woods together (cue homicidal maniac — and homicidal bear!), they prove a combustible pair. My favorite scenes had to do with that most painful of decisions: whether to trust someone, given that trust means you give that person a terrible ability to hurt you. Angie's been wounded before, and she's prone to panic. But Dare is one of those steady men, the big, rough kind who turn out to be the most tender of all.

I want to close this year by saying how grateful I am for all the readers of this column. I greatly appreciate your responses to my reviews, whether on Facebook or by email; your encouragement keeps me reading when the pile of to-be-read novels seems to reach the rafters. Thank you! Of course we each have unique keeper shelves that we turn to when we're bored or running a fever or just blue; I count it a lucky year when I can add five to my precious bookshelf. I hope that for each of you 2012 is a year full of "keepers," both of the literary and the human variety.
---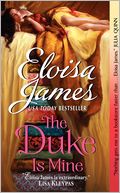 Eloisa James's latest novel, The Duke is Mine, will be published later this month.
Please do check out Eloisa's past columns in the Archives, and if you'd like to get her reaction to romances as she reads them, follow her on Facebook or Twitter.
For sneak peeks at all Eloisa's romances, please visit her web site at www.eloisajames.com.