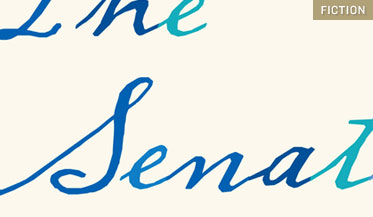 In her seven previous novels, Sue Miller has demonstrated the distinction between being a dependable storyteller and a predictable one. Miller's new novel, The Senator's Wife, provides further affirmation that she belongs in the former category, a lyrical writer who consistently delivers page-turning domestic dramas that unfold quiet surprises as she peels back the layers of artifice and reserve that shield her complex middle-class women.

In The Senator's Wife, we encounter two female protagonists at very different points in their married lives: Meri, a new wife and soon-to-be mother, and her neighbor, Delia Naughton, a septuagenarian who has not lived with her husband, a former senator, since the 1970s. The two women grapple with the grief of emotionally and physically elusive spouses while attempting to forge a friendship

Meri, a features writer at a radio station, is just beginning her post-collegiate life at age 37 and is now on the fast track to domesticity. As the novel begins, she's relinquished everything to be with her new husband, Nathan, whom she married just two months into their relationship. He takes her out of her native Midwest to the fictional New England college town of Williston, where he has accepted a tenure-track position as a historian. Nathan hungrily scouts for real estate, excitedly going from house to house. But Meri "can't bring herself to care very deeply about…whatever house it's going to be." The daughter of a hard-drinking trucker and a fiercely reserved and reluctant mother, she is unfamiliar with the conventions of bourgeois life, and further alienates herself from it by, in her words, acting as a "real estate voyeuse." She sees "Nathan…planning a life, a life which the house is part of, that she's not sure she wants to live. She doesn't know whether she can be at home in the place he imagines, in the way he imagines her being."

Nathan settles on a double townhouse, in part because he is eager to get to know Tom Naughton, a retired progressive senator who lives in the other half of the house. But once Nathan and Meri move in, they realize that Tom rarely visits his Williston residence. Instead, they meet his wife, the prickly, worldly-wise Delia, who befriends the couple. The architecture of the conjoined houses lends them an inverse relationship to each other, like a mirror; cleverly, it has the same effect on the couples that reside within.

Friendless and motherless, Meri yearns to connect with Delia, who is friendly but resistant to her overtures. A mother of three adult children, she isn't especially eager to get drawn into Meri's mother-daughter transference fantasies, be they conscious or unconscious. Meri has, understandably, become hyper-emotional, and not only because of hormones: She feels dejected as Nathan seems repulsed by her growing body and expresses frustration at the "inconvenience" of the timing of her pregnancy, which coincides with the deadline for his book. Her new boss has no qualms about telling her that they'd have never hired her if they'd known she had plans to start a family so soon after accepting the job. Delia is the only person to express excitement at the news of a baby, but Meri wants to cleave to her like a life raft, and her intensifying neediness is more than the older woman can bear.

Meri's pregnancy fuels her obsession with the story of Delia's clandestine and unusual marital arrangement. Delia can appreciate her hunger for this knowledge: she volunteers as an archivist and tour guide of the house of an obscure 19th-century New England writer, Anne Apthorp, whose estranged marriage to an itinerant, philandering preacher resonates with her. But while Delia believes the desire to learn history is primal — "it's that first history we're really curious about" — she fiercely guards the truth about her marriage from Meri and Nathan, as well as from her own children.

The charismatic, seductive Tom Naughton, like Meri, hails from working-class roots, prides himself on being self-made, and married into a family that intimidates him. And while he and Meri both resist domestic life, Tom acts out in a way that humiliates his family: He has a reputation for marital infidelity that nearly eclipses his legacy as a lawmaker.

Meri eventually discovers the reason for Tom's elusiveness through cryptic conversations with Delia, and some sleuthing of her own. While house-sitting for Delia she secretly and shamefully reads through their years of correspondence. Among other things, she discovers details about Tom's that have consequences for his marriage and his relationship with his children.

As her pregnancy enters its third trimester, Meri worries she is not cut out for motherhood or marriage, and she actually envies Delia's ability to feel hurt by Tom's innumerable infidelities. But what few people know is that over the years, Delia has used her heartbreak as a bargaining tool and now believes she has changed the power dynamic between herself and Tom and heightened the intimacy in her marriage. When Tom is debilitated by a stroke, the Naughtons play out a romantic drama straight out of Jane Eyre. Delia has never been happier — until she finally grasps the full extent of who her husband is.

Only years later does Meri realize she and Nathan lack the history she bore witness to in the Naughton letters. Delia craved Tom's need, which she thought was synonymous with love; his feelings for her were genuine, but it was impossible for her to compete with his narcissism. Meri once wondered if romance relied on tradition; through her, we see it can, if not always, be something that develops over time. Sadly, Delia's heart-wrenching love story lends a different moral, that loving a narcissist is a doomed affair.

Inexplicably, Miller chose to set her story in the early 1990s against the backdrop of the less interesting of the two Bill Clinton scandals: his affair with Gennifer Flowers, which bears less of a resemblance to Tom's own marital deal breaker than the Monica Lewinsky scandal. But it's Miller's only real misstep, and it's a minor quibble. On the whole, she has crafted an affecting, psychologically probing story about yearning and betrayal.