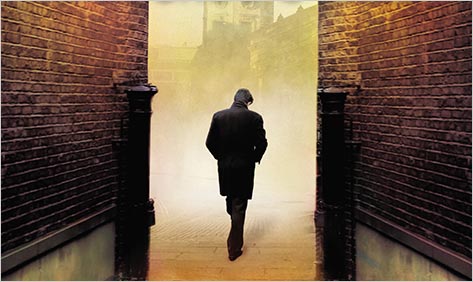 Robert Galbraith's second novel, The Silkworm, arrives free of the sales-boosting intrigue that accompanied its predecessor, The Cuckoo's Calling. (Never mind that the mystery surrounding the author's identity was arguably more intriguing than the actual plot.)  This time around, we all know that Robert Galbraith is the pseudonym of J. K. Rowling.  We also know who we are likely to meet in the second installment of Galbraith's Cormoran Strike series: the stoical hero, his loyal sidekick, assorted dull-witted cops, weird villains and at least one corpse.  There is a scummy journalist too who provides the novel's delicious opening line.  "Someone bloody famous,' said the hoarse voice on the end of the line, 'better've died, Strike.' " Not yet.  In one of the novel's many sub-plots, Strike is simply peddling to the tabloid reporter a document that will ruin a crooked aristocrat.
Scandalmonger seems a tawdry occupation for Strike, a celebrity since he solved the Lula Landry case in The Cuckoo's Calling. But money is still tight and Strike is still a wounded man, in body and soul.  Having lost a leg fighting in Afghanistan and his heart to the exquisite but self-destructive Charlotte Campbell (thankfully sidelined here), the hulking detective retains his grimy office on Denmark Street, his invaluable assistant, Robin, and his principles.  "Do the job and do it well" is Strike's inflexible code. And Galbraith's novel too is dutiful in an oddly old-fashioned way. From the predawn opening in London's Smithfield Market, through showdowns and stakeouts, to the novel's melodramatic denouement on a city rooftop, stock scenes reminiscent of any number of murder mysteries are re-staged with mixed results.
Here is Strike, for example, irresistibly drawn to the client most likely to cause him trouble and lose him money. "What exactly is it you were wanting me to do for you, Mrs. Quine," he asked the shabby woman on the sofa.  "Well, it's my husband…" Owen Quine may be missing or he may simply have deserted his wife and daughter.  "She almost invited Strike to join her husband in laughing at her, proud, as mother sometimes pretend to be, of their child's insolence," Strike observes in one of the novel's best scenes.
Galbraith is most deft when capturing the speech and mannerisms of nondescript characters – Leonora Quine, for example, or the alcoholic Jerry Waldegrave, a pathetic fixture in the cutthroat world of agents, publishers and celebrity authors that Strike quickly penetrates. Here the detective learns that Quine's unpublished novel, Bombyx Mori (the Latin name for the silkworm) may hold vital clues to his disappearance.  "A perverse Pilgrim's Progress," as Quine's agent describes it, "set in a folkloric no-man's-land…," the manuscript is crammed with outlandish sexual acts performed by gender-shifting loonies who are, in fact, grotesque caricatures of Quine's intimates and literary rivals. We are spared lengthy extracts.
Life trumps art, however, when Strike stumbles on Quine's disemboweled body, displayed as a centerpiece for what looks like a psychopath's picnic, complete with place settings.  "Strike felt that he stood retching in a temple, witness to sacrificial slaughter…."   The reader, however, may be more bewildered than shocked by a "display of sadistic showmanship" that ruptures the humdrum atmosphere that Galbraith has artfully created.   The novel's monochrome cityscape becomes suddenly garish and its details — of Leonora's threadbare existence, Strike's daily battle with his prosthetic leg, even Robin's silly rows with her "heart-stoppingly handsome" fiancé — seem to fade in the harsh light.
Disruption is the point, of course, in any crime novel.  But Galbraith fails to inject this mayhem with any palpable dread or menace.  A psychological portrait of the killer might have tethered the unevenly-paced plot and darkened the mood, but a perfunctory version of this arrives too late, in an overwrought finale that reads like a parody of Arthur Conan Doyle or Agatha Christie. "The large, mannish hands had curled into claws…. 'You're insane,' she whispered, with a forced smile beneath the shark eyes, her big yellow teeth glinting."
Goodness.  Could the monster be female, ugly and sexually frustrated?  We should hardly be surprised. Shifting gender identity may be a Galbraith/Rowling preoccupation — along with disguised authorship and celebrity – but the women orbiting around the towering, heroic Cormoran Strike are easily categorized as troubled beauties or spiteful predators, good sports or twisted spinsters.  "Tea?" curvy, golden-haired Robin asks when it's all over, "She knew how he liked it: the color of creosote." Battered and heartbroken Strike may be, but should he stagger into action again he will doubtless still prefer his cuppa strong, his laddish friends steadfast and his women as adoring or dangerous as ever.