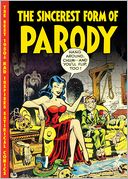 When a wild, irreverent, and brash publication named Mad debuted in August 1952, it did so as a standard-issue comic book, employing the traditional format which today has come to be retronymically called a "floppy" or "pamphlet." With issue 24, Mad retooled, becoming an actual magazine, and not long thereafter birthed a legion of imitators. This second-stage horde of competitors — Sick, Crazy, Trash, Cracked, among others — constitute a well-known phenomenon, and sample work from their pages, as well as actual issues, have been generally available for discussion among afficionados.
Not so well known, however, is the fact that the earliest success of Mad in its initial comic-book incarnation (at least after sales of issue 5 skyrocketed in 1953), also sparked about a dozen short-lived clones. The transient nature and brief runs of these wanna-bes, plus the current priceyness of the ephemera from that era, have worked against wide familiarity with the often high-quality stories from their pages. But at last this missing portion of comics history has been restored, thanks to the intelligent curatorial efforts of John Benson and Fantagraphics Books.
The Sincerest Form of Parody compiles the best efforts from such Mad-inspired titles as Panic, Whack, Riot, and Get Lost, granting broad access for the first time in generations to stories by many of the same wonderful artists who were working for Mad at the time. (A freelancer's main loyalty is to a paycheck, you see, not an editor.) In addition, a host of lesser-known artists receive their due and admiration. The writers of these pieces — sometimes the artists themselves — are also hailed, but in many cases they remain unknown.
The forceful, dominant paradigm that Mad instantly established is on carbon-copy display in all these stories. It's incredible how faithfully the imitators hewed to the template, while adding small inflections of style. Some cultural touchstone, either of a generic nature (the private eye novel) or a specific instance (the movie From Here to Eternity) is targeted for mockery and deflation. The assault is two-pronged: surreal, comedic wordplay, dense, goofy, yet not without barbs; and overstuffed, gonzo artwork, full of throwaway visual gags that came to be called "chicken fat" or "eyeball kix" (a term I've also seen as "eyekicks").
Much of this humorous angle of attack can be traced to such predecessors as Milt Gross in comics and Spike Jones and Ernie Kovacs in other media. But the lurid, graphical, concentrated satirical punch Mad offered was basically unprecedented, and it's easy to see why it birthed a whole field and fad, with longer-lasting influences right down to the underground comix of the 1960s and the general youth movement of that decade. Amidst Eisenhowerian blandness and New Frontier optimism, Mad was a beacon of saucy sass, sexy sirens, and sparkling satire.
The stories here from the Usual Gang of Idiots — Jack Davis, Bill Elder — are unsurprisingly good. But the real thrill of this anthology comes from being introduced to such deft, unsung craftsmen as Norman Maurer, Hy Fleishman, William Overgard, and Howard Nostrand, whose work rivaled the masters. Additionally, some folks better known for their superhero work are present: Jack Kirby doing "Rex Mortgage, M.D.?", and on several stories the team of Ross Andru and Mike Esposito, who actually formed their own publishing house at the time.
The density of the verbiage and the eyekicks, as well as the relentless silliness, are sometimes daunting, and I recommend dipping into this volume one or two stories at a time rather than embarking on a concentrated read. But be sure not to neglect Benson's fascinating endnotes, which, besides offering great compare-and-contrast disquisitions, detail the histories of the rival imprints and the folks behind them. It's a microcosmic view of a vanished, Brill-Building-style era when larger-than-life businessmen and eager artists blending mercenary and creative motives sought to capture the zeitgeist for fun and profit.
---

Paul Di Filippo's column The Speculator appears monthly in the Barnes & Noble Review. He is the author of several acclaimed novels and story collections, including Fractal Paisleys, Little Doors, Neutrino Drag, and Fuzzy Dice.