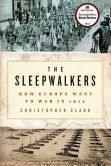 The archduke of Austria and his wife were assassinated in Sarajevo on this day in 1914, and on this day in 1919 the Treaty of Versailles was signed in Paris. During the five years between WWI's casus belli and peace accord, some 37 million perished, making it one of the deadliest events in world history. Many "lest we forget" centennial events are planned for next year, from a "Flanders Fields Declaration" in Belgium to a British project that will send two students from every state school in the nation to a Western Front battlefield.

Recent books on the war continue to explore the events that precipitated "the guns of August" (the title of Barbara Tuchman's 1962 classic). Sean McMeekin's July 1914 attempts to apportion cause and blame among a lineup of the usual suspects; in contrast, Christopher Clark's The Sleepwalkers, already being hailed as a masterpiece, takes an approach based on "how" rather than "why." Clark says that his book is "not an Agatha Christie drama at the end of which we will discover the culprit standing over a corpse in the conservatory with a smoking pistol." But it is "saturated with agency," and it portrays those who cumulatively pulled the trigger as both bellicose and comatose: "The protagonists of 1914 were sleepwalkers, watchful but unseeing, haunted by dreams, yet blind to the reality of the horror they were about to bring into the world."

Clark's agents include decision makers at every level: kings and emperors, foreign ministers and ambassadors, soldiers and scribes, all of them together creating a self-serving narrative of aggression. "Repeated, mantra-like, at every possible opportunity," the narrative became "a new virtual reality, a way of making sense of the world." Perhaps sleepiest of all, a too-passive world also became agents through the "deep and widespread readiness to accept war, conceived as a certainty imposed by the nature of international relations":
The weight of this accumulated readiness would manifest itself during the July Crisis of 1914, not in the form of aggressive programmatic statements but through the eloquent silence of those civilian leaders who, in a better world, might have been expected to point out that a war between great powers would be the very worst of things.
---
Daybook is contributed by Steve King, who teaches in the English Department of Memorial University in St. John's, Newfoundland. His literary daybook began as a radio series syndicated nationally in Canada. He can be found online at todayinliterature.com.