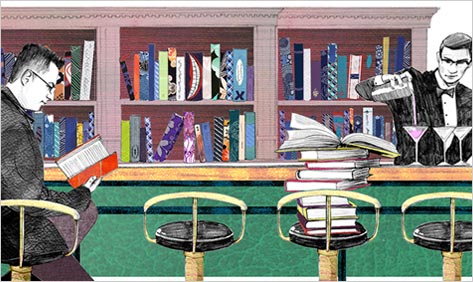 It has long been known that, during their political careers, John Adams and Thomas Jefferson were bitter rivals, frequently dueling with competing ideas, slashing verbal attacks, and, on one occasion, butter churns. But toward the end of their lives, the two became the closest of friends, who bonded over their love of both Enlightenment philosophy and designer shoe-buckles. Through the efforts of our tireless historical research team, Grin & Tonic has obtained some of the hard-to-find letters that these two fathers of our country wrote to each other in the autumn of their lives.

My Dear Thomas,

Greetings from Massachusetts! Weather here is pleasant enough, and the family is in excellent health. It is still most tremendous to think of the tireless work we committed to the building of this great nation. What young men we were, and what lofty dreams did we capture. On a separate note, I have enclosed several random Renderings. Many are of dogs. Some are of infant newborns. Yet more are of these very same infants dressed to resemble dogs in costume. And still others depict small children dressed in dogs' apparel.
I have the Honor to be &c
J. Adams
My Good Friend,

I bid you salutations from Virginia. Upon glancing at your excellent likenesses of babies, dogs, and babies dressed as dogs, et seq., I was compelled to Laugh aloud. In fact I am doing so at this very moment. I have enclosed to you a humorous list that you may find of interest: The Paramount Ten Ways To Know if Your Neighbor Is a Federalist. I think you will find it illuminating. I particularly commend Number 5, which reads "Every other sentence they utter contains the phrase 'concurring testimony of experience.'" Too true!
I hope I may call you a close friend in perpetuity,
T. Jefferson
My Good Fellow T.J.,

Touché, old friend! Your wit is ageless. To pass the time, I have begun a new project — one wherein I establish a new and bountiful Farm, bursting at the seams with produce fresh from the Earth and livestock healthy as the day is long. Virtually the best part of this new Plantation is that it exists purely as a conjecture! I believe that I will name my new estate Farm Towne.

May peace win out,
Adams

Dearest Adams,

A cheery shout of "What's afoot with you?," kind Sir! For my own part, I have included a Survey that I recently took part in, entitled: Which Delegate of the Continental Congress Are You? I filled it out and it said I was Alexander Hamilton! What the flummery is that, I ask you?

Wishing you a beneficent day,

T. Jefferson

Jefferson, my man,

A most exalted greeting to you. Truth be told, there is no actual reason for this Missive. I have sent this foot messenger through rain, sleet, and snow, from Virginia to Massachusetts, in order to "give you a Poke," so to speak. So poke me back!

Giddily,
Adams

Dear Jefferson,

Poke! There is something about our correspondence that appears to have led us both into a kind of lax frivolity, but there is no denying the easy Gratifications thereof.

Adams

After this point, the two men began simply exchanging engravings of Canadian tourists in humorous situations, minute descriptions of how they spent each day, ( "swept the hearth clean — twice!" and "At the Olde Inne, purchased two tankards of ale at supper @25 cents each!") and complaints about the courier service's "villainously convoluted Policy of Confidentiality." In even the most subtle ways, our forefathers remain an inspiration for "TLOTF and the THOTB" to this very day.
Josh Perilo has written extensively for print and television. His credits include stints at The Fine Living Network, FX, and MTV. He also writes a weekly column on wine called "The Penniless Epicure" for the Manhattan-based Our Town and Westside Spirit newspapers.