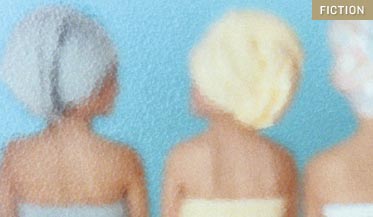 Enough already with the Decameron. Ingenious when Boccaccio first trotted it out in the 1300s, still inventive when Chaucer, Shakespeare, and then Keats each took a stab at it, it's getting a bit overworked today.

Here's the set-up: ten people spend ten days taking refuge together in a secluded setting. They're hiding from some calamity. To pass the time, they tell stories. Lots of stories. Sexy, bawdy, rowdy, raunchy stories that span the spectrum from funny to touching to terrible. Boccaccio's characters headed for the Florentine hills, on the run from the Black Plague, which was spreading a swift and terrible death throughout Europe. For Jane Smiley, who took her shot at the trope last year with Ten Days in the Hills, the scene was Oscar season in post-9/11 Hollywood. Though Smiley filled her novel with sex so graphic it sent reviewer John Updike into an ecstatic tizzy, she couldn't quite figure out what to do with her characters the rest of the time. The result was a somewhat leaden book filled with X-rated romps and pompous speeches. Now comes Fay Weldon, no slouch in the storytelling department herself, with another take on the medieval stories-within-the-story idea.

It's Christmas in London, and things aren't going too well for novelist Phoebe Fox. An acquaintance has been murdered, a plumbing mishap has forced her from her home, and the Sumatra flu, "a variant of bird flu and a distant relative of the plague" (nudge, nudge), now drives her from the city. Phoebe's husband is off visiting his ailing mother in the U.S. Too stressed to host the family dinners and elaborate parties she has planned, Phoebe opts for a stay — that's right, ten days — at Castle Spa, a pricey retreat deep in the English hills. By the time the rest of the guests arrive — yep, ten of them — the only question left is how Weldon will set Boccaccio's ancient invention into motion.

We get a clue on the train ride out of town when Phoebe and a spa-bound journalist share a seat. Only a loser spends Christmas at a spa, the woman says. But Phoebe disagrees.


"?there could be people running away from stalkers, serial killers or the supernatural, " I said, "or women just divorced, or recuperating after release from prison, or worn out by importunate lovers and just plain tired, or girls who have won the prize in a charity auction of wishes. Who knows?"

Not 20 pages in and now we all know.

Once at the spa, things fall apart. The owner has money problems and vanishes. The staff dwindles. The women, unwilling to return home, soon give up all semblance of ascetic living and gather at the Jacuzzi. There they sit, soak, drink, smoke pot, chow down on chocolate, and, this being the Decameron, tell stories. Their life stories, that is, one each day.

The Judge (other than Phoebe's we get no names) is a transsexual in love with her surgeon. The Psychoanalyst tells the chilling tale of a murderous patient. The Screenwriter is trapped in the three-act structure of her craft, while The Trophy Wife explains the peculiar ecology of her man-hunting world.


"Next I married this really old guy, an oil billionaire, a Texan, and waited for him to die. Typical third-wife behavior. I didn't marry him for his money, exactly, though of course people said that I had. I just wanted to know that for once I could be married until death did us part."


It would be easy to make the character a pitiable ditz, but Weldon knows better. Even as she does a wicked send-up of kept women, she lets her Trophy Wife dispense a bit of wisdom.


"Now when a man hates his mother he hates the source of life itself, and no normal rules apply. He marries you because you are not like his mother, sets about turning you into his mother, and when he's succeeded he leaves you, and tries again with someone else."


Due to the structure, the book's chapters can stand — or sag — alone. It's tempting to skip some of the more tedious bits. (And, quite frankly, not much would be lost if you did.) Weldon, who has more than 20 novels to her name, mines them for situations and characters. She throws out a ton of material here, but in a casual, tossed-off way. The book reads like a lark, light and breezy, skittering along without going too deep.

In one of the best bits, the Vicar's Ex-Wife can't escape the ghosts who follow her. "Do I believe in ghosts?" she asks the group after telling her creepy story. "Not really. I can't afford to, it is all too disconcerting. But I believe in the power of rage if you deny it. And now can we leave the subject, please?"

Which is pretty much where we started. Enough already with the Decameron.