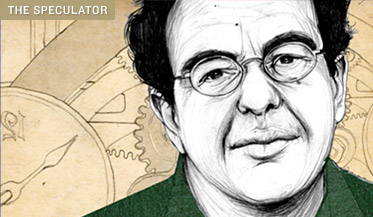 If at any given moment short fiction is not actually experiencing a Golden Age, it is always seen to be dying. Critics, authors, publishers, editors, readers — even sociologists! — engage (or should that be indulge?) in incessant hand-wringing and shirt-rending over the beloved, terminally ill art form. They adduce sparsity, low quality, lack of showcases, poor commercial prospects, and audience indifference, then debate root causes and programs of improvement. A mythic paradise of a time when the short story reigned supreme is recalled, and dreadful, Orwellian future prospects limned. Yet, somehow, short fiction manages to persist and even thrive.

For many years genre fiction was immune to — or at least partially sheltered from — such storms. The fantastical modes of fiction enjoyed a set of flourishing monthly magazines that published more short fiction in a single month than the combined efforts of The New Yorker, Atlantic Monthly, Esquire, Harper's and Playboy did in a year.

But of late, these old-fashioned printed mainstays of the field — Analog, Asimov's, F&SF, among others — are faltering, shedding subscribers consistently as their audience ages, without recruiting younger readers as new methods of distribution struggle to emerge. Webzines have taken up some of the glorious burden, but no solid model for their success has yet been found.

Luckily, the original anthology — the collection of short stories not previously published elsewhere — continues to function as a more sturdy cousin to the magazine. Invented for all practical purposes by Frederik Pohl in 1952, when he launched the series Star Science Fiction Stories from Ballantine Books, this medium for new short fiction has gone through its own boom and bust periods, accruing a hall of fame that includes such names as Orbit, New Dimensions, Nova, Universe, and Dangerous Visions. Currently, after something of an interregnum, a look at four new volumes suggests that the field may be enjoying a high-quality expansion.

* * *

While original anthologies often serve as showcases for innovation and fresh voices, they can also function as islands of familiarity and stability, offering readers new helpings of favorite kinds of stories. This too is an admirable mission, as proven by Marvin Kaye's The Ghost Quartet. Ghost stories, despite an occasional modern iteration such as the 1999 movie The Sixth Sense, are a resolutely traditional kind of fiction, and the four entries in this volume all hew pretty close to the spectral skeleton of the form, offering solid, if somewhat predictable frissons.

Brian Lumley's measuredly suspenseful "The Place of Waiting" concerns a landscape painter at work amidst a haunted English moor and tells how he meets two ghosts, one vengeful, one helpful. "Hamlet's Father," by Orson Scott Card, offers a revisionist take on one of the theater's most famous ghosts. While Card's back-story on Hamlet's youth is clever and engaging, when he treads the same ground as Shakespeare's play he veers into tendentious tedium by injecting homosexual pedophilia into the canon. Editor Kaye himself occupies the third slot with "The Haunted Single Malt," a pub tale in the manner of Dunsany or Clarke. And the most striking story comes last, with Tanith Lee's "Strindberg's Ghost Sonata," a mix of dark Russian fairy tale and E.T.A. Hoffmanesque student squalor set in the strange city of Petragrava.

The Ghost Quartet breaks no new ground but does stand shoulder to shoulder with earlier classics such as Cynthia Asquith's The Ghost Book (1926).

* * *

Smart, strong-willed, opinonated, well-seated editors are vital to the health of short stories, and while no perch can compare historically with the power and solidity and influence offered by helming a well-known periodical — think John W. Campbell and Horace Gold — certain editors can still flourish and help to channel the field from a freelance anthologist position.

Perhaps the primary such figure today is Ellen Datlow, who indeed has occupied chairs more fixed in the past, at Omni and SciFiction. Nowadays her steady stream of original anthologies continues to launch careers and generate award winners.

In Poe, she has produced a compellingly readable collection. At first glance, it might seem as traditional a volume as The Ghost Quartet, given its editorial nucleus: stories commissioned in tribute to good old Edgar Allan upon the occasion of his 200th anniversary. But with an explicit disdain for unalloyed pastiche, what results is a thoroughly modern and even postmodern assemblage of Poe-like riffs, seen mostly through contemporary eyes. Dead spouses, polar wastes, macabre houses, gruesome crimes, paranoia, obsession, decadence, revenge — the catalogue of Poe's motifs and themes gets an intelligent reworking from a stellar cast of contributors. Many of the authors gravitate toward the powerful strange attractors of such classics as "The Tell-Tale Heart" and "The Masque of the Red Death." But those who fasten on lesser-known inspirations often produce the most standout work. (One shortcoming should be noted: Poe's scientific and ratiocinative bent is scanted here, in favor of his horrific leanings.)

Gregory Frost offers a fatal romantic triangle inspired by "The Imp of the Perverse" ("The Final Act"). Nicholas Royle looks at doppelgangers à la "William Wilson" ("The Reunion"). David Prill turns a traveling salesman gag into "The Fall of the House of Usher" ("The Heaven and Hell of Robert Flud"). And Lucius Shepard is moved by "The Domain of Arnheim" to craft a Huysmans-like erotic apocalypse ("Kirikh'quru Krokundor").

With Datlow's keen organizing intelligence at the center, this mammoth collection is fit to be ranked alongside the master's own Tales of the Grotesque and Arabesque (1839).

* * *

Certain anthologies may have noble educational, programmatic or ideological motives behind their entertainment purposes. Jack Dann's Dreaming Again is one such. The book is a follow-up to Dreaming Down-Under (1998), a showcase for Aussie writers of non-mimetic fiction. Hailed as a revelatory landmark, the first book boldly introduced to the rest of the English-speaking world some astonishing writers little known outside the light of the Southern Cross. Ten years on, Dann — an expatriate American wholeheartedly in love with his adopted land — has found a whole new (well, mostly new) cohort of authors to justify another roundup.

The first impression one takes from this excellent collection is how universal the language of fantasy and science fiction has become, the true lingua franca of dreamers everywhere. The vast majority of entries here are not set in Australia or propelled by native customs, myths, history or culture. Instead, we get exemplary instances of all the major subgenres. The catalogue includes space opera from the team of Ben Francisco and Chris Lynch, Stephen Dedman and A. Bertram Chandler. Cyberpunk from Adam Browne and Margo Lanagan. Retold fairy tales from Kim Wilkins and Russell Blackford. A formalistic experiment from Lucy Sussex. Steampunk from Sara Douglass and John Birmingham. Urban fantasy from Jenny Blackford and Cecilia Dart-Thornton. Horror from Jason Fischer and Trent Jamieson. Slipstream from Christopher Green. Gonzo from Rosaleen Love —

In short, the entire wondrous and masterful spectrum of the fantastical, fulfilling Dann's thesis that Australian literature has reached the point where it no longer need kowtow to any longer-established region.

* * *

The explicit mission of editor Lou Anders's Fast Forward 2 is coterminous with that of "hardcore" science fiction at its best: to chart out rigorously and boldly the unexplored regions of the near future, using the decades-honed narrative and ideational tool kit of the genre. This mission is more often paid mere lip service these days than pursued, as improbable adventure scenarios and stale speculations predominate in some variant of Gresham's Law. But Anders holds the feet of his contributors to the ancestral fire ignited by Wells and Verne, and gets radical results.

The core of this project looks to be the novella "True Names," by Ben Rosenbaum and Cory Doctorow. Forging its own mind-bending vocabulary as it goes, the story tracks a rich but fragile virtual existence for future consciousness. But Fast Forward 2 makes room as well for lateral extrapolations, such as Paul Cornell's "Catherine Drewe" (Rudyard Kipling meets Bruce Sterling), and a poignant, old-school alien-invasion outing like Nancy Kress's "The Kindness of Strangers." Meanwhile, Chris Nakashima-Brown zeroes in on the future of art ("The Sun Also Explodes") while Paolo Bacigalupi depicts the media maelstrom that serves as entertainment/news feed for a demanding wired audience ("The Gambler"). Toting up also the exoticism of Ian McDonald's India ("An Eligible Boy") and the bio-engineering of Kay Kenyon's fashion industry ("Cyto Couture"), as well as a half dozen other salient sallies, Fast Forward 2 exhibits an impressively catholic panoply of thought experiments.

* * *

Savoring the breadth and quality of these four anthologies, the devotee of short fiction can derive some powerful solace against the gradual decline of the magazines that were once the mode's best and original home. As editor Anders says in his introduction, such books "represent a healthy vote of confidence in the state of short-form SF." And Fantasy and Horror as well, we might add.