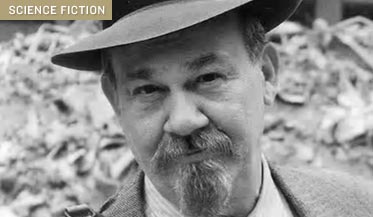 On July 4th of this year, the acclaimed and accomplished poet, novelist, editor, essayist and short-story writer Thomas Disch committed suicide at age 68, bringing to a characteristically forceful and self-appointed close a remarkable yet ultimately tragic career.

But unlike many artists who take their own lives amid a tormenting dearth of creativity, Disch had suffered no surcease of words. In 2007, he released a new volume of poetry, About the Size of It, and a slim fable, The Voyage of the Proteus. At the moment of his death, he had three books awaiting imminent publication: a sequel, The Proteus Sails Again; a novel titled The Word of God; and a story collection called The Wall of America.

But a burden of Job-like suffering had descended upon him in recent years, conspiring to rob him of his beloved partner of some three decades, Charles Naylor, after a long, hard illness; his Upstate New York rural retreat; his health; and, potentially, even his long-term Manhattan home. These exterior assaults and insults collided and colluded with a proud and self-reliant consciousness and character. Like his peer and fellow suicide James Tiptree, Disch seemed to feel that the force of one's spirit conferred permission to avoid following to its nadir an ineluctably downward path.

And yet the quality of his literary output was never an issue. Disch's posthumously presented work remains at the forefront of his large legacy as one of science fiction's finest stylists, most audacious satirists, and most meticulous of narrative craftsmen. From the first appearance of his short stories in 1962, through New Wave masterpieces such as Camp Concentration (1968) and 334 (1972), and onto his postmodern gothics like The Businessman (1984) and The M.D. (1991), Disch delivered books that offered scathing takes on humanity's follies while celebrating the shaky refuges against terror and boredom offered by love and art. His gentler side manifested in his YA work such as The Brave Little Toaster (1980, and Disneyfied in 1987 with mixed results) and in his poetry.

In fact, half his readers probably knew Disch only as a poet, while the other half knew him only as a storyteller. (He maintained the distinction by issuing all his poetry as Tom Disch, and his other work as Thomas Disch, to accentuate the poetry's more playful, casual attitude.)

Disch began blogging amid his torments a few years ago, giving his journal the grimly allusive title of "Endzone." But the tenor of the journal was often lighthearted and roguish, featuring a flood of new poems offered up for free, solely for the enjoyment of his audience. (The last entry on "Endzone" dates to July 2nd, and the journal's contents have been archived, with an eye toward eventual publication.)

Viewed retrospectively, the poems in About the Size of It contain a hint or two of Disch's mortal intentions and despairing attitude. "A Gravedigger's Soliloquy" opens portentously: "So far from denying it, we would run down / The hill pell-mell, arms windmilling like mad ,/ Whooping at the first glimpse of his scythe / On the horizon: 'Death, Death, we're over here!' " But in general, the poems range in a relatively carefree, gleefully stoic, and acerbic manner all over the topical and thematic map of Disch's perennial concerns: carnality, myth, art, travel, urban life; the idiocy of political correctness; the pleasures of the senses; the impossible necessity of interpersonal communication; the degenerative course of Western civilization. Part V, "The Great Outdoors," illustrates a late-period development in Disch's writing, deriving from his pilgrimages to his country home: a keen-eyed appreciation of nature's wonders. Disch was a formalist poet, rare in these days (icon Wallace Stevens gets a shout-out in Voyage of the Proteus), a meticulous craftsman of line and stanza, employing even — gasp! — rhyme; and his poems, while not utterly deficient in heat and passion, are for the most part displays of a vast intellect in action, sometimes exhibiting keen focus, sometimes indulging in idle daydreams.

The other book from 2007, The Voyage of the Proteus, offers a much grimmer outlook on life. Subtitled "An Eyewitness Account of the End of the World," the slim novel casts Disch himself as protagonist. The author has time-slipped back to ancient Greece and finds himself aboard the titular vessel carrying Agamemnon, Cassandra, and Homer on a purposeless voyage of the damned. Conflating the fall of Troy with the events of September 11th, the tale allows for none of Disch's customary idiosyncratic boltholes of sanity amid the global wreckage — at one point, the author-narrator, to rid the ship of a ghost, plunges a sword into himself as voluntary sacrifice.

Unnervingly, The Proteus Sails Again is even more dire: the portrait of a mind at the end of its tether. After his previous chrono-excursion, which at least offered some exotic locales and droll customs, the author-narrator has returned to a postapocalyptic New York City, accompanied by the ghost of the Greek sailor he sought to exorcise with his earlier fictional suicide. A bardo-style journey through the merciless ruins of Manhattan ensues, rife with autobiographical moments. Disch receives an eviction letter he calls his "death warrant." And he imagines a horrid bloody end for his neighbor, the famed actress Elizabeth Ashley. A careless fire in Ashley's upstairs apartment some years ago, which collaterally ruined Disch's and Naylor's lodgings, was one of the precipitating events of his decline. Alongside his virtues, Disch exhibited characteristically large vices as well, and the ability to hold a grudge forever was one of them.

It's a relief to turn to the varied and excitingly robust stories in The Wall of America. Here the reader will find, if not sweetness and light (never among the author's hallmarks), then at least a certain mordant joie de vivre compounded equally of hard-boiled and reluctant romanticism, Schadenfreude, self-knowledge, disdain, elitism, compassion, fatalism, ingenuity, and willed na?veté. (Does this list of qualities sound like those appertaining to some kind of Abrahamic deity? If so, they form an entrée to Disch's final novel, discussed below.)

Disch's utter contempt for groupthink political correctness and bleeding-heart liberalism — forces he despised and derided almost as much as he despised and derided right-wingers, dictators, and autocratic pundits; his stated admiration for the anarchic first years of Saturday Night Live reveals his equal-opportunity satirical bent — is manifest in such pieces as "The White Man" (ignorant ghetto inhabitant is infected by murderous conspiracy theories) and "The First Annual Performance Art Festival at the Slaughter Rock Battlefield" (lesbian feminists and punk rockers conceive a mass murder as art). He trashes the contemporary literary scene in "The Abduction of Bunny Steiner" and "The Man Who Read a Book." And doomsday scenarios get a workout in "Canned Goods" and "A Family of the Post-Apocalypse."

But — in his own stern fashion — Disch offers prospects of selfless and self-optimizing actualization in the title story (the entire U.S.-Canadian border becomes an open-air art gallery) and "Painting Eggplants" (an average fellow has an artistic epiphany). And a tale like "The Owl and the Pussycat," despite its offstage violence, can only be categorized as pleasantly whimsical, in the manner of Tony Millionaire's Sock Monkey comics. And finally, as one of those who forsook the technocentric slant of early science fiction, Disch is not given enough credit for his ability to conjure up startling speculative scenarios, as we witness in "Ringtime," which depicts a world where the sale and theft of memories is a hard-edged reality.

Writers of fiction, we are often told, resemble God in their artistic activities and omniscient outlook. What is presumably the career-capping novel from Disch's pen, The Word of God, or, Holy Writ Rewritten, takes this metaphor to its extreme.

Disch's premise is simple: to deliver a new testament based on the assertion that the mortal known as Thomas M. Disch is in actuality, if not the supreme deity of the cosmos, at least a member in good standing of some celestial pantheon or other. Of course, Disch is not truly suffering from megalomania but, like Richard Dawkins and his fellow militant atheists, is attempting to undermine all religions by "arrogating to myself the same absolute authority, the same more-than-Papal infallibility, the same maddeningly smug chutzpah that True Believers of all varieties have armed themselves with."

The resulting text is no conventional novel, but rather an autobiographical, rambling fantasia, in which the Good Lord Disch dispenses wry wisdom, political pronouncements, campy homilies (has any other deity ever used the Broadway show Annie as inspiration?), and additional vengeful daydreams. Amid the Waughian welter of the truly amusing, the painfully revelatory, and the thuddingly obvious, there is one bizarre recurring plot thread: the reincarnated ghost of Philip K. Dick is sent back in time to 1939 on a mission to prevent Disch's birth and thus engineer an Axis victory analogous to the one in Dick's own The Man in the High Castle (1962).

While The Word of God successfully and even endearingly at times captures Disch's morbid, mocking, malicious late-period voice, its Frankensteinian lack of patterned beauty and objectivity, the very hallmark of Disch's best work, renders it, at best, a freakish exclamation point to the bold, elegant utterances that were his finest books. His legacy and life will outshine this anomalous jape.