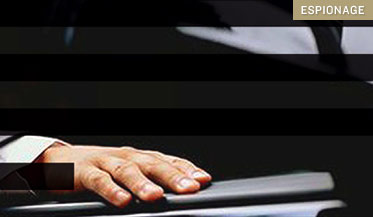 Not so long ago, the publishing industry sounded the death knell for the spy novel. The Cold War was over, presidential sex scandals superseded foreign concerns, and the American public was more interested in reading about fiendish serial killers, dependable mystery series protagonists, and any book thought to be in the vein of Bridget Jones and her abbreviation-happy diary. Even John le Carr?, the standard by which almost all spy fiction is measured against, had left behind his usual Cold War settings for Africa.

What a difference a decade makes. The brightly colored bubble of economic prosperity and boundless opportunity is long gone, replaced by dark clouds of uncertainty reminiscent of the pervasive gloominess of the Nixon era. With every new technological advance comes novel ways of subverting them for the lesser good, and the old-fashioned conspiracy theory returns anew with the assassination of a public figure such as Benazir Bhutto. The War on Terror brings out much rhetoric and stubbornness on multiple sides, but it's primarily responsible for dredging up myriad shades of gray.

With the gray's return comes the parallel reemergence of stealth, subterfuge, and ambiguity, all hallmarks of the spy novel's shifting sands. If crime novels seek order out of chaos, spy novels seek to find shreds of humanity within the chaos, mining casual and catastrophic betrayals for larger meanings — even if none actually exist. Some spy novels offer pure escapism, but the best understand, and illuminate, how impossible that pursuit is in today's world.

Before discussing the new class, let's turn to the old guard, who like the characters they wrote about kept up their work below the radar until recent reexposure to a wider audience. Arguably the current spy boom owes a great deal to Peter Mayer, publisher of upstart independent the Overlook Press, responsible for the revival of fortune for Robert Littell and Charles McCarry.

Littell nailed the spy's ambiguous morals and double-agenting dilemmas with his debut, The Defection of A. J. Lewinter, and continued to delve into philosophical waters with recently reissued works such as An Agent In Place and The Sisters. But it was The Company (2002), a 900-page fictionalized account of the history of the Central Intelligence Agency, that landed longtime French resident Littell back on the thriller map. The magnum opus, adapted into a multi-part BBC drama, seems to inspired newfound prolific status; followed up in swift succession with Legends (2005), a darkly humored, mind-bending account of an aging spy's identity crisis, and Vicious Circle (2006), a more freewheeling alternate history that imagines newfound peace brokered between Israel and Palestine on the brink of collapse after a kidnapping plot gone awry.

McCarry, too, found initial popularity in the 1970s but, like Littell, attracted only a small, passionate cult following for his novels, most of which feature CIA agent Paul Christopher. Time after time, McCarry struck eerily prescient chords in American history, whether depicting a suicide bomber (The Better Angels), a stolen presidential election (Shelley's Heart), or a plausible theory of the JFK assassination (The Tears of Autumn). McCarry's renaissance began with Old Boys (2004), which, bringing back Christopher and his cadre of aging fellow spies, rightfully attracted praise and reissues. Its story line continues with a follow-up, Christopher's Ghosts (2007).

Along with the old guard, newer writers continue to mine the past for their forays into spy fiction. Olen Steinhauer, an American expatriate in Budapest, recently closed an outstanding series of novels set in a fictional Eastern European country and spanning the end of World War II until the fall of the Berlin Wall. Start with the multi-award-nominated opener, The Bridge of Sighs (2003), featuring young inspector Emil Brod's introduction to a world far beyond black-and-white, and proceed until Victory Square (2007) captures Brod's aging self irrevocably shaped by the corruption he and his cohorts have faced in the intervening 40 years. Like Steinhauer, Jenny Siler (whether writing as herself or her nom de plume, Alex Carr) explores the resonating echoes of past events, be it the Vietnam War (1998's excellent Easy Money) or the 1983 Beirut bombings (2007's An Accidental American). Carr's new novel moves her to the present, exposing the underbelly of Morocco in March's The Prince of Bagram Prison.

World War II and its immediate aftermath proves a glamorous setting for spy fiction because of Alan Furst, whose mid-career change from pulp fiction to elegantly crafted espionage began with 1988's The Night Soldiers and continues with The Spies of Warsaw, out this June. On the opposite end is Dan Vyleta, whose debut, Pavel and I, is less about spycraft glamour and more about the turbulence of post-WWII Berlin as the country spirals inexorably toward the beginnings of the Cold War. The novel's trajectory is tragic yet Vyleta, a Czech-born German who currently calls Edmonton home, leaves an indelible stamp thanks to mordant humor and a strong literary sensibility.

The present day also brings us new talent opening doors into the shadowy byways of how spycraft is being practiced. Former CIA employee Joseph Weisberg's An Ordinary Spy may attract attention for how much it redacts — whether by authorial choice or by CIA design — but its power comes from the growing frustration Weisberg's fictional alter ego feels at a system designed to betray seeming innocents in the most casual and cruel manner possible. Frustration at organized systems also figure prominently in the work of former Baltimore Sun foreign correspondent Dan Fesperman, whether he's addressing the mechanisms of Guant?namo Bay (The Prisoner of Guant?namo) or the disastrous exploitation of the supposed neutrality of UN workers (March's The Amateur Spy). And further ripples from the September 11th attacks and the War on Terror emanate from Daniel Silva's bestselling series starring Mossad agent Gabriel Allon and in newer recruits including Alex Berenson (The Ghost War), David Stone (The Orpheus Deception), and Raelynn Hillhouse (Outsourced).

More than ever, this new year is laced with uncertainty and marked by cynicism. Spy fiction may not have the necessary answers, but its tonic of shadows and fog can at least temper the wolves enough to provide what the reader wants — be it a sliver of hope or confirmation of the world's continuing absence of order.