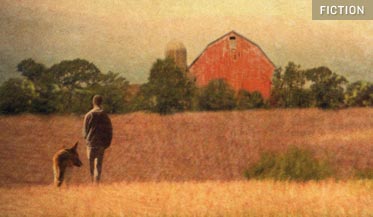 When this deeply felt debut opens, a dog dies in a dank alley in Korea. By the end of The Story of Edgar Sawtelle, there will have been other, more poignant deaths, for this is an exquisitely heartbreaking novel, a retelling of Hamlet masterfully rendered by David Wroblewski.

Although Shakespeare provides the narrative skeleton, the manner in which Wroblewski explores death and consciousness, the bonds between humans and animals, and the differences between devotion and responsibility belong wholly to him. He literally reinvents the earlier drama, and his work exploits what is timeless about the original, including the portrayal of a son done in by mourning for his father. And the result is an entirely engrossing vision.

Toward the end of the 1950s, a boy is born in rural Wisconsin into a family of dog breeders. But Edgar Sawtelle is no ordinary child, nor are the dogs ordinary canines. Able to hear but unable to make any sounds, Edgar lives sealed up in his intellect and imagination, communicating via sign language. The Sawtelle dogs — a fictional breed of 90-plus-pound shepherds — possess a similarly thoughtful countenance and, through careful training and breeding over many generations, a gift for providing watchful, sensitive companionship.

As a child, Edgar helps his parents, Gar and Trudy, train the dogs with a system of signs and facial expressions, and he has the task of naming new litters. Using The New Webster Encyclopedic Dictionary of the English Language, Edgar susses out the perfect appellation, such as Tinder or Essay, for each pup. Sometimes he signs scenes from Winnie the Pooh or The Jungle Book to the dogs. When not in the kennel, he roams the fields and woods with Almondine, his closest friend. Like Edgar, Almondine wonders and explores and questions; as a dog, she too lives enmeshed in a world of constant interior monologue, which Wroblewski occasionally expresses.

Into this idyll comes Claude, the ne?er-do-well younger brother of Edgar?s father. Years of dormancy do not dampen the passion of old quarrels, and Claude eventually leaves the Sawtelle house. One afternoon shortly thereafter, Edgar finds his father sprawled on the floor, dying. Within a few minutes, his father is "looking nowhere and breathing nothing." Ashamed at his inability to call for help, and horrified at having borne soundless witness to Gar?s death, Edgar beats himself in his sleep, signing undecipherable recriminations against his sternum.

What happens next might be familiar to those who know their Shakespeare, but a distinctly American feel, multidimensional secondary characters, and fresh language save Wroblewski?s work from being mere mimicry. After unsuccessfully trying to demonstrate Claude?s involvement in Gar?s death, Edgar sets off a series of events that culminate in his leaving the homestead and traveling deep into the nearby Chequamegon Forest, with three dogs as companion-protectors. His experiences in the wilderness borrow some from Mark Twain?s novels about adolescent boys escaping into nature in order to make sense of a mad, mad world. In the woods, Edgar and his dogs learn to balance self-reliance with reliance, preference with obligation, a "rare, unnamable talent" that exists to some degree in every Sawtelle, dog or human.

Wroblewski gives the dogs consciousness and personality, such that the animals become more than minor players in the human drama. The narrator describes Almondine?s devotion to the family that has raised her:


In her life, she?d been nourished and sustained by certain things, being one of them, Trudy another, and Edgar, the third and most important, but it was really the three of them together, intersecting in her, for each of them powered her heart a different way. Each of them bore different responsibilities to her and with her and required different things from her, and her day was the fulfillment of those responsibilities.

The chapters narrated in Almondine?s voice rank among the most moving displays of animal sentience in literature, in part because she remains a dog, consumed by doglike concerns, such as scent and duty; she is never anthropomorphized or Disneyfied.

As in Hamlet, The Story of Edgar Sawtelle divides into five distinct parts. Wroblewski shows tremendous range as he portrays the dreamy Edgar, who likes to imagine the original owner of the farm painting his barn a mixture of rust and blood; the confused Edgar, who clings to his mother after his father dies, incapable of understanding why she does not appear to yearn as he does; the irate Edgar, who feels the weight of his inheritance, particularly after his father appears as a ghost made of raindrops; the autonomous Edgar, who learns to provide for himself and his four-legged charges; and the resolute Edgar, who returns to his childhood home for a searing climax. Regardless of his mood, Edgar remains an absolutely sympathetic character, a tribute to Wroblewski?s skill.

The final part concludes with a tour de force of literary perspective. Voices spill out at a furious pace, fleshing out the white space between Shakespeare?s lines. "Words, words, words," spits Hamlet during a particularly anguished moment. Words concern Wroblewski, of course, but so do the spaces between words, the almost inexpressible silence that lies between and around our expressions. In these moments, one might hear the fall of "pearl flakes" during an early snow or the "musky yawn" of rotting foliage after a rainstorm, as Edgar often does. When frightened, Edgar "screamed, silently, despite all resolution to the contrary"; Edgar?s speechlessness is a physical manifestation of a psychological state experienced by all who know language. Our darkest moments lie beyond words.

"Before you were born," the granddaughter of the local prophetess chides Edgar, "God told you a secret he didn?t want anyone else to know." Over the pages, transposed from Elsinore, Denmark, to the outskirts of Mellen, Wisconsin, Edgar recounts his story, including some secrets. Listening is our privilege.