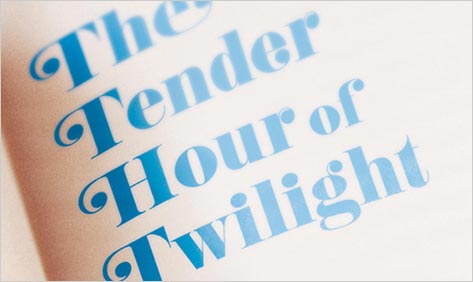 Growing old and name-dropping about what happened when you were young might be tedious, unless what you happened to do when you were young was move to Paris, live on a glamorously disheveled shoestring budget, discover Samuel Beckett, publish Jean Genet, cavort with Orson Welles, and hang out with Ellsworth Kelly. In that case, by all means, not only drop names but leave us a little of their luster — as does The Tender Hour of Twilight.

Richard Seaver's posthumous memoir of literary life in postwar Europe and sixties America twinkles with all the midcentury glitz that makes a show like Mad Men glitter, but in this case the stories are drawn from Seaver's own real and remarkable life. Beginning with his tenure publishing small magazines in Paris and following him through to his perch as editor in chief of Grove Press, his passion for publishing can't help but inspire our admiration, and perhaps also our envy. Seaver's story calls us into an era of connection, of personality, of closeness: of people meeting at cafes to discuss work over red wine, of colleagues seeking out each other's addresses from publishers, of idea-hungry small magazine editors tracking down the writers they most savored and taking pleasure in celebrating them.

Here is a hearty reminder of the richest things such a career can offer: books born out of friendship, admiration, camaraderie, and daring. May this romp through publishing at its wild best inspire us all.