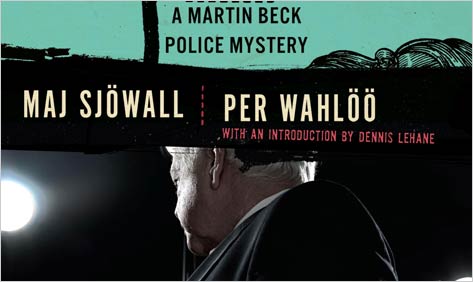 The Terrorists is the last of ten Martin Beck Police Mystery novels written during the 1960s and 70s by Maj Sjöwall and Per Wahlöö, a Swedish journalist and poet, respectively, who together created what is perhaps the finest crime series ever published. Each volume—from Roseanna to The Terrorists —is like a slim, exquisitely designed attaché case, spring-loaded with tension and ingeniously organized. Most remarkable of all, however, are the layers of humanity folded into each cunning plot. The monsters here are everyday monsters, usually pathetic, and the heroes are simply men like Martin Beck: exhausted, often dull, but dogged.
Set in 1975, The Terrorists finds Martin Beck and his Stockholm Homicide Squad assigned to protect a visiting American senator from a team of assassins who strike in Latin America as the novel opens. In addition to this task, Beck has the murder of a pornographer to solve, and he must also grapple with the troubling case of a teenage mother whose innocent idealism sets her on a collision course with Sweden's bureaucracy.
Beck's loveless marriage has ended; he is happily coupled with the refreshingly independent Rhea but bereft without his colleague Kollberg, who has resigned. There are the usual elements to contend with: foul weather, incompetent superiors and corrupt politicians, and the atmosphere of poignant bleakness that suffuses Beck's world. But there are also laconic wit and unbearable suspense. Once the assassination team arrives in Stockholm, the action begins to unfold with clockwork precision. Yet there is nothing mechanical about this, the most overtly political of the Sjöwall- Wahlöö novels. Beck might observe that a good detective needs "…a systematic mind, common sense, and conscientiousness," but chance and even intuition also play their part in this flawless final episode of his career.