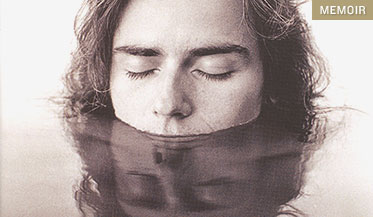 Julia Blackburn is a marvelously unpredictable, unclassifiable writer. In addition to novels, short stories, and essays, she has written affecting portraits of such diverse figures as Napoleon, Goya, Billie Holiday, and Daisy Bates, an Irishwoman who lived among the Australian Aborigines. Blackburn's approach is never direct; she sidles up to a subject and mysteriously inhabits it. Yet there is nothing tricky or pretentious about her style. She just seems wonderfully odd. Now, perhaps, we know why. The Three of Us: A Family Story is Blackburn's often shocking account of growing up as the only child of a poet and a painter in bohemian London, an enclave that retained the class divisions and postwar scars of the 1940s and 1950s — Blackburn was born in 1948 — even as it hurtled towards the Swinging '60s. In The Three of Us, however, the more stubborn blemishes are personal: addiction, mental illness, domestic violence. What memoir, after all, is complete without them?

"My father Thomas Blackburn was a poet and an alcoholic who for many years was addicted to a powerful barbiturate called sodium amytal, which was first prescribed for him in 1943," Blackburn begins. "When the cumulative effect of the drug combined with the alcohol made him increasingly violent and so mad he began to growl and bark like a dog, he was tried out on all sorts of substitute pills, including one which he proudly said was used to tranquilise rhinoceroses." And the good news? "My mother, Rosalie de Meric, was very different," Blackburn continues, "She was a painter by profession and she rarely got drunk and didn't use prescription drugs, and she was sociable and sane and flirtatious, and I was always afraid of her."

When volatile, narcissistic Rosalie begins to regard her teenage daughter as a sexual rival, the tone of the book darkens (not that it is ever exactly sunny). Yet Blackburn's alchemical powers transform even the grimiest incident into a scene of wondrously distilled clarity. Consider the morning after a drunken supper party at her father and stepmother's house in 1965, for example: " 'Toast?' says Peggy from out of a white cloud of cigarette smoke. She has put five jars of Cooper's Oxford Marmalade on the table, a little flock of them, all with their lids off."

To re-create such moments, Blackburn draws on a diary that she began as a schoolgirl in 1964. Family snapshots are also scattered throughout the book. Memory, however, is her chief resource. Recalling her father's study in a cramped London flat, she writes, "Sometimes I'd stand outside and give a tentative knock and, if he didn't answer, I'd post letters to him under the door. He kept one of those letters for years. It was written in a laboured six-year-old's script and it read, Dear Daddy I hate you. Lots of love Julia." Blackburn, as always, lets that gem speak for itself.

There was plenty to hate, apparently, but also much to pity in Thomas Blackburn. The son of a sadistic biracial Anglican vicar and a formidably dour mother — both masterfully described here, as are Rosalie's family — sensitive young Thomas grew into an alcoholic, then a violent addict and serial womanizer. Rosalie divorced him in 1961. The precipitating incident involved three roasted lamb's hearts. "My father…hurled the hearts across the table in the direction of my mother's face," Blackburn writes of that fateful Sunday lunch. Jason, the family's cocker spaniel, seized the meat, then bit the enraged Thomas, who grabbed a lump of wood, intending to smash in the dog's head. "I went to my room to weep and my mother got on the telephone. 'I can't stand it any longer and now he's trying to kill the dog,' I heard her say, and for once I agreed with her."

Blackburn's dry humor is never flippant, never bitter. She is telling her story, not spinning it for ironic effect, even when the telling is hard. "I don't think I slept much at night," she writes of her parents' fights, "or if I did, I was quickly awake again once the cries and shouts had reached a certain level of desperation…. If I held back for too long my mother would always come and fetch me…. She'd hold me by the shoulders and my father would weave around us like a boxer, with that baffled look in his eyes because I was in the way." Years later, Julia reads this entry in her mother's diary: "Julia is very understanding, but she is still too young to really help me." The child was nine.

Teenage Julia has screaming fits for which she is dispatched to a psychiatrist, but after her parents' divorce — and even before it — life is not all adult tantrums. There are dogs like Jason to love, many of them familiar from Blackburn's earlier short stories. There are even sweet humans like Uncle Guy, who grew up, as did Rosalie, in an aristocratic world "in which Poussin's Shepherd and Shepherdess looked down on the diners in the dining room and a dark Annunciation, wrongly attributed to Rembrandt, did its best to ignore the cigar smoke and the clink of glasses in the gentlemen's drawing room."

The series of single men that Rosalie takes in as lodgers (and potential lovers) are a different story. "I am an honourable Swiss gentleman, no?" one of them assures 15-year-old Julia, "I don't rape you, which you might not like, and I don't seduce you, which your mother might not like." By this time, Julia is reading Nietzsche, smoking, drinking, and becoming her mother's rival rather than her protector. Her teenage infatuation with Rosalie's lover Geoffrey is temporarily eclipsed by an affair with a painter in Spain and later with Hermann, a young Dutch boarder. But the attraction between Geoffrey and Julia persists, and in the book's gloomiest section Blackburn describes moving in with her mother's former lover, or "living out the Oedipal" as one friend puts it.

In 1969, Geoffrey committed suicide. His two small children, when visiting Julia, drew a picture of their father. "They wanted to write Dead Now as the title of the drawing," she recalls, "and I helped them with the spelling." In 1977, Thomas Blackburn died, having just written in his notebook, "Down to earth after just meaning to write a short letter of love and the wish to pardon and be pardoned…. To you both, loving or not loving, I still love…"

In 1999, Rosalie died in a slow dwindle that Julia chronicled both in her notebook and in faxes to Hermann, the Dutch lodger whom Julia eventually married. Of their last time together, she writes:


Rosalie is slipping away. I stayed with her at the hospital, but I felt I was holding her back….
I said to her, "If you don't mind, I think I'll go home and have a bath with lavender oil. And then a sleep."
"Oh, how lovely!" she said in her deep whisper, "You do that. I shall be thinking of you. Sleep well, darling. Goodbye."
And I kissed her cheek and then her hand.

Grace descends on these flawed lives, at least in this beautifully written version.