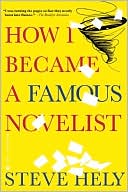 December 8: JamesThurber was born on this day in 1894—or rather, as described in his preface to The Thurber Carnival, "on a nightof wild portent and high wind in the year 1894, at 147 Parsons Avenue,Columbus, Ohio." In keeping with his hapless heroes and self-deprecatingstyle, Thurber goes on to say that the portents didn't come to much:
The house, which is still standing, bears no tablet orplaque of any description, and is never pointed out to visitors. Once Thurber'smother, walking past the place with an old lady from Fostoria, Ohio, said toher, "My son James was born in that house," to which the old lady,who was extremely deaf, replied, "Why, on the Tuesday morning train,unless my sister is worse." Mrs. Thurber let it go at that.
The birthplace has been demolished, but Thurber's otherColumbus home is now a museum and writing center. This year's winner of themuseum's annual Thurber Prize for American Humor is Steve Hely's How I Became a Famous Novelist, a lampoonof the best/worst in contemporary fiction. Hely's hero is a downward-spiralingwriter currently employed in an essay factory penning customized academicpapers for student-cheaters. When he hears a contemporary author, PrestonBrooks, read from his bestselling novel to a rapt audience, theessayist-for-hire has his eureka moment: anyone, most notably him, couldfashion such an "intricate latticework of literary sewage":
Maybe you'll have to see this audience to understand myepiphany. …In the rows of the lecture hall, listening to Preston, their backsarched forward and their eyes expectant, were rows of college girls. Youngwomen in little sweaters and tight jeans, pliant and needy. Girls with nameslike Sara and Katie and Chrissy, no doubt, who had read Chronicles of Esteban and Kindnessto Birds while curved on couches in their bras and pajama bottoms, givingthemselves over to this magician of words. Corn-fed girls from small towns,where girls were still graceful and feminine. Pageant winners and soccerplayers and swoony pseudopoets. Girls who were smart-cute and wildlypassionate, who'd traveled from Connecticut and California to ShenandoahCollege to submit themselves to Preston Brooks. Their faces yearned withnameless desire, pleading with Preston to guide them and fill them with hardtruths.
---
Daybook is contributed by Steve King, who teaches in the English Department of Memorial University in St. John's, Newfoundland. His literary daybook began as a radio series syndicated nationally in Canada. He can be found online at todayinliterature.com.