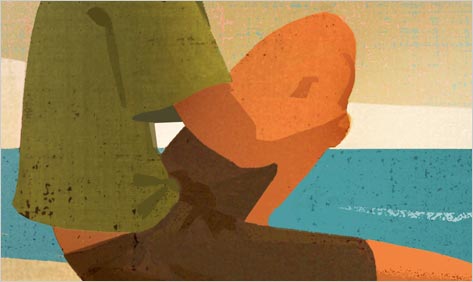 "The woman put her sad moon-face in at the window of the car. 'You be good,' she said. 'You hear me? You little ones, mind what Dicey tells you. You hear?' "

"Dicey sat in front. She was thirteen and she read the maps."

Thus begins the first page of several thousand that comprise the seven young adult novels that would become known as the Tillerman Cycle. Dicey Tillerman is the girl in the front seat with the map, though at thirteen, with cropped hair and without "bosoms," she is often mistaken for a boy. This mostly works to her advantage, because the woman with the moon-face — her mother, Liza — is never seen again. The plan had been for Liza to drive her family from their beach shack in the sand dunes of Provincetown, Massachusetts, where she can no longer pay the rent, to the house of an allegedly wealthy aunt in Bridgeport, Connecticut, whom the children have never met. Instead, Liza ditches her children in the parking lot of a Connecticut mall. Dicey has eleven dollars and fifty cents, her three small siblings — James, ten; Maybeth, eight; and Sammy, six — and a map.

She decides to walk. Down Route One, across rivers, down the coast, through the Yale campus, the children walk, sleeping in campgrounds and abandoned houses and fishing and clamming and eating stale doughnuts and bruised fruit. When the "wealthy aunt" turns out to be a sour cousin who works in a garment factory and, on the advice of her Catholic priest, decides it best to break up the family, the children take off on foot again, down the coast of Maryland to Crisfield, a tiny coastal town outside Annapolis, to find Liza's mother, whom they have also never met.

This past spring and summer, all seven of the novels in the Tillerman Cycle have been reissued in shiny new hardcover editions, many stamped with the gold and silver award medals that indicate their status as modern classics. Thirty years later, it's striking to realize that the publication dates of these novels — 1981 to 1989 — correspond exactly to the years Ronald Reagan was president. In an era that revered cowboy capitalism and disparaged single mothers, broken homes, and "welfare queens," Cynthia Voigt wrote — and won awards for — novels about poor children, ditched by their unwed mother and saved by two other single women: a thirteen-year-old girl and, eventually, a sixty-something barefoot widow (Ab Tillerman, a.k.a. Gram).

The Tillermans, in many ways, conform to classic American notions of the noble poor: They never borrow money, never take charity (Gram even must be convinced that she has "earned" her Social Security payments), and always work hard at any job — scrubbing windows, delivering newspapers, crabbing — they can find. ("The Tillermans weren't greedy, to be rich or to own things, or to be famous, either," Dicey tells us. "They just wanted to be able to take care of whoever they were supposed to, just to earn a living — because your living wasn't a present, it had to be earned.") They are frugal (they bake their own bread, grow their own vegetables, use dried milk instead of fresh, and commute the ten or so miles to town via bicycle and boat), yet they know what to value (real butter and maple syrup, used sparingly; hand-carved wooden toys over plastic; antique tools; old books).

The Tillermans' fastidious self-reliance is so complete that it verges on the anachronistic — these are people who, in the eighties, consider cars a frivolity — which lends the novels a patina of timelessness and links them to a much older, distinctly American mythology: These children could have made their walk during the Depression, put up preserves with Laura Ingalls Wilder, found themselves in an orphanage with Anne Shirley, or crossed a river with Huck Finn. The songs they sing could come straight from the Alan Lomax American songbook and, for a time, they even take up with the circus. Dicey herself recognizes her affinity with the earliest American immigrants, who came "because they wanted to live and work in a land that civilization hadn't already polished and divided, because they loved wildness and wanted to match themselves up against the wildness and see how they did." You'd probably say that a girl who led three children into the wilds of the Eastern Seaboard and kept them fed and sheltered for two months, using roughly the same methods employed by people centuries before, did pretty well.

This adherence to such narrative archetypes is what gives these stories a surprisingly subversive power. The Tillerman Cycle is an American family epic: the first novel in the series is so clear in its purpose that it is actually called Homecoming. But the richly textured American families described in these novels stand in stark contrast to the rigid definition of "family values" pushed by the dominant politicians of their era. They fight the Catholic Church, in the form of Cousin Eunice and her priest, when those allied forces try to label the children "good" and "bad" and separate them to be adopted. They fight the kids at school, who call them — in an insult that recalls a pre-modern social order — bastards.

Even the name Tillerman, it turns out, comes to the children through matrilineal lines. At first, it seems that the children's father, Francis Verricker — who shows up in a flashback scene with a babe named Honey — just wasn't the marrying kind. But we later realize that the partner who refused marriage was Liza, who didn't like watching what marriage did to her mother and insisted her children carry on her last name. And though Gram points out that she herself was not born a Tillerman — the name belonged to her late husband, John — it is she who gives the children their most distinctive shared feature: their hazel eyes.

Those eyes, with their mixed-up colors, are as good a metaphor as any for a family in which difference, even extreme eccentricity, is frankly celebrated. Dicey's best friend, Mina, describes Dicey as "pretty strong meat," and the same could be said for all Voigt's characters, including Mina herself. Dicey initially describes her grandmother as "a good enemy," which leads her to conclude that "she might make a good friend." Indeed, the two become an astonishingly good parental tag team, skillfully recognizing that James is smart but is terrible at follow-through, or that Maybeth may learn better through pictures and music than books, and resolutely respecting each child's difference. It's pure pleasure to watch them as parents — especially when one steps back and realizes that they are a teenage girl and an aging woman.

From the earliest books in the series, Voigt introduces several black characters, including the man who runs the circus and helps the children, and Mina, one of the best-liked girls in school. Later in the series, Crisfield's racial history becomes much more explicit: The Runner, book number four, takes place in the late sixties and is told from the perspective of the children's uncle, nicknamed Bullet, a high school athlete who died in Vietnam and has explicitly racist attitudes. The next book, Come a Stranger, describes Mina's more subtle experience with racism as the "ex-token black girl" at a ballet camp with rich private school girls, and how she gets back to feeling comfortable being loud and confident taking up space.

The final two novels circle back to the Tillermans. In Sons from Afar, James and Sammy go on a quest for their prodigal father; Seventeen Against the Dealer brings all the children to the cusp of adulthood: Dicey, twenty-one and starting her own business as a boat builder; James at Yale; Sammy an athlete; Maybeth singing and baking. Liza Tillerman, as so many mothers in fairy tales, doesn't make it, but her children are satisfyingly intact. They've obviously learned how to survive, but in the final two novels, they do an awful lot of failing, too. Perversely, this seems to underscore their resilience: failure, for a Tillerman, becomes a kind of creative problem solving.

But I'm not so sure about Frankie Verricker. Throughout the series, the children's father shimmers on the edges of the stories, never seen but often described by others: the mother whose daughter he spirited away, the teacher who praised him for his brilliance, the teacher who expelled him for his troublemaking, the women he charmed, the men whose money he stole. By the end of the novels, his children still count him as missing, but if your eyes are sharp enough, you may catch him lurking around the margins toward the end of the series, taking a good long look at what he left behind. In true trickster fashion, he doesn't reveal himself, and none of his children have a full enough description to recognize his character's mug shot. But the reader does. My money says that the prodigal father does return, as an open secret between the author and the diligent reader who has followed his family through seven novels. But he doesn't come for the sons. He knows where to go. He looks for the girl with the map.