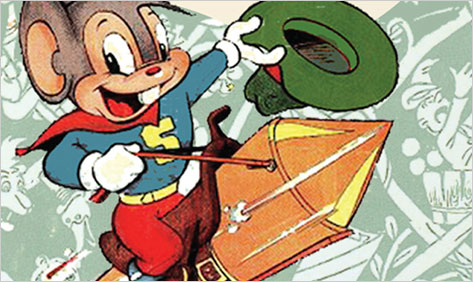 The dedicated trawler of used-book stores will occasionally stumble upon a fat bound volume of one of the Edwardian children's magazines, such as Chatterbox or St. Nicholas. Overstuffed with activities, puzzles, poems, prose tales, essays and beautiful drawings, these well-handled storehouses of prelapsarian juvenile fun evoke gilded summer afternoons of youthful bliss. Would it be possible to create such a volume for the jaded twenty-first century? Editors Françoise Mouly and Art Spiegelman certainly believe so, and have substantially achieved their vision with The TOON Treasury of Classic Children's Comics. Although eschewing all types of entertainment save the comics-based, their new anthology manages to deliver much the same basket of delights as these nostalgic compilations of a century gone by.

In fact, the cogent, bold and warm-hearted introduction by the famously married editors outlining their goals and methodology even echoes the platform propounded by Mary Mapes Dodge, long-serving helmswoman of St. Nicholas:
"To give clean, genuine fun to children of all ages. To give them examples of the finest types of boyhood and girlhood. To inspire them with an appreciation of fine pictorial art. To cultivate the imagination in profitable directions. To foster a love of country, home, nature, truth, beauty, and sincerity. To prepare boys and girls for life as it is. To stimulate their ambitions—but along normally progressive lines. To keep pace with a fast-moving world in all its activities. To give reading matter which every parent may pass to his children unhesitatingly."
If one adds, "To develop the child's appreciation of fantastical and irreverent absurdity," the bill of fare is complete.

Spiegelman and Mouly dig deep, with superb taste and expertise, into the vast archive of kids' funnybooks issued from the 1930s till the dawn of the Silver Age, circa 1960. They select pluperfect instances of such famous strips as Little Lulu, Sugar and Spike, Captain Marvel, Uncle Scrooge, Pogo, Little Archie and Dennis the Menace, reproduced here in crisp colors and sharp lines that nonetheless conjure up all the lowbrow, under-the-radar, ten-cents-an-issue production values of that vanished era. Even young readers unfamiliar with these icons will instantly appreciate their charms.

But those savvy adults stealing this book from the sleep-slackened grip of their offspring—those grownups who harbor inside them "the kid of all ages," to employ the Mouly-Spiegelman phrase—will really vibrate to the rarities on display. Lesser-known creators such as Don Arr, George Carlson, Dan Gordon, André LeBlanc and Dan Noonan prove themselves inspired craftsmen, possessed of quirky, appealing styles and imaginations that fall just short of such geniuses as Walt Kelly and Carl Barks. Consider the wonders of a strip like Noonan's Rover, which is some kind of Prince Valiant of dog stories. Or LeBlanc's Intellectual Amos, which manages to blend factoids and fun.

Spiegelman and Mouly mention that they found many more comics worthy of reprinting than this volume could accommodate. We will be camped out by the drugstore spinner rack—or by the virtual storefront anyhow—eagerly awaiting a follow-up volume or four.