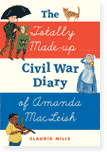 The Totally Made-Up Civil War Diary of Amanda Macleish weaves the contemporary story of fifth grader Amanda MacLeish and the "totally made-up" diary of Amanda?s fictional Civil War–era ten-year-old Polly. Like Polly and her war-afflicted family, Amanda?s world is falling apart — her good-natured father has moved out, and Amanda entirely blames her irritable mother. Amanda?s best friend, Beth, seems to have found a replacement buddy. And half the kids in her class are clueless about writing or the Civil War:


Patrick finished reading. The class clapped politely.
"What did you like about Patrick?s diary entry?" Mr. Abrams asked.
What could anyone possibly say? "I liked the places where you could read your own handwriting." But no one would want to say something mean in Mr. Abrams?s class.

Despite its somber themes, Claudia Mills?s newest novel sparkles like a glass of ginger ale, peppery and sweet. Spirited Amanda blunders through mistakes that only make us love her more. A splash of American history, a dollop of friendship, a pinch of philosophy, humor, pathos, even a dash of romance — The Totally Made-Up Civil War Diary of Amanda Macleish has something for every young reader.