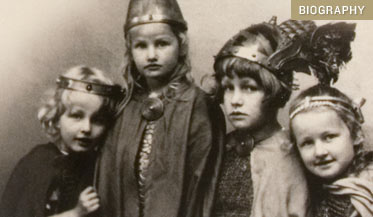 Richard Wagner, it is claimed, is one of those magnetic cultural figures who either attracts or repels: you're either a true believer or a deep hater. Friedrich Nietzsche was both, although not even his gymnastic intelligence could manage to be both at the same time. Leonard Bernstein managed what Nietzsche could not; he said he "hate Wagner but on bended knee."

The Wagners definitely attract print, as well as produce formidable amounts of it themselves, especially the genre of self-justification. Richard kicked off with the hefty Mein Leben; his wife, Cosima, kept a million-word, 21-volume diary. Their son Siegfried wrote blandly inscrutable memoirs, and his anti-Semitic, English-born wife, Winifred, starred in a five-hour-long documentary detailing her hobnobbing with Hitler. But there's much more — from Heritage of Fire by Richard's anti-Nazi daughter, Friedelind, to The Wagners: The Drama of a Musical Dynasty by great-granddaughter Nike Wagner, and many in between. At times it seems that almost every branch and leaf of the Wagner family tree has weighed in — and that's not including the many volumes written about them.

Quite frankly it's all a bit intimidating for those of us who are merely interested. Jonathan Carr has come to our rescue with an impressively reasonable, ordinary-sized history of the family. Carr places himself hors de combat from the usual wrangling among Wagnerites. A journalist, Carr is far more concerned with exposition than polemic or partisanship. Insofar as he has a thesis or goal, it is that "the state of the Wagner family faithfully reflected the plight of the country at large." This leaves him with plenty of room to tell his story as he ranges from the time of King Ludwig to the time of Hitler, and through Wagner family marriages to Italian aristocrats, SS officers, even to a daughter of one of the men who attempted to assassinate Hitler in 1944.

The book divides naturally into thirds. First there's Richard and Cosima setting up the extraordinary — quasi-religious, even — opera house in Bayreuth designed to be wholly devoted to works by Wagner. Then there's the flowering of the family in the garden of national socialism. Finally, there's the fallout at the end of the war and the rebirth of the festival during the Wirtschaftswunder, the West German economic miracle. Very little space is given to this or that recent family brouhaha: Without being stuffy, Carr is too high-minded to stoop to gossipy speculation — although he hardly needs to when you consider what the family gets up to.

The saga begins with the adultery and then marriage between Richard Wagner and Cosima Liszt von B?low. Wagner had already been not very happily married for 30 years to an actress named Minna Planer; Cosima, herself the child of an illicit liaison between the virtuosic pianist Franz Liszt and the radical-minded French aristocrat Marie d'Agoult, was already married to the composer and conductor Hans von B?low. The union of Richard and Cosima began patterns of behavior and expectations that seem to be recapitulated in succeeding generations. There's the young and bossy second wife who becomes more Wagnerian than the Wagners. There's the perennial problem of money to support the growing families. And there are problems of inheritance: children of the first marriage pitted against children of the second, reluctant sons tapped for succession in the family opera business over qualified and interested daughters. All of this is exacerbated when the Wagner males in power die without leaving a will to support and guide their young dependents.

The story as Carr tells it unfolds with all the thrills of a — well, it's often compared to grand opera and even more often to soap opera. Certainly both forms contain the sorts of melodramatic plot shifts and larger-than-life characters of the Wagner family story. But I see more of a mixture of Aeschylus' Oresteia and the workplace shenanigans of Are You Being Served? The mothers are on the whole more Clytemnestra than Mrs. Slocombe. Cosima declared her daughter Isolde (whom she conceived by Richard and bore while still married to von B?low) a non-person; the fact that Isolde sued Cosima in court to establish her parentage didn't mend matters (Isolde lost). Winifred, who like Cosima married into the family and identified herself almost completely with maintaining the Master's sacred flame at Bayreuth, was even more ruthless. Her daughter Friedelind had escaped to England, where she wrote newspaper articles irritating to the Third Reich. Winifred, meeting her daughter in Switzerland, gave her an ultimatum: keep quiet, or else — "the order will be given; you will be destroyed and exterminated at the first opportunity."

But there are definite touches of unwitting slapstick: Wieland, driving through the night chased by a Fury of a mistress (the soprano Anja Silja) who kept running her car into the rear end of his all the way back to Bayreuth. And as the Allies approached at the end of the war, the family documents were wrapped in waterproof diapers and buried in the garden. There are witless extras such as teenage Wummi (Wieland's son Wolf Siegfried) who sells off an old picture he found in a storeroom for a bit of extra cash — it turns out to be a portrait of Liszt by Ingres. And there's a bit of creepy farce in the details of Hitler's lightning nighttime visits to Winifred.

Like many books on Wagner and his operas, Carr doesn't really talk about the music much. We hear about its luscious grandeur but not about the chord construction of Tristan und Isolde's "Liebestod." Carr does — also like other authors — spend quite a bit of time on the anti-Semitism question. What drew Hitler to Wagner?



Did he identify himself with Hans Sachs, that most creative and far-sighted of Wagner's Mastersingers, acclaimed by the adoring populace on the meadow before Nuremberg? It is hard to believe he did not, not least because year by year he addressed Nazi rallies of overwhelming theatricality on the fringe of the very same city.

On other occasions, Hitler may well have seen himself as Lohengrin, the mystery knight in shining armour, or as Rienzi, the tribune of implacable will with the (doomed) mission to make Rome powerful again. We know from Mein Kampf that Lohengrin was the first opera he ever saw…and that he was "captivated at once."



Wagner proved to be a magic mirror for Hitler, showing him what he wanted to see. He even owned several original scores and took them with him to his Berlin bunker. Did they become an important symbol in his own private G?tterd?mmerung?

In general, Carr is unsensationistically sensible about the Nazi period ("Many knew enough not to want to know more"). One technique he frequently draws on is to ask, but not answer, questions about the most egregious moments of family anti-Semitism. I'm not sure they have the effect he intended — letting us make up our own minds. As they add up, they take on an exculpatory tinge which the rest of his book goes a long way to avoid.

We know the Wagner story will continue, almost certainly becoming even longer than another of Wagner's musical and dramatic heirs, the space opera Star Wars. The useful family tree in the front of Carr's book shows a new generation of Wagners in waiting, although they seem to be losing the family habit of symbolically laden names. And speaking of waiting, there's a ten-year waiting list for tickets at Bayreuth. You can get the book and a couple of CDs a lot faster. I bet your seat will be more comfortable, too.