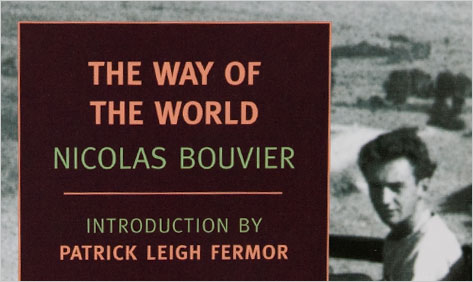 In Francophone countries, Nicolas Bouvier (1929–98) has the reputation of Bruce Chatwin: stylist extraordinaire and philosopher of travel. In 1953, the 24-year-old Swiss left Geneva in a battered old Fiat Topolino, aiming to go across Asia with an artist friend. "We had two years in front of us, and money for four months. The programme was vague; the main thing was just to get going." They made it 47,000 miles—pushing the car rather than riding for some of them. The Way of the World (1961) is Bouvier's literary-meditative account of the journey. They must often pause—in Belgrade, Istanbul, Tabriz, Kabul—to raise funds by waiting tables, performing in bars, selling portraits and murals, giving cultural lectures. When trouble keeps them in Quetta, they fall into the employ of an ex-Welsh Guards colonel running a failing French-style café called the Saki Bar.
Terence, who was very sensitive to happiness, uncorked his last bottle of Orvieto. The cork leapt out, increasing the Saki's liabilities by twenty-three rupees. What did he care? He had passed the point of efficiency, passed the point of being had. On half-pay, trapped in this disintegrating bar, burdened with the whole town's secrets, and with debts and old Mozart records, he traveled further and more freely than we did. Asia attracts those who like to sacrifice their careers to their fate. Once the sacrifice is made, the heart beats more generously, and many things become clearer. While the wine grew warm in our glasses and Terence, still and watchful as a night owl, gazed up at the stars, a couplet by Hafiz came back to me:

"If the mystic still doesn't know the secret of the World, I wonder how the innkeeper came to learn it so well."
What a beautiful zeugma is that "burdened" "with debts and old Mozart records," and an exemplar of Bouvier's attractions. The Way of the World took 30 years to make it into English, and then without the woodcuts done by Bouvier's traveling companion. New York Review Books have not only restored this work to print, but the original illustrations, too. It should be enough. But Bouvier was a fine photographer, and after his death, an archive of pictures from the trip was discovered. The catalog from the 2002 exhibit in Paris is readily available through the Internet, and you'll want it after you read this wonderful book.