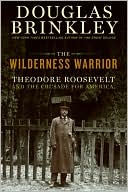 President Theodore Roosevelt declared the Grand Canyon a national monument on this day in 1908. Roosevelt designated seventeen other national monuments during his time in office, thereby becoming the White House's Wilderness Warrior — to borrow the title of David Brinkley's 2009 biography, which begins with this anecdote outlining the president's priorities:
On a wintry morning in 1903 President Theodore Roosevelt arrived at a White House cabinet meeting unexpectedly and with great exuberance. Something of genuine importance had obviously just happened. All eyes were fixed on Roosevelt, who was quaking like a dervish with either excitement or agitation — it was unclear which. Having endured the assassinations of three Republican presidents — Abraham Lincoln, James Garfield, and William McKinley — Roosevelt's so-called kitchen cabinet at least had the consolation of knowing that their boss, at the moment, was out of harm's way. Still, they leaned forward, bracing for the worst. "Gentlemen, do you know what has happened this morning?" Roosevelt breathlessly asked, as everybody leaned forward with bated breath for bad news. "Just now I saw a chestnut-sided warbler — and this is only February!"
Brinkley's biography covers the first decade of the twentieth century, the years when Roosevelt allied himself with the "visionary naturalists" of the day and "launched the modern conservation movement." A speech he made to the citizens and politicians of Arizona in 1903, after his first visit to the Grand Canyon, is sometimes cited as the conservationist credo:
I want to ask you to do one thing in connection with it in your own interest and in the interest of the country — to keep this great wonder of nature as it now is.… Leave it as it is. You can not improve on it. You can only mar it. The ages have been at work on it, and man can only mar it. What you can do is keep it for your children, your children's children, and for all who come after you, as one of the great sights which every American if he can travel at all should see. We have gotten past the stage, my fellow-citizens, when we are to be pardoned if we treat any part of our country as something to be skinned for two or three years for the use of the present generation, whether it is the forest, the water, the scenery.
---
Daybook is contributed by Steve King, who teaches in the English Department of Memorial University in St. John's, Newfoundland. His literary daybook began as a radio series syndicated nationally in Canada. He can be found online at todayinliterature.com.