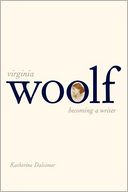 On this day in 1917 Leonard and Virginia Woolf purchased a small, used hand press; a month later, it was delivered to Hogarth House, their London home, and the Hogarth Press was born. Over the next three decades, the Woolfs would publish many of the most influential modernists — besides Woolf herself, the list includes Katherine Mansfield, E. M. Forster, and T. S. Eliot.

In 1917, Virginia Woolf was not long out of a third mental breakdown, this one prolonged and severe, and Leonard thought that book publishing might be a therapeutic hobby. But the Hogarth publications list also includes translations of writing by Sigmund Freud and others of his school, bringing psychoanalytic theory to English readers for the first time. Beyond enjoying his relationship with Freud ("Nearly all famous men are disappointing or bores, or both. Freud was neither…."), Leonard Woolf must have taken a personal interest in Freudian theory. He not only nursed and safeguarded his wife but studied her problems with "the greatest intensity," recording his observations in detail, and often in code. Many biographers debate whether Leonard could or should have gone the next step for his wife by replacing the ineffectual treatment she got from a dozen doctors with psychoanalysis. Some go so much further as to come full circle: in Who's Afraid of Leonard Woolf (2000) Irene Coates argues that Leonard was as much the source of Virginia's problems as her autocratic father and her sexually abusive stepbrothers.

Virginia Woolf did not think much of her doctors and treatments. In July 1910, after enduring the prescribed pounds of food and days of bed rest, she wrote to her sister, "I feel my brains, like a pear, to see if its ripe; it will be exquisite by September." But she did not seem to think Freud much good either, or as good for her and her writing as her own "autoanalysis" of her "dark cupboard" of mental illness.
---
Daybook is contributed by Steve King, who teaches in the English Department of Memorial University in St. John's, Newfoundland. His literary daybook began as a radio series syndicated nationally in Canada. He can be found online at todayinliterature.com.