Classic reading about the October Classic.
---
By Robert Weintraub
World War II very nearly destroyed the institution of Major League Baseball in the early 1940s; with poor attendance, a nationwide rubber shortage that restricted baseball manufacture, and star players off fighting against Hitler abroad, the organization had become a shell of its former self. But by war's end, legendary ballplayers like Ted Williams and Joe DiMaggio were home, healed, and ready to resume play. Robert Weintraub's excellent account of the superlative 1946 season includes Jackie Robinson's triumphant debut in the minors, as well as the spectacular World Series between the Boston Red Sox and the St. Louis Cardinals — teams who may meet again to contend for the championship next week.
---
By Louis P. Masur
The first World Series, between the Pittsburg Pirates and the Boston Americans in 1903, revitalized the sport and showcased some of the storylines that would make the contest a perennial source of entertainment for the next century and beyond: established stars failed to perform, unknowns stole the show, and umpires barely escaped with their lives. Historian Louis P. Masur's dramatic retelling makes you feel like you're cheering in the stands. Cracker Jack not included.
---
By Eliot Asinof
Gambling and baseball make an infamously potent combination. Eliot Asinof gives the subject a close and compelling study in this chronicle of the oddsmakers, owners, and players (both crafty and clueless) involved in baseball's most shattering scandal: the throwing of the 1919 World Series by the heavily favored Chicago White Sox — known to posterity as the Black Sox.
---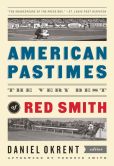 American Pastimes: The Very Best of Red Smith

Edited by Daniel Okrent

"Some of America's greatest, most superbly idiosyncratic prose has come from the alcohol-fueled, tobacco-kippered, deadline-driven paws of sportswriters…the great ones imbue their work with nuance and irony in a key that is completely audible only to American ears," writes Katherine A. Powers in her review of American Pastimes: The Very Best of Red Smith. An exemplar of this breed of writer, Smith mixed tenderness, sarcasm, and an exasperated devotion in recounting the day's greatest ball games. Example: in response to the Yankees' fifth straight World Series championship in 1953, Smith titled his column "Like Rooting for U.S. Steel." This sweeping anthology, compiled by former New York Times public editor Daniel Okrent, houses the best of the Pulitzer Prize winner's vivid commentary on the Golden Age of Baseball and beyond.
---
By Mark Frost
Game six of the 1975 World Series between the Cincinnati Reds and the Boston Red Sox: it's been called the greatest baseball game ever played. An extra-innings thriller starring two teams replete with fascinating personalities, it featured almost unbelievable on-field heroics. Frost digs behind the scenes but also re-creates the game moment by moment. The result: a compelling trip through the historical, cultural, and personal significance of one amazing night in baseball history.