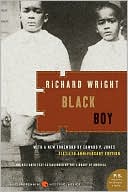 On this day in 1960 the expatriate American writer Richard Wright died in Paris at the age of fifty-two. Wright's last fifteen years in France were the final stop in a life of migrations — from Mississippi farm to a series of southern cities, then to Chicago and New York. Dissatisfied with the token equality he saw in the North, and with the Communist Party — Wright was editor of the Daily Worker in New York — he left for Europe. But he continued to travel throughout northern Africa and Asia, now packing the international reputation earned from his political writing and his two bestsellers, Native Son and Black Boy. Wherever he went, says historian John Henrik Clarke, Wright "came like a sledgehammer, like a giant out of the mountain with a sledgehammer, writing with a sledgehammer…." Of all the hammer targets Wright had found in America, the last may have been the Hollywood producer who wondered if he could make a film of Native Son with a white hero. This was in 1947; it was later that year, perhaps convinced that white America was just never going to get it, that Wright left for Europe.

While his final perspective on America and racism could hardly be described as detached, Wright began to study and compose haiku in his last months. Biographer Hazel Rowley says that these "gave Wright a modicum of inner peace in the worst period of despair and self-doubt he had ever known." While continuing with the sledgehammer writing (and constantly worrying that either his amoebic dysentery or some CIA/FBI plot was about to kill him), he wrote some 4,000 of these "spider web" poems. If Wright's wife had chosen to tuck one into his coffin, rather than the copy of Black Boy she did include, it might have been this:
Keep straight down this block,
then turn right where you will find
a peach tree blooming
Or perhaps this last-written haiku by the Japanese master Basho, who died on this day in 1694:
Stricken while journeying
my dreams still wander about
but on withered fields.
---
Daybook is contributed by Steve King, who teaches in the English Department of Memorial University in St. John's, Newfoundland. His literary daybook began as a radio series syndicated nationally in Canada. He can be found online at todayinliterature.com.