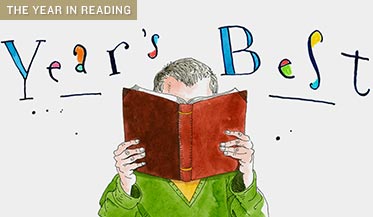 As we did at the close of last year, we asked some of our regular contributors to help us compile a retrospective of the year's most noteworthy books. And as before, we specifically asked some of our writers to chime in with their most significant reads of the year — which sometimes means that the book that most moved them was first published two years (or two centuries) prior.

The resulting list of fiction recommendations contains several votes for a single work — Joseph O'Neill's Netherland — as well as a wide range of selections, from Neal Stephenson's latest work of speculative fiction to Nadeem Aslam's heartbreaking tale of modern Afghanistan, to the classic children's works of Walter Brooks.

Please enjoy this diverse and enticing set of critics' picks, and consider it part of sensible preparation for winter, when a pile of unread novels is both a comfort and a delight (and don't miss our list of Nonfiction picks, or our fascinating year-end critics' roundtable.

David Abrams
The Girl on the Fridge by Etgar Keret
Olive Kitteridge by Elizabeth Strout

In a year when national events — both disastrous and fortuitous — seemed to play in large, history-altering proportions, I found some of the most memorable fiction in the smaller-scale of short stories. Two collections stand out among the Sawtelle -sized novels: The Girl on the Fridge by Etgar Keret and Olive Kitteridge by Elizabeth Strout. Keret's flash-fiction gems (46 stories packed into 176 pages) range far and wide across the human experience, taking us to places we recognize but then detouring our expectations in the space of a single word. Keret's short-shorts are often unsettling but are always unforgettable. Months later, I'm still thinking about those bickering lovers who settle their differences with Crazy Glue. At the other end of the spectrum, Olive Kitteridge comes closer to a symphonic reading experience. Strout's "novel in stories" is linked by the titular character, a retired Maine schoolteacher with a tart tongue who sails through life with impermeable self-assurance, like a battleship under full steam. Strout is a keen chronicler of human nature, and her portraits of Olive are as reflective as mirrors.

Jessica Allen
The Boys in the Trees by Mary Swan

I read The Boys in the Trees, by Mary Swan, in one sitting on a bright day that belied the story's darkness. This lyrical, elegant character study traces the impact of a triple murder on several inhabitants of a small town in 19th-century Canada. Swan switches points of view — from first to third, men to women, old to young — to examine the weight of sadness and regret. The drama comes not from plot, since we're quickly told the killer's motive, but from wondering where Swan's probing gaze might next land. Call it a slightly experimental page-turner. A teenager's meditation on her mysterious illness nestles against instructions for operating a gun; elsewhere a gentle doctor reveals the furious thoughts that plague him, and a schoolteacher dreams about the day a favorite pupil was killed. We turn to fiction in part to understand the interior lives of others. Here's a terrific novel that satiates that craving even as it depicts the impossibility of applying such knowledge. Our consciousness gives us the chance to know ourselves, but, gazing outward, we're surrounded by mystery.

Amelia Atlas
Netherland by Joseph O'Neill

My favorite new book of 2008 was, hands down, Netherland by Joseph O'Neill. The novel, insofar as it has a plot, is about Hans van den Broek, a Dutch transplant to New York who finds himself drawn into the rich terrain of the city's immigrant cricket scene by a Trinidadian huckster, Chuck Ramkissoon. But what it is really about is how the rhythms of where we live burrow into our ways of seeing. Hans's narration is a masterpiece of contemporary consciousness: his perspective bears, indelibly, the imprint of the global world — 9/11, international citizenship, the all-knowingness of Google, marriage and its unraveling. Critics have made much of the novel's debt to The Great Gatsby — and the parallels are certainly there — but in the end, Ramkissoon's fall from grace is not where O'Neill is at his most interesting. Where his novel is truly singular is as a case study in depression. Hans, at once hyper-observant and abstracted, struggles to create from the patchwork world around him — from the cricket fields of Staten Island to the bicycle paths of the Hague — a sense of place, and of self, in a world where everything seems fragmented.

Edward Champion
My Brain Is Hanging Upside Down by David Heatley

Cathartic cartooning has slipped into a glut in which any old dirty chemise smudges up a page. But David Heatley knows that crude truths require pith and vinegar. In this handsome volume, Heatley documents his sex history, charts all the African Americans he's ever known, and tries to remember as many of his family ancestors as he can. There are no maudlin madeleines here to nosh on, but the results are emotionally compelling. Heatley reveals his father's racism and connects this with his own failings to integrate with others in his multicultual neighborhood. He sometimes depicts himself as selfish, but he makes asterisked apologies to specific people who might be embarrassed. There are vibrant connections between consciousness and color, with ugly text snagged within yellow backgrounds and illustrative rage caged in red.

Nestled between these autobiographical tales are surreal adventures that are violent, unsettling, and often quite funny. It's disconcerting to learn that three pounds of vagina can be purchased from a butcher for $86.97, but at least you can find sweet love in an abandoned flat while the low-income neighbors are shooting themselves in the streets. Heatley is a graphic iconoclast working in the territory carved out by Daniel Clowes and Phoebe Gloeckner, but his willingness to share is a brave and poignant gesture.

Emily Chenoweth
Pride and Prejudice by Jane Austen

In 2008, I was not a reader so much as I was a rereader, and I blame this on new parenthood. There was no chance to go to the bookstore, so I read — here and there, in five-minute increments — what I found lying around my house. Sometimes I reread because I was too stupid to understand a book the first time (try to grock George Eliot's literary essays on three hours' sleep); other times I reread because a text was where I could reach it (like the issue of Vanity Fair left in the bathroom until it mildewed). But mostly I reread for comfort, because what first-time parent doesn't need that? There's something profoundly reassuring about a book whose happy ending is already known, which is why the adventures of the lively Elizabeth Bennet in Austen's Pride and Prejudice seemed especially wonderful. Although "adventures" might overstate Elizabeth's activities — as the back of my edition dryly notes, "During the decade when Napoleon was transforming Europe, Jane Austen wrote this novel in which the main events are that a man changes his manners and a young lady her mind" — Austen's 1813 novel is sparkling, delightful, timeless. I'll be rereading Emma next.

Paul DiFilippo
Anathem by Neal Stephenson

In a year that saw the tragic death of David Foster Wallace, best known for his hefty and audacious novel Infinite Jest, the question of who would carry the maximalist banner in fiction — a brave gonfalon previously hoisted by John Barth and Thomas Pynchon among other literary warriors — was left briefly unanswered. Often a contender, William Vollmann delivered only a nonfiction volume, Riding Toward Everywhere, that came in at a modest 288 pages.

And then in September, almost on the heels of Wallace's suicide, as if in instant response, and just as the hopes of the maximalist crowd were fading, came Neal Stephenson's Anathem.

Exhaustively and exhaustingly researched, full of ingenious conceits and expert usage of genre tropes, conflating ultra-cerebral passages with pure space-opera action and Fritjof-Capra-style quantum metaphysics, creating in depth 8,000 years of history for a world that illuminates ours from the inside-out, this novel arrived with the implacable majesty of a brontosaurus being born. It's still too early to know whether it will attain the nonpareil classic status of outsider Austin Tappan Wright's Islandia (1942), but it's a sure bet that nothing else like Anathem will be seen again soon — until Stephenson's next book, that is.

John Freeman
Netherland by Joseph O'Neill

New York City is so gargantuan, its siren call so steady, a great Gotham novel could be published every year without bursting the market's levies. In reality, a truly special one seems to come along just once every seven years. Netherland, Joseph O'Neill's inspired, meandering tale of a Dutch banker and the unusual friendship he develops with a Trinidadian businessman determined to build a world-class cricket stadium in New York City, is that novel. Its supple, Jamesian sentences wend up and down the cluttered, mercantile side streets north of Chelsea and discover in their dishevelment and unselfconscious racial mixture a mirror of the hero's muted dislocation. The shock of 9/11 has torn this man's family in two, and while his wife shuttles off to London with his kids, O'Neill's hero muses on his boyhood in Holland and the improvisational direction his life has taken ever since. In some ways, then, this isn't just a novel about exile (which it is) or New York — again, triumphantly so. Netherland also pays homage to the painful yet necessary wound all of us endure if we are to make our ways into the world and become individuals. From that break on, we are all of us in Netherland. To read this book is to realize how this period stretches on and on, like New York's famous skyline, until it stops.

Paul La Farge
The Pets by Bragi Ólafsson; translated by Janice Balfour

The best short novel I've read this year must be Bragi Ólafsson's The Pets, which makes more room for strangeness in its 157 pages than most novels can find in two or three times that length. Room is of the essence here: The Pets tells the story of a certain Emil S. Haldorsson, a young Icelander who's just come back from a shopping trip to London. No sooner does Emil get home than he receives an unwelcome visit from his old friend Havard Knutsson, an alcoholic Swede who has spent the last few years in an institute for the criminally insane. To avoid Havard, Emil hides under his own bed, and there he stays for most of the novel, as Havard breaks in, makes himself comfortable, and invites over a cast of characters that includes a pedantic philologist, a beautiful young woman named Greta, several of Emil's friends and some of Havard's, too. ?lafsson, who used to play bass in Bj?rk's band the Sugarcubes, handles the absurdity of the situation with a droll matter-of-factness that's reminiscent of Murakami, but as the story goes on the drollery gives way to a subtle menace. A catastrophe is about to happen, and the question is, Will Emil be able to prevent it, or will he be trapped by his own cowardice? Small, dark, and hard to put down, The Pets may be a classic in the literature of small enclosed spaces — a distinguished genre that includes "The Metamorphosis," No Exit, and a fair amount of Beckett.

Anna Mundow
The Wasted Vigil by Nadeem Aslam
The Outlander by Gil Adamson

I did not enjoy The Wasted Vigil by Nadeem Aslam. But I did love this brutal, exquisite novel of modern Afghanistan in which unlikely characters find temporary refuge at the house of an English doctor whose wife was killed by the Taliban. There is a Russian woman searching for her soldier brother; a disillusioned American spy; a zealous Special Forces officer; a young jihadi. As the individual stories unfold and overlap, the tension grows and the lyricism of Aslam's language intensifies. "Cyanide can be extracted from apricots," one character observes. That graceful, terrible sentence sums up The Wasted Vigil. Here nature, art, and love are mutilated by war and oppression — yet Aslam, the magician, extracts nectar from poison.

Gil Adamson's dazzling first novel, The Outlander, transports us to the more reassuring world of the Canadian frontier in 1903, where a young widow is on the run, pursued by the brothers of her murdered husband. "It was night, and dogs came through the trees, unleashed and howling?." Genteel Mary Boulton is soon alone in the wilderness, "Somewhere to her left, the breathing horse. And high above, the slow funhouse creaking of pine branches." Adamson's descriptions are wonderfully evocative, and Mary is one of the great American fugitives.

Alexandra Mullen
Freddy the Pig by Walter Brooks

I've had a year of reading out loud — and what's not to like in the healthy pleasures of reading for the plot? The best children's books have been as satisfying and sustaining as homemade macaroni and cheese and chocolate pudding. But perhaps our favorite family blend of narrative and motivation, humor and adventure, mystery and silly poetry comes in the Freddy the Pig books, begun in the 1920s and still in print.

I love Walter Brooks's zany cast of recurring characters — sort of like the Preston Sturges stock company — who include Jinx, the sassy loudmouth black cat (my son's favorite), Mrs. Wiggins, the self-deprecating and even-tempered cow (mine), the blowhard rooster Charles, tiny Mr and Mrs Webb, Zero the mosquito, the maiden aunt ducks, the lofty-languaged bald eagle (Our National Bird), the sardonic owl, rabbits 1 through whatever, and above all the depredacious Simon the rat. Rhetorical hijinks, social sideswipes, and sheer good writing keep the grown-ups amused. But the imaginative and well-meaning Freddy (my husband's pick) inhabits a moral universe where courage and laziness and showing-off and perseverance get their just deserts, more or less. Freddy the Detective, Freddy the Politican, Freddy and the Bean Home News, and Freddy and Simon the Dictator contain plenty of salutary zingers on the problems of keeping and maintaining a democracy.

Mark Sarvas
Netherland by Joseph O'Neill

The shock of the omission of Netherland, Joseph O'Neill's third novel, from this year's Man Booker shortlist was rivaled perhaps only by the Sarah Palin nomination. Although I can do nothing to undo either grievous wrong, I can at least second the unabashed enthusiasm shown this novel by critics as diverse as James Wood, Dwight Garner, and Michiko Kakutani. (When was the last time you saw those three marching in step?) The word "masterpiece" has been degraded by our marketing culture almost to the point of meaninglessness, but if we can rescue the term from the ash heaps, it can deservedly be deployed here. O'Neill's post-9/11 novel brings together a repressed (and depressed) Dutch banker and a shady Trinidadian cricketer, the latter guiding the former through the immigrant New York of the margins in the months after the collapse of the towers. Redolent of The Great Gatsby, the book is a powerful consideration of exclusion, otherness, identity, and authenticity, told with some of the most gorgeous, precise prose I have read. It's a stunning work that reminds one of what the novel is still capable of accomplishing and a book that will be read long after many a minor Booker winner has been forgotten.

Andrea Walker
The Book of Dahlia by Elisa Albert
A Map of Home by Randa Jarrar

I read a lot of debut novels, and debut novels by women in particular. These tend to be serious, thoughtful, hard-worked things: likely to illuminate but perhaps not so focused on entertainment. This was why I was thrilled to discover the works of Elisa Albert and Randa Jarrar, whose novels The Book of Dahlia and A Map of Home, respectively, are both wickedly smart and outrageously funny. Albert's features a self-proclaimed Jewish American Princess, 29 years old, living off her father and doing bong hits in her Venice Beach cottage. Dahlia's routine of indolence and overanalysis of minutiae is interrupted by a brain tumor that causes her to black out occasionally and leaves her with less than a year to live. Albert's book is a triumph of voice: she succeeds in keeping Dahlia cynical, real, and too clever to feel sorry for herself until the very end. Jarrar's protagonist is the daughter of a Palestinian father and a Greek-Egyptian mother; though born in Boston, she grows up in Kuwait, Alexandria, and Texas, where she writes essays comparing her Muslim heritage with the lyrics of A Tribe Called Quest. Nidali, like Dahlia, refuses to respond to any of her trials with self-pity, choosing to view the cultural intersections that make up her life as opportunities for wit and wisdom.