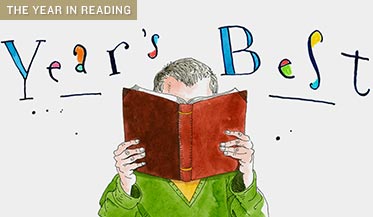 As we did at the close of last year, we asked some of our regular contributors to help us compile a retrospective of the year's most noteworthy books. And as before, we specifically asked some of our writers to chime in with their most significant reads of the year — which sometimes means that the book that most moved them was first published two years (or two centuries) prior.

The resulting list of nonfiction recommendations ranges from Michael Pollan's argument for a new approach to food to a twenty year-old work on the Federal Reserve that has never been more timely. There's enough pleasurable and informative reading here to make The Best of 2008 a reading list for most of 2009 (and don't miss our list of Fiction picks, or our fascinating year-end critics' roundtable.

Eric Banks
This Republic of Suffering: Death and the American Civil War by Drew Gilpin Faust

It's tempting in this extraordinary political year to single out one of the excellent nonfiction titles about our recent past, but I'll bow to Hugo von Hofmannsthal's words: "In our time," he wrote a century ago, "too much fuss is made about our time." Revisiting the open-air slaughterhouses of the 1860s, Drew Gilpin Faust's compulsively readable This Republic of Suffering: Death and the American Civil War explores the extraordinarily widespread experience of dying during the conflict and, in doing so, provides a novel way of understanding an old war. For all families, whether in the North or the South, the Civil War produced death on a scope never before or after seen. But beyond the sheer size of the numbers of Civil War casualties, the mechanization of the conflict, its incipient modernity in weaponry and transportation, disrupted all social ideas of death, turning what had been an intimate and largely familial ritual into a frighteningly anonymous rite. The crisis of understanding what Faust, a historian and the president of Harvard, calls the "problem of the unidentified dead" ultimately affected whole conceptual categories of sacrifice and memorialization and the obligations of the state to the dead and survivors (in the process helping to create our modern funeral industry). I hadn't thought there was much new to write about the Civil War. Faust's book decisively dispelled that idea.

Matthew Battles
Gardens: an Essay on the Human Condition by Robert Pogue Harrison
Earthrise: How Man First Saw the Earth by Robert Poole

My favorite nonfiction books of 2008 encompass the heavens and the earth. In Gardens: an Essay on the Human Condition (Chicago), Robert Pogue Harrison asks what compels humans to toil in the earth. Despite the labor they demand, gardens offer seductive symbols of nurture and order in the midst of a frightful world. We seek solace more than sustenance, Harrison concludes–and his essay offers lyrical proof that the need for refuge and relief, as much as any nutritional imperative, has compelled humans to garden from the very start. In Earthrise: How Man First Saw the Earth (Yale), Robert Poole explores the impact of the famous photograph taken by Apollo 8 astronauts of the risen Earth over the "magnificent desolation" of the lunar surface. The Apollo program was a technological and scientific dead end. But the astronauts' images of a lapidary Earth shining in the black vastnesses of space sparked a renewal of the environmental movement and gave impetus to a new global consciousness. Haunted by that fragile splendor, Poole argues, we may have finally learned to follow Voltaire's injunction, one explored by Harrison as well: we must tend our own garden.

Stefan Beck
Age of American Unreason by Susan Jacoby

The 2008 presidential election saw plenty of criticism of elitism-and of its discontents. As a voter who resents intellectual snobbery, much of which is directed at people who are far too busy working to read blogs or watch The Daily Show, I felt chastened by's pointed Age of American Unreason. Her book is cut from the same typewriter ribbon as Richard Hofstadter's 1963 Anti-Intellectualism in American Life, and should be read carefully by anyone convinced that elitism is merely a symptom of smug self-regard. It turns out that hostility to what Jacoby terms "the vibrant and varied intellectual life so essential to American democracy" is, in fact, as American as wintergreen Skoal and neon orange hunting caps-not that I have an unkind word for either. Jacoby's critique of "American unreason" is measured and extensively researched. Unfortunately, it's also a touch on the humorless side; she comes off as more scold than firebrand. All the same, the value of her argument is undeniable, and no one who considers himself a patriot or a citizen can afford to shrug it off. Right or Left, "an absence of curiosity about other points of view" only ever leads to trouble.

Sarah Courteau
How Fiction Works by James Wood

The most inspiring book I read this year was James Wood's How Fiction Works. Wood, tapped to become the New Yorker's literary critic last year, describes in this compact primer the sensibility that has guided his readings of fiction past and present over some two decades. He worships in the church of realism, where Gustave Flaubert is the Martin Luther who reinvigorated the faith and laid the foundation for the modern novel. Wood has his own critics, who dismiss him for not being catholic enough in his tastes; certainly those tastes are particular and pronounced. But he is so eloquent, passionate, and (how often does one critic say this unbidden of another?) wise that, even if we disagree with him, he forces us to articulate and defend our own judgments about what we like and don't like. Reading How Fiction Works made me want to be a better reader. And a better writer. Higher praise than that I cannot offer.

Thomas De Pietro
A Blue Hand: The Beats In India by Deborah Baker
Ain't My America by Bill Kauffman

I never thought I'd read another book by or about the Beat generation, but, to be honest, this one, A Blue Hand: The Beats In India, is by an old friend. To my delight, it's unlike anything else I've ever read about that annoying gang of bliss-seeking, drug-addled writers and wannabes. Deborah Baker records this surprisingly seminal episode in cultural history with a cool detachment, and a novelist's attention to detail. When Ginsberg and his crew descend in 1961 on the sacred sites of the East, desperate for instant nirvana, they encounter a baffled group of Indian writers looking West for deliverance. It's a stunning clash of cultures, brilliantly documented by Baker whose even-handedness allows you to form your own judgment. Ginsberg returns stateside to chant his way through the Sixties, and Eastern religions arrive at a TM center near you.

Bill Kauffman's Ain't My America reminds us of some other rebels in American history. Not the navel-gazing beatniks, but Conservatives and, yes, Republicans who have argued against Empire and our state of perpetual warfare. This is the seventh book by the front-porch anarchist Kauffman, whose muscular style and keen sense of history have landed him in both The Nation and The American Conservative. Here, he defends Lindbergh from the scurrilous campaign that tagged the antiwar American First Committee as know-nothing anti-semites (take that Philip Roth), and also profiles other unlikely resisters, including "Mr. Republican," Robert Taft; forgotten journalists such as Felix Morley and John Flynn, and neglected anti-imperialist thinkers such as Robert Nisbet and William Appleman Williams. It's a funny, bracing book that falls outside of conventional political thinking, but in direct line with those consummate foes of empire-the founding fathers.

Michelle Goldberg
Angler: The Cheney Vice Presidency by Barton Gellman

At first glance, the timing of Barton Gellman's chilling, fascinating Angler: The Cheney Vice Presidency, seems strange. The book, which expands on the Pulitzer Prize winning series about Dick Cheney that Gellman co-wrote in the Washington Post, comes just as its subject is making his merciful exit from the public stage. For all its horrors, the Bush presidency has been a boon to a number of fine journalists, but after years of awful revelations, many readers are surely weary of the subject. Nevertheless, Angler is a terribly important book, and a fitting coda to the Bush kakistocracy.

Gellman portrays Cheney as a ruthless and single-minded bureaucratic capo, largely indifferent to money and glory but hugely hungry for power. Yes, you might be thinking, what else is new – but as Gellman's book shows, the real Cheney is even worse than you imagine. The riveting first chapter, in which Cheney collects secrets from fellow politicians under the guise of vetting them for the vice presidency, then uses the information to destroy one of them, reads like a political thriller. Now that the election is over, it's almost possible to savor this chronicle of the sociopathy from which we're about to be redeemed.

Christopher Hayes
Secrets of the Temple: How the Federal Reserve Runs America by William Greider

The Federal Reserve is a bit like a building's boiler: your average person doesn't have much occasion to devote time to thinking about it while it's working, but if it breaks or explodes it's hard to ignore. In good times the Federal Reserve hums along, calibrating interest rates, regulating inflation and growth and the overwhelming majority of citizens are content to let it do its thing. But during periods of crisis, like those in which we now find ourselves, the Fed's role becomes all the more important and visible. And when you wake up on a Monday morning to find out the Fed has, more or less, single-handedly nationalized the largest insurance conglomerate in the country, it's only natural to find yourself asking: Wait, a second. Just what the hell *is* the Fed anyway?

That's why I've spent much of this year reading and re-reading William Greider's Secrets of the Temple: How the Federal Reserve Runs America. Originally published in 1987 in the wake of stagflation and 18% interest rates, this totemic 800-page epic work of history and analysis is probably the single most comprehensive and accessible book about monetary policy for the layman. Grieder not only explains the often fraught and fascinating history of the institution itself, but the role it's played in the nation's economic life and the way it stands athwart the contested border of capitalism and democracy. It is an indispensable fount of wisdom, context and background during these bewildering times.

Ezra Klein
The Cult of the Presidency by Gene Healy

For us politicos, it was a big year. Indeed, they don't get any bigger. A new president, representing the empowerment of a new governing ideology, a new political coalition, and a renewed party. "Hope," was the buzzword. "Change" is in the air. It's all too good to be true. So I've been on a relentless quest to prepare for the inevitable, crushing disappointments. And no book I read this year was more helpful to that effort than Gene Healy's The Cult of the Presidency.

But Healy's book is more than a guide to why you shouldn't expect too much from the executive: It's a tour of how we've come to view the president as central to not only our politics but our national conception of self, and a thoroughly convincing argument for why that has been a damaging trend. Healy is close to a no-government libertarian. And I am a big government liberal. So there's plenty in the book that I found disagreeable. But its emphasis on the limitations of the president are as relevant to those who seek to make the state work better as to those who seek to imprison it. Moreover, Healy is a graceful, funny, and fluid writer. It was, by far, the best political book I read this year, and just as it proved a welcome antidote to the mania of the campaign season, I imagine it will be a useful counterweight to the soaring hopes of its aftermath.

Scott McLemee
The Great Depression and the New Deal by Eric Rauchway
The Craftsman by Richard Sennett

Eric Rauchway's The Great Depression and the New Deal appears in Oxford University Press's " Very Short Introduction" series, but the reader should not fear that brevity equals superficiality. As with the impressive analysis of how the world economy of the 19th century shaped U.S. politics offered in his book Blessed Among Nations (Hill and Wang, 2006), Rauchway's survey of the '29 crash and its aftermath puts American history in a broad perspective. A brisk and smart little book – and a useful corrective to the talking heads on TV who seem to think that globalization started fifteen minutes after the Berlin Wall came down – The Great Depression and the New Deal is worth everyone's while. If only it weren't so damned timely.

More ruminative is Richard Sennett's The Craftsman (Yale University Press), a far-ranging meditation on everything involved in the labor of shaping things patiently, by hand. This includes music, computer programs, and bricks as well as pottery and weaving. Acquiring the skills of a craft shapes the person learning it, just as the practitioner shapes the raw material.

Sennett's synthesis of history, aesthetics, and psychology reminds us of the slow, deep rhythms involved in building and sustaining a culture. We lose them at a tremendous cost.

Robert Messenger
The Invention of Scotland: Myth and History by Hugh Trevor-Roper
World War I: The African Front by Edward Paice
Byzantium: The Surprising Life of a Medieval Empire by Judith Herrin

Three histories are my books of 2008. The first is the posthumous publication of a manuscript on Scotland that Hugh Trevor-Roper laid aside in the 1970s. The Invention of Scotland: Myth and History (Yale) isn't quite the big book that he intended to write, but it's a dazzling study of the forging of national myth and a reminder of Trevor-Roper's sublime skills as a historian and writer.

It has been a very good year for books about East Africa with the gorgeous Taschen reissue of Peter Beard's End of the Game and Nigel Pavitt's mesmerizing picture history, Kenya: A Country in the Making, 1880-1940 (W.W. Norton). The crowning achievement is Edward Paice's World War I: The African Front (Pegasus). The fighting between British East Africa (Kenya) and German East Africa (Tanzania) was as appalling as that everywhere else during World War I, and Paice's exemplary history goes far in memorializing the forgotten combatants.

Too many books on Byzantium end up as lists of obscure emperors. Judith Herrin avoids this trap by making her Byzantium: The Surprising Life of a Medieval Empire (Princeton) a sequence of broad essays, which range over both the large (the Byzantine economy, Greek orthodoxy, iconoclasm) and the small (Mt. Athos, Greek Fire, Anna Komnene). This intensely personal book should remain the best introduction to 1,000-year history of Byzantium for the foreseeable future.

Melissa Holbrook Pierson
William Eggleston: Democratic Camera by Elizabeth Sussman and Thomas Weski

The camera never lies; Nonfiction tells the truth: a fiction and a lie, respectively. Nowhere is this modernist inversion more perfectly embodied than in the work of chameleonic photographer William Eggleston. And nowhere is his work more adroitly displayed than in this new retrospective catalog.

Eggleston's is a wide-ranging talent that can apparently do anything: make a mystery, an abstraction, a portrait, a photo that looks like a Vermeer. He channels with ease the twentieth-century greats: Walker Evans (signs), Ansel Adams (cloudscape), Garry Winogrand (juxtaposition), Robert Frank (Americana). But he is most himself as a color formalist. Then again, just when you pin him down to one direction he departs in another, taking new angles–the unknown space under a bed; the child's tricycle that looms monumental, almost monstrous, over its suburban stage.

The essays situate Eggleston in a time of huge artistic growth for photography (the sixties and seventies). But it is the images themselves–the King's gold piano at Graceland, the eerie close-up on a neon orange garden statue; indeed, his forays through the pictorial concerns of everything from documentary to Postmodern Irony 101–that make this the book to have and to hold.

Amy Reiter
In Defense of Food: An Eater's Manifesto by Michael Pollan

Every once in a while, a book comes along that fundamentally changes the way you see things. Michael Pollan's In Defense of Food: An Eater's Manifesto, his advice-filled follow-up to The Omnivore's Dilemma: A Natural History of Four Meals, has completely altered my perspective on food — shopping for it, cooking it, eating it.

Before Pollan (BP) I would carelessly stroll through the grocery store aisles, buying whatever produce happened to be on sale, tossing dazzlingly packaged foods into my cart, only occasionally bothering to read a label, blissfully unaware of the high-fructose corn syrup lurking ? well, everywhere.

After Pollan (AP) all that has changed. So persuasively did he make the case for consciously considering the food we consume, for spending extra time and money for higher-quality foods, and for taking more time to prepare and enjoy it, that I now shop more carefully (organics, fewer prepared foods), cook more (I have a whole new repertoire of wholesome recipes) and spend more time sitting down with my family at mealtimes. To make it affordable, I've joined a local food coop — and, this summer, grew my own herbs in my tiny urban backyard. Is my family healthier? Who knows? We certainly feel better about ourselves.

Barbara Spindel
Traffic: Why We Drive the Way We Do by Tom Vanderbilt

The prologue to Tom Vanderbilt's Traffic: Why We Drive the Way We Do (and What It Says About Us) is titled "Why I Became a Late Merger (and Why You Should Too)." It turns out that late mergers, those obnoxious drivers you curse as they speed along in a closing lane before cutting in front of you at the last possible moment, are actually improving traffic conditions for all of us by seeing to it that more of the highway's total capacity is utilized. Traffic is chock-full of counterintuitive findings like that one (those terrifying roundabouts are actually safer than conventional intersections?), which makes the book occasionally alarming, even as it is also extremely enlightening and, thanks to the author's considerable wit, unfailingly entertaining. Any reader who has visited a DMV will recognize him- or herself in these pages, in part because there are, apparently, universal human responses to navigating our vehicles through traffic and in part because Vanderbilt is so good at nailing the emotions that most of us have felt behind the wheel, even if we've never given them much thought before.